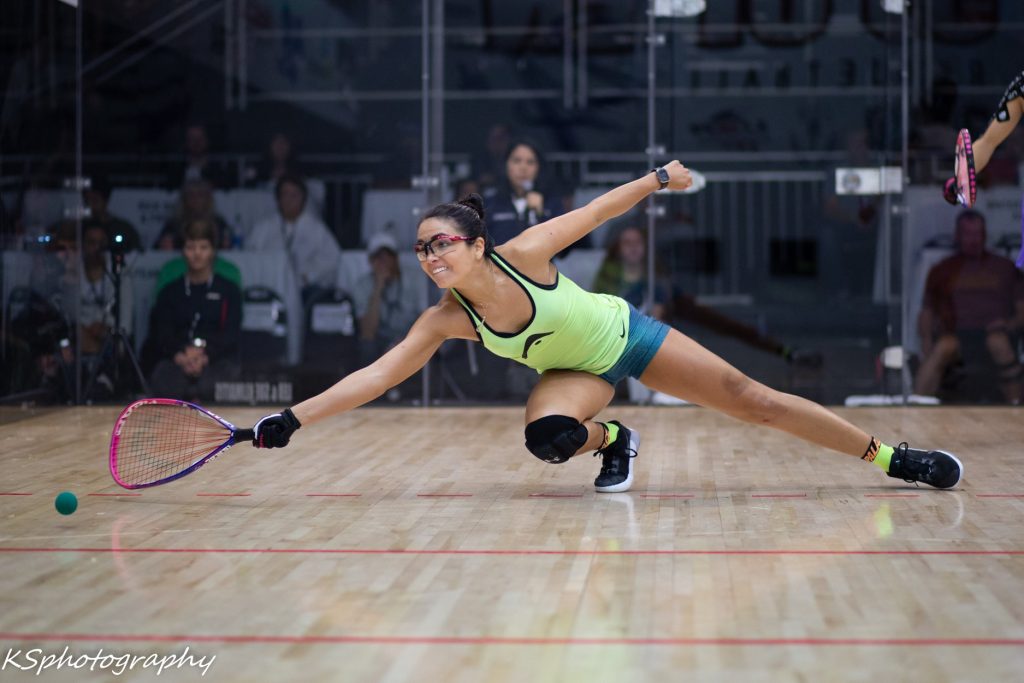 Congrats to your winners on the weekend:
– Singles: Montse Mejia
– Doubles: Paola Longoria and Rhonda Rajsich
Mejia wins her 3rd straight LPRT event and has a 12-match winning streak on tour (see https://rball.pro/qx5 for longest LPRT winning streaks). In doubles, Longoria teams with Rajsich for the first time since 2016 and wins the title again, improving her pro doubles record to 6-0 with her long-time rival (see https://rball.pro/i0s for Longoria's full LPRT doubles match history)
R2 Sports App home page for event: https://www.r2sports.com/tourney/home.asp?TID=39119
Interestingly, the entire LPRT stop was played out by early Saturday afternoon. I cannot recall seeing a pro event that ended before at the earliest Saturday Night. This took me by surprise when the ladies started on Thursday (normally they don't kick into gear until Friday morning).
——————
Lets review the notable matches in the Singles draw.
Singles Match report in the PRS database: https://rball.pro/ovk
—————-
In the 32s: a tale of two kinds of qualifiers. Several of the round of 32s were complete blowouts: three of the scores were of the "1 and 0" variety. But then there were several interesting matches:
– Both players were gone a while; but only one could advance. #16 Maria José Vargas took out @Rhonda Rajsich in a breaker to earn a shot at Longoria.
– #12 Valeria Centellas was definitely pressed by USA's Lexi York , going 11-8 in the breaker before advancing.
– I was expecting a bit more from Lucia Gonzalez against #9 Kelani Lawrence ; after losing the first game 11, the American turned on the guns and raced to an 11,3 win.
—————-
In the 16s, an absolute shock.
– Vargas upset #1 Longoria with a well earned tie-breaker win. Vargas came back big in both the first and third games and just played better than Longoria. This is the earliest exit for Longoria in an LPRT event since January of 2007, and she now has more losses so far this season (four) than she had in the prior four seasons combined, and we still have several stops to go (Longoria career W/L here: https://rball.pro/z2i, and see here for Longoria's losses on tour https://rball.pro/v2p.). Bravo to Vargas for this win, but the storyline has to be this: are we looking at the potential fall of the long-time #1?
Other Round of 16 observations:
– #9 @Kelani Lawrence with a great win over #8 Brenda Laime .
– #6 Jessica Parrilla with a solid win over #11 Hollie Scott ; these two are very closely matched.
– #2 Alexandra Herrera held off Gaby Martinez in two tight games in a round of 16 that should have been a semi (not unlike Vargas-Longoria). Solid win for Herrera to avoid a possible upset here.
—————-
In the Quarters, more crazy results.
– Vargas continues her run by taking out USA's Lawrence in a breaker. This could have been a huge emotional letdown for a player to have to come back after toppling #1, but Vargas held serve in a match she should win, despite just coming back from months off.
– #5 Natalia Mendez continues her dominance over #4 Erika Manilla by winning in a breaker and donutting the American #1 11-0 along the way. Mendez has never lost to Manilla in a match tracked by PRS, dating back to their junior days.
– #3 Mejia reversed the result against Parrilla from Mexican Nationals last week, winning easily to move on.
– #2 Herrera was taken out in two closer games by #7 Angelica Barrios 12,11. The Bolivian champ improves to 3-2 lifetime over Herrera.
—————
In the Semis
– Vargas continues her run, downing her long-time doubles partner Mendez to make the final as a #16 seed. Its the 4th highest seed to ever make a final in the known seeding history of the tour.
– Mejia crushed Barrios 6,5 to return to the final for the 3rd straight event, and for the fourth time this season.
In the Finals, Vargas took game one 15-12 but (finally) ran out of gas and Mejia cruised the rest of the way, winning (12),2,4 to take her third straight title.
—————-
Points Implications of results
– Around this time last year, we were asking if Herrera was the heir apparent after two straight wins over Longoria. Well, Mejia now has won three straight events and should overtake Herrera for #2 on tour if My math is correct.
– Longoria remains #1 still though by a sizeable margin (nearly 600 points) and it will take a number of additional early round upsets for Mejia to overtake her for the title, especially by season's end.
– Barrios' result jumps her up from #11 to #8
– Laime's upset will drop her 3 spots from #8 to #11.
– Vargas' return and run to the final will jump her from #15 to #12, and she's in a good position to continue to rise.
—————-
Doubles review
Match report in the PRS database: https://rball.pro/79b
Longoria and Rajsich race to the title, beating the reigning US champs Michelle Key and Erika Manilla in a breaker along the way. Not a good result for team USA, who could not focus on Rajsich enough to take a winnable match.
Team Argentina (Valeria CentellasValeria CentellasValeria Centellas and Mendez) had a great run to the final, in a solid tuneup for upcoming international events.
The story of the tourney though was the shock early round loss of the reigning Mexican champs and #1 seeds Herrera/Mejia, who were upset in the quarters by Barrios & Laime. Now, Barrios is no doubles slouch; she's a world champ in fact and just won Bolivian doubles … nor is Laime, who has proven to be a heck of a doubles player in the last year, but this is still a shocking loss.
The ladies doubles competition at the upcoming PARC is going to be wide open.
—————-
Thanks for all the streaming on the weekend, especially from broadcasters JT R Ball , @jJerry Josey , Timothy Baghurst and others who got on the mike and helped out (@Richard Eiseman )
Thanks to the Tourney Director Jim Winterton and to the RPAA for putting this event on!
——————
Next up?
We'll recap the IRT event and publish tomorrow.
Per our handy master racquetball calendar …
https://docs.google.com/…/1V6OTid6rZ356voXVkoV2sN7KMMb…/
Next weekend is a IRT satellite event in Montana and the non-sanctioned Xelani open in Miami, which should be interesting to watch since its a non-pro event with big money and limits on the entrants.
LPRT is back in action the weekend following, returning to Boston.
——————-
tags