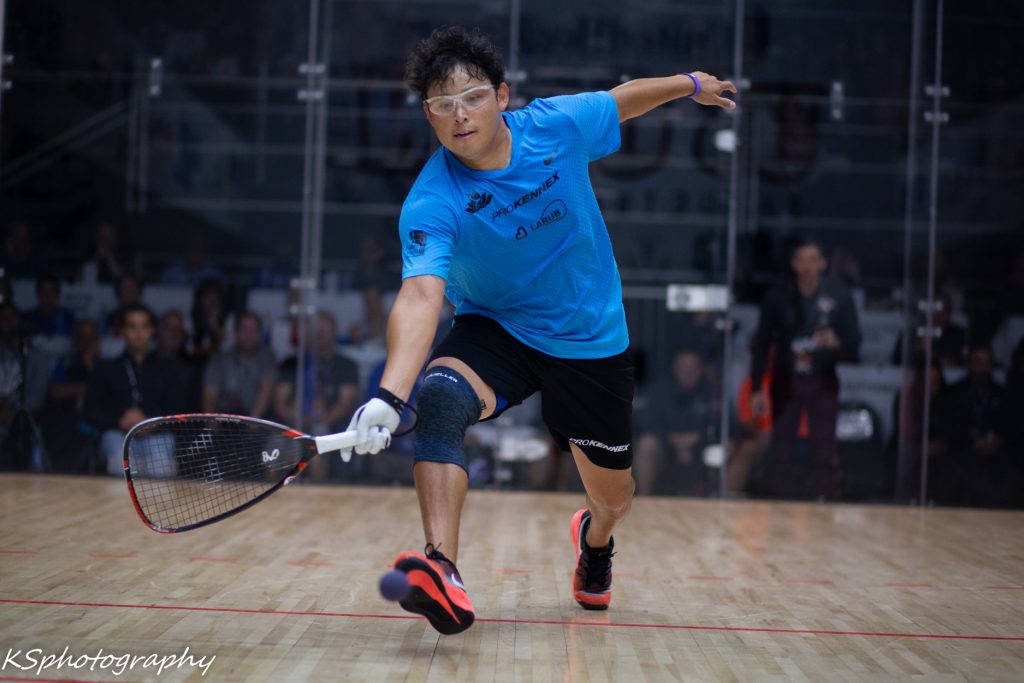 Congrats to your winners on the weekend:
– Singles: Daniel De La Rosa
– Doubles: @Rodrigo Montoya and Andree Parrilla
DLR wins his 11th career IRT title, and he is now tied for 12th all time in the tour's history.
R2 Sports App home page for event: https://www.r2sports.com/tourney/home.asp?TID=39119
——————
Lets review the notable matches in the Singles draw.
Singles Match report in the PRS database: https://rball.pro/2ix
—————-
In the 32s: a couple of results stood out to me:
– Carrasco loses to Guatemalan #1 Salvatierra 8,14. Even though these two are similar in stature on the world rankings stage, I would have thought the Bolivian would have pulled it out.
– Jose Daniel Ugalde did not seem that pressed to defeat Erick Trujillo 8,11. An interesting result; Ugalde now plays into Acuna, who he beat at 2022 Worlds in the group stage. Could we see a run?
– Erik Cuevas takes out Jesus Guillermo Ortega in a breaker. This seems like an upset in my book, as he'd beaten Cuevas the last couple of meetings.
—————-
In the 16s, a couple of notable results for me:
– #4 @Alejandro Landa held off the usually dangerous @Jaime Martel in two. These two players will both be part of a larger issue later on in the weekend, so read on.
– In kind of a shocking result for me, #11 Sebastian Franco took out #6 Rodrigo Montoya with ease 4,11. The Jeckyl and Hyde performances of Montoya continue; in my mind he's one of the bets 3-4 players out there, but he can't seem to beat players consistently that he should beat. Franco had lost 8 of his last 9 matches on tour, mostly to amateur entries in the opening rounds of events, and should never beat a guy who's making pro finals.
– Ugalde could not continue his run, and Acuna took him out with ease to move into the quarters.
—————-
In the Quarters, chalk.
– #1 Daniel De La Rosa cruises past @Adam Manilla
– #4 Landa reverses his recent trend in events and lives up to his seeding, taking out his former doubles partner @Samuel Murray in a breaker.
– #3 @Jake Bredenbeck crushed Franco 8,3 to make the semis for the 4th time in his last 6 IRT events.
– #2 Andree Parrilla blasted #7 @Andres Acuña 3,4 to move into the semis and squelch any possible upset.
—————
In the Semis
– DLR got a walk-over against Landa, (his doubles partner both this weekend and on the US Team) after Landa tweaked his ankle in their doubles match earlier in the day.
– #3 Jake got a solid win over his long-time rival Parrilla to move into his 3rd final in his last 6 events.
In the Finals, DLR and Jake played the expected "close but never really in doubt" match, with DLR winning 10,12. Jake continues to really make a mark on tour and seems a safe bet to get another tourney win eventually.
—————-
Points Implications of results
– Thanks to Moscoso's absence and DLR's performance, Daniel will re-ascend to #1 on tour for the time being. And going forward for a while, it will be a dog-fight at the top as both DLR and Moscoso have varying results expiring and we may see more flip flopping. Just hope Conrrado doesn't miss events.
– Portillo's absence costs him: he'll drop slightly in the rankings.
– Despite his early loss, Montoya will move up to #7
– Adam Manilla will rise up to #9, his career best.
—————-
Doubles review
Match report in the PRS database: https://rball.pro/n9s
The doubles draw overall was very chalk-y, with the top 4 seeds advancing to the semis and the top 2 to the final.
However, that's not the storyline of the weekend.
In a tense semi-final between #2 seeds DLR/Landa and #3 Murray/Jake, a possible match-point for the US champs was given in the form of an avoidable hinder. It was a wrap around shot and though Jake was definitely in the way, it was a borderline hinder call. Which, upon appeal, is exactly what was called; the line judges' calls turned the avoidable into a replay hinder, much to the chagrin of Landa.
Landa, without warning, shockingly spiked the ball back towards the back wall, ostensibly towards the line judge who called the rally a replay instead of an avoidable, nearly pegging Murray in the face. Murray and Jake were shocked that Landa received no technical or warning for the action, and the match was over on the next rally. But the reaction on social media was fast and furious; how could there not have been any penalty given for this behavior at the moment? The referee was a highly experienced IRF level ref in Jaime Martell; did he miss what happened?
Murray, Landa's long-time doubles partner, took the rare-step of posting on KRG specifically to call out what happened, and Landa took the also rare step of responding (and not apologizing) in real time defending his actions.
I'm sure this is not the last we hear of this; IRT generally issues fines and suspensions after the fact (and in private) even if there's no on-the-court penalty. But more importantly, Landa's US National team spot is now in severe jeopardy. He was already on probation for actions stemming from the PARC event last April, and his actions here could absolutely lead to a suspension from the team. The timing couldn't be worse, as Landa just re-qualified for the team by winning National doubles two weeks ago, and is scheduled to play both singles and doubles at the upcoming 2023 PARC event, a qualifier for the 2023 Pan Am Games.
In the final…the chatter in the Facebook live stream group chat focused on asking why Landa was even allowed to be playing, but the play on the court was far more interesting than the keyboard warriors in action. Landa was clearly hobbled; pundits said it was his ankle but he seemed to also be favoring his back to this observer, and DLR was taking a ton of shots that normally Landa would be handling. Parrilla and Montoya tried to work the ball to the right hand side as much as possible; when it was left out in the middle, more often than not DLR would bury it.
The match still went breaker, but Landa's stamina ran out; long-time rivals Parrilla and Montoya took the tiebreaker 11-6 to take the doubles title.
—————-
Men's Open, other draws
– Natera beat Trujillo to take Men's Open. Solid wins by Ortega Jr to make the semis.
– Veteran Ecuadorian team Ugalde/Cueva topped Atl locals Cunningham/Miller to win Open Doubles.
– Costa Rican junior Maricruz Ortiz took the Men's Elite singles crown.
—————–
Thanks for all the streaming on the weekend, especially from broadcasters Favio Soto , Pablo Fajre , @Karen Grisz and the IRTLive crew
Thanks to the Tourney Director @Michael Miller for putting this event on, and thanks as always to title sponsor Donald Williams for everything you do in the sport.
Reminder to Players! Please like and follow this page so that when I tag you, you see it. Facebook will only retain tags of people that like/follow a page, which means lots of you are not getting the notoriety of getting tagged and noticed on Facebook. If your name is here and it isn't tagged … it probably means I attempted to tag you but Facebook stripped it.
——————
Next up?
Per our handy master racquetball calendar …
There's an IRT satellite in Montana next weekend with some great talent that we will cover. The unsanctioned big-money Xelani open is in Miami and hopes for a full 32 draw of top Open players. The weekend after both LPRT and IRT are in full stops while High School Nationals happens in Portland. A busy March coming up.
——————-
tags