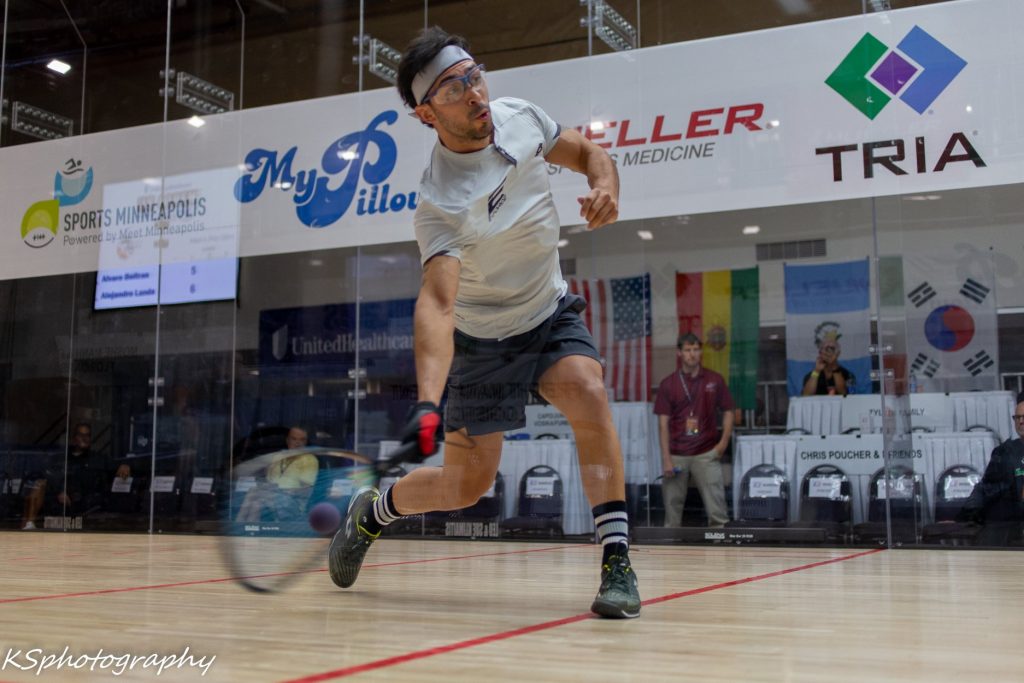 The IRT returns to the host site of last year's US Open, the University of Minnesota, for the 2023 Minnesota Hall of Fame IRT event. Thanks once again to the generous sponsorship of Keith Minor and Kwm Gutterman , the pros are back in Minnesota.
R2 Sports App link: https://www.r2sports.com/website/event-website.asp?TID=40006
The draw for this event is down a bit from what we've come to expect out of pro draws, continuing a trend so far in 2023. I'm not sure why this is the case. The first half of 2022 saw draws regularly north of 40 in the singles draws for the IRT, then by October we were mid 30s, and the first four events of 2023 have gone 36,30,31, and just 25 in Minneapolis.
Top20 players missing: just #3 Parrilla missing from the top 10, then a big chunk of the 11-20th ranked guys are out for this event. We'll end up having one larger round of 32 on thursday, then kick off the main event friday as normal.
——————————
Lets preview the draw. Here's some notable qualifying matches that i'm looking forward to:
——————————-
In the 32s/1st round, here's a couple to watch for if the streaming starts up early:
– Cullen-Natera: Natera has been playing well lately and the Canadian will give him a good test.
– Collins-Salgado Jr: can Rodrigo get an upset of the lefty vet?
– Sam Bredenbeck – Gatica: upset watch for the American.
– Carter -Hansen: the Iowa amateur is a dangerous opponent and could give Carter trouble.
– Carrasco-Gomez: i like this matchup that could go either way.
——————————-
round of 16:
– Acuna-Manilla could be a barn burner at 8/9: good gut check match for both.
– Landa-Natera: could Landa be distracted after the controversy at the last event?
– Montoya-Mar: the good friends and long-time doubles partners have to face off in singles in the 16s, not for the first time. Impossible to predict who wins; they've evenly split their matches going back years. For what it's worth, Montoya won their most recent meeting, at Mexican Nationals in Juarez a month ago.
– Moscoso- Carrasco: could be a meeting of fellow Bolivians and doubles partners. Not likely to see Conrrado lose here, but he's been known to lose to his fellow Bolivians at inopportune times.
——————————
Projected Qtrs:
– #1 De La Rosa over Manilla: a rematch of the same quarter in Atlanta
– #4 Jake versus #5 Landa. To say there's bad blood here would be an understatement, after Landa's actions in their doubles match in Atlanta. But, Landa is 12-1 over Jake lifetime. Landa was decently hurt in the last event; is he healthy?
– Portillo versus the Montoya/Mar winner: whoever comes out of the 6/11 can beat Lalo
– Moscoso over Murray; Despite Murray's tactical acumen, i don't see Moscoso losing to him again anytime soon.
Semis:
– DLR over Landa; despite Landa's superior career h2h over DLR, i think his time has past where he can push the #1 player.
– Moscoso over Montoya/Mar winner. Conrrado and DLR have elevated.
Finals; Moscoso takes out DLR again. I see a similar result to what we saw in Atlanta, with slower walls and a slower ball benefitting Conrrado.
A note about the possible rankings: DLR is currently 200 points ahead of Moscoso, but is set to lose around 100 points in delta to Conrrado when the next event expires (the Suivant consulting Grand Slam). So, if Moscoso wins here over DLR in a final, they'll be amazingly close at the top. I believe Conrrado can re-take #1 spot by just a couple of points if he wins and DLR makes the final.
——————————-
Doubles review
9 teams here, and some interesting moves. DLR decides not to enter doubles this event, leaving his US national teammate to find another partner; he picks Moscoso, who then drops his own Bolivian partner Carrasco just a couple weeks before they are set to play at PARC. It all seems like a moot point though, because Montoya/Mar are #1 and are the clear favorites.
———————————
Look for Streaming in the regular places; follow the IRT on Facebook and sign up to get notifications when they go Live.
Look for Favio Soto, Pablo Fajre and the IRTLive crew all weekend on the mike, calling the shots!
Associations: International Racquetball Tour