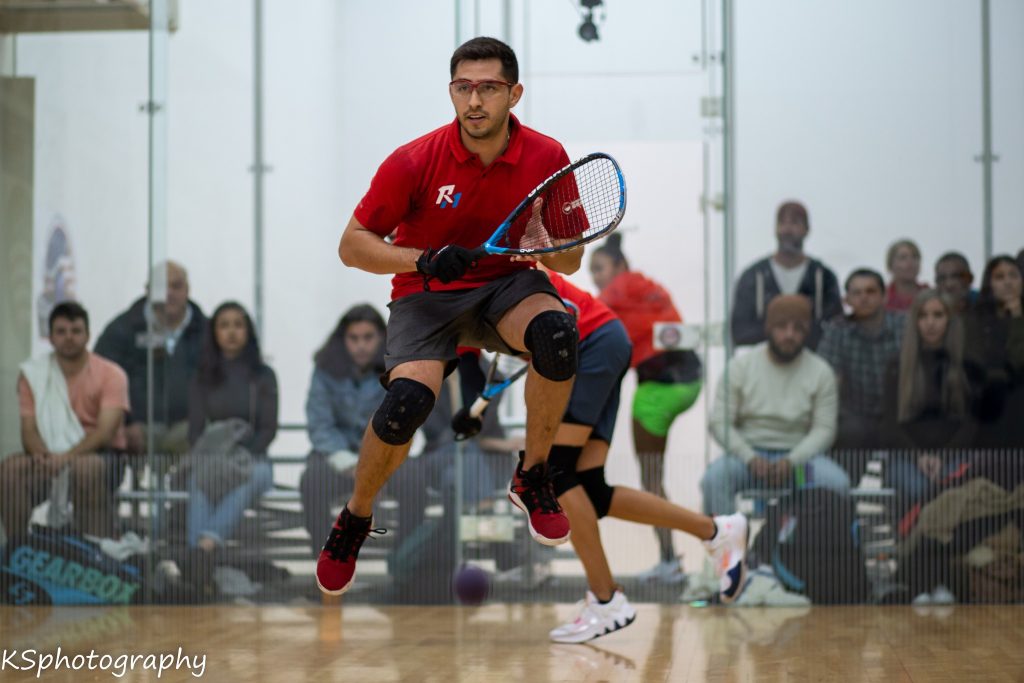 Congrats to your winners on the weekend:
– Singles: Rodrigo Montoya
– Doubles; Rodrigo Montoya & Javier Mar
Montoya becomes the 45th ever winner of a Tier 1 event in the Men's pro tour.
R2 Sports App home page for event: https://www.r2sports.com/website/event-website.asp?TID=40006
——————
Lets review the notable matches in the Singles draw.
Singles Match report in the PRS database: https://rball.pro/q4j
—————-
In the 32s, no surprises and mostly blowouts; only two matches even had games go double digits.
—————-
In the 16s:
– Adam Manilla with a solid win in the 8/9 seed game over Costa Rican @Andres Acuña 11,3. Manilla really rounding out his game so far this season.
– #5 Alejandro Landa forfeits out of the event, likely due to his not quite recovering from the multiple ailments (ankle and back) that hobbled him at the end of the last event. The lack of points will cost him, as he sees his ranking continue to slip. This gives Alan Natera a walkover into the quarters.
– Sam Bredenbeck really pushed #3 Eduardo Portillo , beating him in the first before losing in the breaker. Hometown crowds energized both Bredenbeck brothers this weekend.
– #6 Rodrigo Montoya took out his doubles partner #11 Javier Mar in two close games.
—————-
In the Quarters:
– #1 Daniel De La Rosa took out the lefty American Manilla 7,9
– Natera looked to take advantage of his gifted quarter final appearance, beating #4 Jake Bredenbeck in game one, but Jake took over from there to win (13),3,4.
– Hot-handed Montoya crushed #3 Portillo 4,4. Montoya continues to be the player who I most wish would commit to touring full time, just to see what would happen.
– #2 Conrrado Moscoso , who missed the last event due to some high-level meetings back home in Bolivia, ground out a tactical win over his Canadian nemesis Samuel Murray in game 1 before running away with the match 13,3
—————
In the Semis:
– DLR was pressed by Jake, losing game one, before regrouping to win (7),10,2 to move into the final and guarantee he retains #1.
– In a surprising result, Montoya improves to 5-4 lifetime over Moscoso with a dominant 13,3 win. Moscoso reportedly was nursing a knee injury, but the 15-3 shellacking of the player who many think is the next #1 is interesting.
In the Finals, Montoya served DLR off the court, winning 15 of his 40 points via Aces. DLR was able to salvage match points against in game two, but games one and three were one-way traffic for Montoya. Its Rodrigo's first Tier 1 win on the IRT, and is a long time coming for one of the world's best players.
—————-
Points Implications of results:
Moscoso had a slight chance of regaining the tour #1 if he won, but his semis loss guarantees DLR is in the driver's seat for a while longer. Moscoso probably doesn't have a good chance of regaining #1 until the SoCal Open.
Parrilla's expiring of his huge points win from last year's Suivant Grand Slam drops him from #3 to #5, giving Jake a career #3 high.
Landa's absence drops him to #7, while Montoya moves up to #6. Montoya is now just a handful of points out of 4th on tour, and the next two events to expire include an absence for Rodrigo, meaning he's like to be in the top 4 by June.
Veteran players who are either hurt or retiring continue to plummet: Kane is now #14, Rocky #15, and Alvaro all the way down to #30.
—————-
Doubles review
Match report in the PRS database: https://rball.pro/esd
Landa's last minute W/D caused Moscoso to pick up a new partners last minute … just perhaps the best Male doubles players of all time in DLR. They bashed t heir way to the final. There they met the #1 seeds Montoya/Mar for what was billed as a fantastic match of top doubles play.
In the final, Montoya & Mar won a solid two-games 13,8 over DLR and Moscoso, giving Montoya the double on the weekend and the pair their 6th pro title together. They cement their status as the top doubles team in the world.
—————-
Men's Open, other draws
– Canadian Kurtis Cullen took out #1 seeded Gatica and #2 seeded Gomez to win the Men's Open title.
– Kelly Gremley & Vallana Perrault took the Women's Open Doubles RR draw.
– Meadow Barth & Jordan Barth teamed to take the Mixed Open doubles draw.
—————–
Thanks for all the streaming on the weekend, especially from broadcasters Favio Soto, Pablo Fajre and the IRTLive crew
Thanks to the Tourney Directors John Olson and @KKaren Masberg Bredenbeck for putting this event on and raising the funds to bring pro racquetball back to MN.
Reminder to Players! Please like and follow this page so that when I tag you, you see it. Facebook will only retain tags of people that like/follow a page, which means lots of you are not getting the notoriety of getting tagged and noticed on Facebook. If your name is here and it isn't tagged … it probably means I attempted to tag you but Facebook stripped it.
——————
Next up?
Per our handy master racquetball calendar …
We will recap LPRT and HS Nationals later this week.
Next weekend is Beach Bash! The First outdoor major of the year, held on the one-wall courts in Hollywood, Fla. The weekend after that, the IRT is back in action, as well as USAR intercollegiates at Ohio State.
——————-
tags