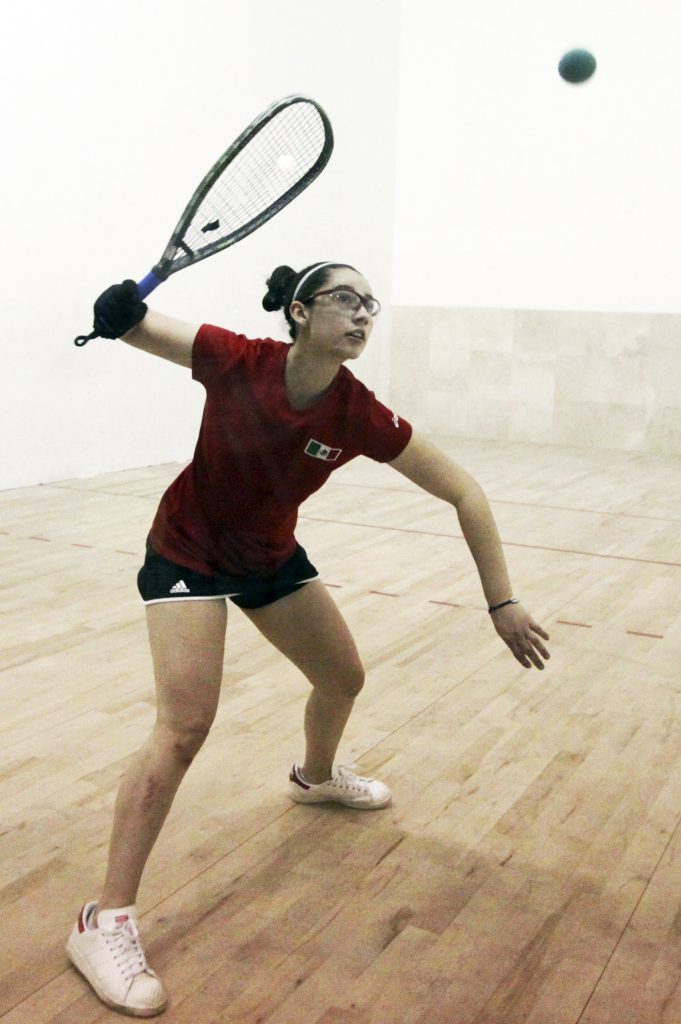 Congrats to your winners on the weekend:
– Singles: Montse Mejia
– Doubles: Paola Longoria & Samantha Salas
Mejia wins her 4th straight event and extends her winning streak to 16 matches on tour, and she's now put herself in a clear position to capture the year end title with solid results the rest of the way out. She leads the "season to date" points race by more than 160 points.
R2 Sports App home page for event: https://www.r2sports.com/website/event-website.asp?TID=40583
——————
Lets review the notable matches in the Singles draw.
Singles Match report in the PRS database: https://rball.pro/5gz
In the 32s, no surprises. Costa Rican junior @Maricruz Ortiz was the unlucky opponent of @MMaria José Vargas on her return from Maternity leave; she played the former #2 ranked player tough but lost 11,11. Ortiz followed this up with a solid win in the Women's Open doubles over Nancy Enriquez and her time playing with and training with Veronica Sotomayor and Sudsy Monchik is paying off.
—————-
In the 16s:
– Angelica Barrios got a solid win over a similarly talented competitor in Brenda Laime in the 8/9 game.
– Vargas primed herself for another deep run, topping #5 Jessica Parrilla in a breaker.
– Argentina shocker: Valeria Centellas cruised by #4 Natalia Mendez in two. These two doubles partners are frequent training partners, and these matchups when it counts are always unpredictable.
– In the 7/10 match, @Hollie Scott got a solid win over #7 @Carla Munoz .
– #2 Montse Mejía , winner of the last 3 tournaments, was pressed by Mexican veteran Nancy Enriquez but advanced in a breaker.
—————-
In the Quarters, another shock loss.
– Barrios took out #1 Paola Longoria in a tie-breaker 7,(13),7. All props to Barrios, who joins Laime, Mejia, and Vargas as "Players who have beaten Longoria this season."
With all due respect to Barrios' win, the story here has to be Longoria's continued losses on tour. She's now lost 5 times this season: she had just six losses in the previous seven seasons COMBINED. Something has definitely shifted for Longoria, who as i've pointed out before is nearing 34 years of age and who may be seeing her skills decline just enough to end her dominance on tour.
In the other 3 quarters, expected work from the tour's top players:
– Vargas made fast work of Centellas 0,9 to move into the semis.
– Manilla crushed her US national team doubles partner Scott in two
– Mejia dominated another Mexican veteran Salas 9,2. Not to pick on Salas here, but its worth noting (with respect to Longoria's slide this season) that Salas is basically two years older than Longoria, and went from making 9 finals in the 2018-19 season. Since that point, she's made exactly ONE final in 27 tournaments. Sometimes that age 33-34 tripping point can be a light switch of results on the court.
—————
In the Semis
– Barrios continued her run with a win over Vargas. Barrios has always been a tough matchup for Vargas, and now improves to 4-2 against her former countrywoman in all competitions.
– Mejia takes out Manilla in two solid games 7,9
In the Finals, Mejia ground out game one against a challenging opponent in Barrios, then had a furious comeback to stave off a breaker and win the second game at 14.
Its her 4th straight tourney win (something that puts her in the top 20 of all time), her 16th straight tourney win (tied for 14th all time), and really makes a statement on her place on tour right now.
—————-
Points Implications of results
Longoria's early loss costs her dearly; there was already going to be a 90 point swing between Mejia and Longoria by virtue of the 2022 Boston Open expiring, and Mejia's better results closes the gap significantly. Longoria's lead at the top of the tour is now below 300 points. This is significant because the looming Sweet Caroline Grand Slam was missed last year by Mejia, meaning she has no points to defend and stands to make up a whopping 300 points just by entering the last event of the LPRT season. Unless Paola can turn it around, it is looking more and more like Montse will pip her for the title by season's end.
Herrera missed this event to receive an award in her home town; she's now essentially locked into 3rd place for the season, well behind Montse for 2nd, and well ahead of Manilla for 4th.
Other top 10 machinations: Parrilla and Mendez switch places even though both were upset in the quarters. Barrios' big run moves her up to 7th above Munoz.
—————-
Doubles review:
Match report in the PRS database: https://rball.pro/dga
Neutrals got the final they wanted, as #1 Longoria/Salas cruised past Scott/Lawrence in one semi 5,8. In the other semi, Mejia and Manilla are getting more comfortable playing together and dominated the Argentine pair of Centellas/Mendez to make the final as well.
The final was a tense, argumentative affair, as the vets from Mexico tried to hold off the young guns on tour. In the end, they staved off a furious comeback after splitting the first two games, and Longoria/Salas win their 37th career pro doubles title together 4,(14),7
—————-
Women's Open, other draws
– As noted above, Maricruz Ortiz took out Enriquez to win Women's Open.
– Ortiz also took the LPRT U21 draw, beating Centellas in the semis and Katz in the final.
– Jolene Sullivan & Jose Flores Jr. took the small Mixed Open RR group.
– Bolivian Miguel Arteaga topped Flores to win the 20-man Open singles draw.
—————–
Thanks for all the streaming on the weekend, especially from broadcasters Timothy Baghurst, Jerry J Josey Jr., and @Tj Baumbaugh]
Thanks to the Tourney Director @Stuart Solomon for putting this event on!
Reminder to Players! Please like and follow this page so that when I tag you, you see it. Facebook will only retain tags of people that like/follow a page, which means lots of you are not getting the notoriety of getting tagged and noticed on Facebook. If your name is here and it isn't tagged … it probably means I attempted to tag you but Facebook stripped it.
——————
Next up?
Per our handy master racquetball calendar …
Beach Bash next weekend, then IRT in Chicago. LPRT is back at the end of April in San Antonio.
——————-
tags