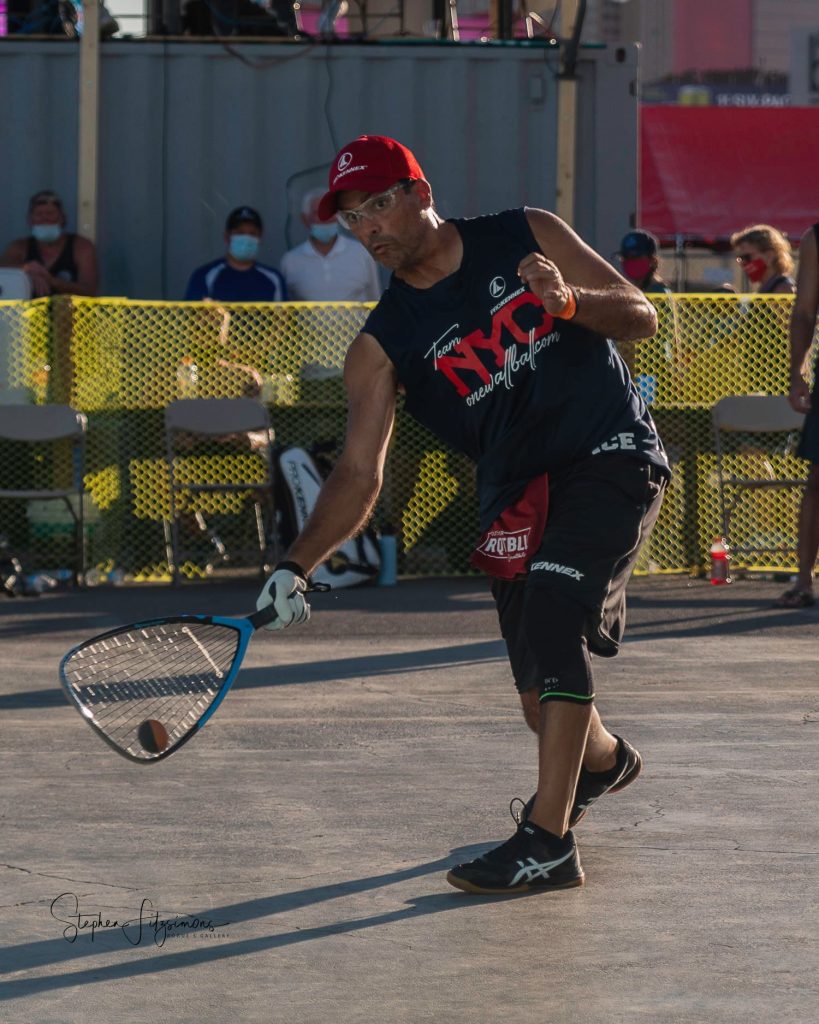 The time has come for the first Outdoor Major of the new year! Its Beach Bash time, held on the historic Garfield Street courts a block from the beach in Hollywood, Florida. 162 lucky competitors got in before the tourney filled up and are set to compete for the title of best one-wall racquetball competitors in the land.
This is the 15th "Beach Bash" event, dating to 2007, 16 if you include the seminal 2004 WOR One-Wall outdoor championships that served as a kickoff for WOR and the integration of outdoor communities from around the country.
R2 Sports App link: https://www.r2sports.com/website/event-website.asp?TID=39926
——————————
There's a ton of Pro and upper-level draws to review. We'll run through them with some quick observations as a preview instead of my normal per-round, per-match review.
———————————
Men's Pro Doubles
The biggest draw in Florida this weekend is Men's Pro doubles, with 15 teams vying for the title. We'll have a new champion for 2023; last year's winning team (Mercado and Mar) has changed up; this year @Javier Mar is playing with none other than DLR and will make for a formidable team to beat as the #2 seed.
However, the bottom half of this draw is crazy deep; multi-time Outdoor National champions Jason Geis and @Micah rich are here for the first time playing one-wall; they're seeded 10th and will have to work at it to take out the 2018 champions Blatt/Rolon in the round of 16 just to take a shot at DLR/Mar. Also lurking in the bottom half is Faro & Iggy (who won the CPRT draw last year), Joe Young (the 2015 doubles champ) playing with @Carlos Bravo, and outdoor legend @Rocky Carson , playing with Alejandro Barcelo . There are no easy matches in this lower bracket.
The #1 seeds are legendary; Robert Sostre and @Benny Goldenberg , NY's finest, who have 5 doubles titles in this event between them. They could face 3-time winner Deida in the quarters. Watch out for dark horses Roy Hernandez and @Marcos Graviel as the 12 seeds; they may be better at long wall, but they have a decent pathway to the semis.
My Finals predictions: Mar/DLR take out Iceman and Benny in the final.
——————————
Women's Pro Doubles
Great matches expected throughout this draw, which features a ton of old-school and current talent. We'll have a new champion, since last year's team got broken up.
#1 seeds are interesting: Sotomayor and USAR Hall of Famer @Aimee Ruiz form a tough lefty-righty pair, but they'll be pushed heavily by another lefty-righty pairing of top-4 LPRT players in Erika Manilla and @Alexandra Herrera in the semis. That is of course if Manilla/Herrera can get by the NY legends Anita Maldonado and Michele Herbert , who have won this title three times between them.
From the bottom half, @Carla Munoz (who won Vegas one-wall last October) picks up the excellent doubles player Brenda Laime and will be tough to beat. However, the 3/6 match between LPRT and USAR regular doubles partners Scott and Kelani Lawrence and the underrated Kathy Guinan and @Maira ramos could be eye opening.
Finals Prediction: Laime & Munoz top Herrera & Manilla.
——————————
Mixed Pro Doubles preview
The DLRs have parted ways, both on and off the court, meaning that there will be a new Mixed doubles champion team going forward. Daniel is here, teamed with Scott and are the pre-tournament favorites despite being the #2 seeds. To get to the final though, they'll have to contend with top mixed pairings like Munoz/Natera, Laime/Bleyer, Benny/Silva, and Mar/Manilla. The team coming out of the bottom half will be battle tested for sure.
Iceman is paired with Caridad Morales as the #1 seed, and they'll face a very tough team in the semis no matter what, as that quadrant is stacked. Rich/Lawrence, Guinan/Deida, Blatt/Herbert, and Herrera/Lalo are all great teams and its a coin flip for me who advances.
Finals prediction: DLR/Scott over Sostre/Morales
——————————
CPRT 40+ preview
Last year's CPRT finalists Seran Ramkissoon / Max Heymann are back as the 1-seeds; they'll be pressed by the experienced #4 seeds Geis/Soda Man to get back to the finals from the top-half.
In what should be a super-fun bottom half, two IRT legends in Carson and @Sudsy Monchik are teamed up as the 6-seeds. They'll have their hands full to get past #3 Miller/Gravier and especially #2 Sostre/Rolon from the bottom half.
Finals prediction: Sostre/Rolon over Geis/Koll
——————————
100+ combined: just a quick note for star power observations: Marty Hogan is in the 100+ draw with Richie Miller, and look to be the favorite in that draw despite their seeding.
——————————
Men's Pro Singles:
#1 seed and IRT #1 Daniel De La Rosa is back in Florida to defend his title. He cruised to the singles title here last year, won it in 2019, and is the favorite here. He has two tough one-wall players in @Nelson Deida and @David Blatt (aka the Hulkster) in his half-bracket to contend with.
From the bottom side, look for under-rated outdoor player @Ben Bleyer to make some noise; if he can get by William Rolon he could be a finalist.
In the end, I don't see DLR losing this draw; he's just too good a shot maker to be defeated in one wall.
——-
Women's Pro Singles
#1 Seed @Hollie Scott is the 3-time defending champion in this event, but doesn't have to contend with the likes of MRivera or Herbert this year as in years past. This year she has a whole slew of LPRT touring pros in the bracket, and will have to get by the likes of Erika Manilla and @Carla Munoz to take a 4th straight title. Don't sleep on Veronica Sotomayor , in this draw as a 7th seed and is the definition of an upset special.
———————————
Streaming: remember to be patient with streaming at this event, because the cell phone coverage at this site is notoriously difficult. But sign up for live streams notification at WOR and 3WallBall and of course KRG will have notifications all weekend.
Thanks to the Tourney Directors Peggine Tellez , Jen O'Meara , Mike Coulter and the whole @3Wall Ball team for putting this event on! Thanks again to Abel Perez and his company @APCON for being the title sponsor; Perez is a great promoter of the sport.
Reminder to Players! Please like and follow this page so that when I tag you, you see it. Facebook will only retain tags of people that like/follow a page, which means lots of you are not getting the notoriety of getting tagged and noticed on Facebook. If your name is here and it isn't tagged … it probably means I attempted to tag you but Facebook stripped it.
Associations not already mentioned: @World Outdoor Racquetball , WOR – World Outdoor Racquetball , USA Racquetball