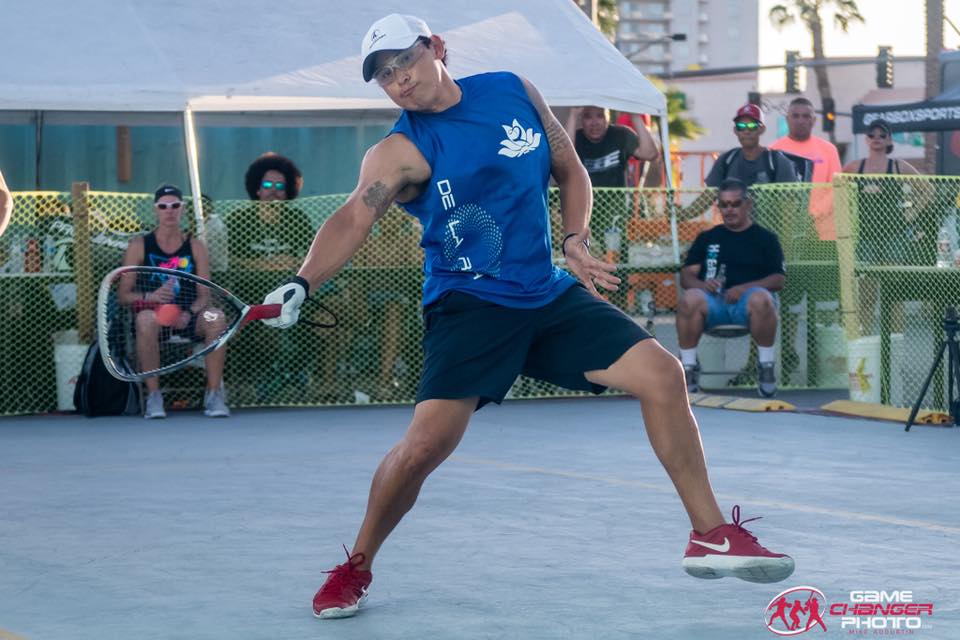 Congrats to your Pro winners on the weekend:
– Men's Pro Doubles: Daniel De la Rosa & Javier Mar
– Women's Pro Doubles: Hollie Scott & Kelani Lawrence
– Mixed Pro Doubles: Daniel De La Rosa & Hollie Scott
– Men's Pro Singles: @Daniel De La Rosa
– Women's Pro Singles: Veronica Sotomayor
A Triple for DLR, a double for Scott, and a shocker upset for Sotomayor. Read on.
R2 Sports App home page for event: https://www.r2sports.com/website/event-website.asp?TID=39926
——————
Reports on ProRacquetballStats.com:
Match reports for 2023 Beach Bash:
– Men's Pro Doubles: https://rball.pro/6io
– Women's Pro Doubles: https://rball.pro/4n8
– Mixed Pro Doubles: https://rball.pro/u78
– Men's Pro Singles: https://rball.pro/0y0
– Women's Pro Singles: https://rball.pro/cwv
Triple Crown Reports for all past WOR major champions:
– Men's Pro Doubles: https://rball.pro/3lj
– Women's Pro Doubles: https://rball.pro/zoa
– Mixed Pro Doubles: https://rball.pro/obz
– Men's Pro Singles: https://rball.pro/9ey
– Women's Pro Singles: https://rball.pro/h27
——————
Lets run through the draws, recapping the action.
Men's Pro Doubles:
The Men's pro doubles draw was incredibly deep this year. Most of the round of 16 matches were coin flips, and six of them went tie-breaker. Once we settled down though into the semis, it was mostly chalk. The top 3 seeded teams advanced with straight-game wins, to be joined by the upstart 12th seeds of @Marcos Gravier and @Roy Hernandez, who took out #5 and #4 to make the semis here.
From there, it had to come down to #1 vs #2 in the final; the hall of famer Ice Man Robert Sostre paired with former BB champ @Benny Goldenberg took on the current IRT #1 De La rosa, playing this tournament with the underrated @Javier Mar. The final was a shootout between DLR and Iceman on the left hand side, with Sostre showing fast hands and Daniel showing even faster put backs. In the end the two touring pros won a solid 8,11 final to cap the weekend.
With the win, Mar repeats as Beach Bash Champion. But with this win, Daniel becomes the first male to win the career "Grand Slam" of Men's pro doubles events (Beach Bash, Outdoor Nationals, and Vegas). Several women's pros have done it (Rhonda, Janel, Michelle, and Aimee) but never a Male until today. H/T to Vic for this observation.
——————
Women's Pro Doubles:
The 6th seeded former USA National champs Kelani Lawrence and @Hollie Scott took their first outdoor pro doubles title together by ousting the #3, #2 and #1 seeds in order. First they took out the NY pair of Ramos & Guinan, then they downed the pre-tourney favorites Munoz & Laime in the semis, before taking out the top-seeded team of Roehler and Sotomayor in the final in a breaker.
——————
Mixed Pro Doubles:
De La Rosa repeated as Beach Bash mixed champion, albeit with a new partner for 2023, winning the final as the #2 seed with Hollie Scott in a tiebreaker. The met two relative newbies to outdoor racquetball in the final in Eduardo Portillo and Alexandra Herrera , who took out the #1 seeds Robert Sostre and @Caridad Morales in the semis.
This win represents Daniel's 18th Mixed pro major outdoor title, his fourth in Florida.
——————
Men's Pro Singles:
Daniel De la Rosa blew through the singles draw, giving up a combined 19 points in three games to repeat as Beach Bash singles champion. He defeated #3 seed Maryland native @Pruit Dylan in the final. DLR's adeptness at one-wall was apparent throughout the Thursday competition, mixing in soft slice lobs off of drive serves with pin-point accuracy of drive kills and angled passing shots.
——————
Women's Pro Singles:
Sotomayor, who had never played outdoor racquetball prior to this event and was thus seeded last, ground out victories against @Carla Munoz (who has won both 3-wall singles titles at the last two outdoor majors) in the quarters, @Kelani Lawrence in the semis, then upset the 3-time defending Beach Bash singles champion @Hollie Scott in the finals 21-14. Sotomayor crushed her backhand all day, hitting bottom-board from shoulder height overhead serves and demoralizing her opponents. A great performance.
——————
Other Notable draws:
– CPRT 40+ Doubles: Well, they say you can't teach an old dog new tricks. Tell that to the 48-yr old five-time IRT champion Sudsy Monchik , who teamed with fellow 40-something Rocky Carson to take the loaded CPRT 40+ doubles draw. They topped two tough outdoor veterans in Joe Young and Thomas Gerhardt in the final 11-8.
Two IRT legends teamed up, one with decades of outdoor experience in Rocky Carson, the other with almost none (and a broken hand to go with it) in Sudsy Monchik . They beat teams that included best outdoor players Florida has to offer in Rob Mijares , Marcos J. Gravier , the #2 seeds Rolon & Sostre in the semis, then former BB champ Joe Young paired with #1 ranked 3-wall singles player Thomas Gerhardt in the finals.
– Men's 75+: in what turned out to be the biggest draw of the event (20) teams, the final had some familiar names and was a nice warm=up for the weekend's pro doubles. Two-time defending Outdoor Nationals champs @MMicah rich and @Jason Geis reached the final from the top-half, while Rocky (who wons 11 major outdoor pro doubles titles .. but none in one-wall) partnered with Barcelo to reach the final from the bottom.
In an excellent final, Rocky/Barcelo took out Rich/Geis 11-7 in the breaker.
Men's 100+: Hall of Famer Marty Hogan teamed up with the venerable @Richard Miller to take the 100+ doubles draw. They were seeded 12th out of 12 teams, and beat the 11th seeded team of Jose Nivela / Martin Gonzalez in the final.
——————
Paddleball Competition Review
It is worth noting that these courts were originally designed for Paddleball. So its only fitting that there were Wednesday Paddleball competitions.
– Men's Pro Doubles Paddleball was taken by the Hulkster/Warrior combo of Rolon and Blatt, who defeated fellow NYers Ryan Lopez and @Paul Angel in the final.
– Women's Pro doubles paddleball was taken by #1 seeds @Kathy Guina and @Jasmine Suarez , who crushed two LPRT pros in the semis and then took out Morales/Colon in the final.
– Mixed pro Doubles Paddleball: was taken by Rolon & Guinan, giving both the Paddleball double on the day, defeating Suarez/Angel in the final.
——————
Thanks for all the streaming on the weekend from the LPRT video crew, with @JT R Ball leading the way and bringing in all sorts of characters into the booth (including the Warrior, Sudsy, Mikey D, Vic Leibofsky and the like).
Thanks to the Tourney Directors Peggine Tellez , Jen O'Meara , @Mike Coulter and the entire 3Wall Ball crew for putting this event on and ensuring the legacy of outdoor majors.
Reminder to Players! Please like and follow this page so that when I tag you, you see it. Facebook will only retain tags of people that like/follow a page, which means lots of you are not getting the notoriety of getting tagged and noticed on Facebook. If your name is here and it isn't tagged … it probably means I attempted to tag you but Facebook stripped it.
——————
Next up?
Per our handy master racquetball calendar …
Next week the IRT is in Chicago, and USAR hosts Intercollegiates at Ohio State for the first time. Later this week we'll recap the standings post Beach Bash for the 2023 Cup Series and post the results online.
——————-
tags