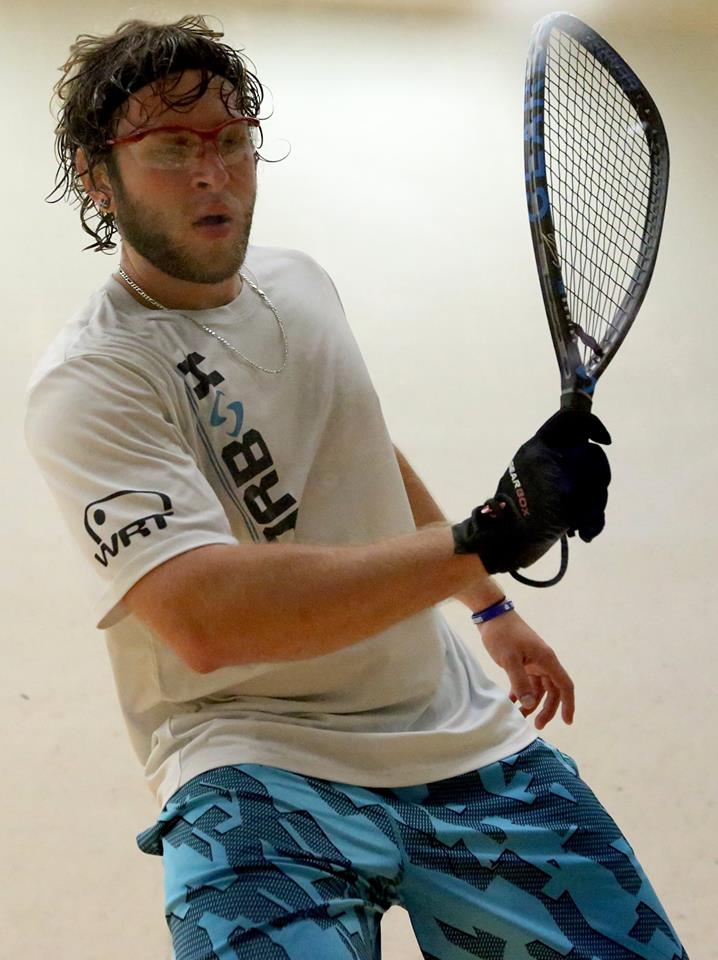 Congrats to your winners on the weekend:
– Singles: Jake Bredenbeck
– Doubles: @Daniel De La Rosa and @Alejandro Landa
Bredenbeck beats #1 and #2 to claim his second career IRT title. Landa and DLR win their first title together since claiming the US National crown in February.
R2 Sports App home page for event: https://www.r2sports.com/website/event-website.asp?TID=41100
——————
Lets review the notable matches in the Singles draw.
Singles Match report in the PRS database: https://rball.pro/fz9
—————-
In the 32s: the move to a non-qualifying draw continues to show its impact. Of the nine round of 32 matches competed, four of them could only be described as complete blow outs, finishing with score-lines of 2&0, 2&1, 5&1, and 0&1. Even those which didn't finish in 15 minutes were generally not competitive, featuring single game scores in the low single digits. Only one tiebreaker in the entire play-in round, when #11 Jaime Martell was pushed to a breaker by #22 @Oscar Elias Nieto.
Lower-ranked players: are you still sure you want a non-protected draw?
—————-
In the 16s, just one upset by seed and really only a couple of competitive matches as the IRT starts to get really chalky.
– #11 Martell upset #6 @Alejandro Landa 14,12. Landa was recovering from a couple of simultaneous injuries suffered in an IRT match earlier this season and the Opportunistic Martell took advantage.
– The only other close match in the 16s was #2 Daniel De La Rosa grinding past #15 Sam Bredenbeck 7,12.
—————-
In the Quarters, we saw some solid ball.
– #1 @Conrrado Moscoso , who could not lose #1 unless he lost in the first round, cruised past the #8 seed Alan Natera .
– #5 Rodrigo Montoya continues his recent dominance over #4 Andree Parrilla , beats him for the 5th straight time in all competitions to move into the semis. With this win, Montoya should ascend into the top 4 on the IRT for the first time.
– #3 Jake Bredenbeck raced past the upset-minded Martell 11,2 to move into the semis for the 5th time in six tournaments this season, after having made a grand total of 5 pro semis in his entire career prior.
– #2 De La Rosa moved past the lefty Adam Manilla 12,6 to setup a critical meeting against Jake that has significant ramifications both for the pro tour and for USA national rankings as we approach National singles.
—————
In the Semis
– Moscoso and Montoya had their customary "nothing between them" first two games, splitting it 14 one way and 13 the other, before Conrrado ran away with the tiebreaker to move into the final.
– In the bottom half, pundits (ahem, me) thought DLR would advance into the final like he normally does over Jake (he's 13-2 lifetime against Bredenbeck and has owned him this whole season). Jake had other plans, taking game 1, getting a huge lead in the breaker and holding off a comeback attempt to take the semi and advance into the final.
In the Finals, another upset as Jake took out Moscoso in two straightforward games to get his first ever win over the Bolivian and claim his second title after taking Portland in December. Jake played solid, calm, tactical power racquetball to take out the world #1. A well earned win.
—————-
Points Implications of results:
We've alluded to the expected changes above, but we're seeing some major movement with these results:
– Thanks to Jake's replacing last year's round of 16 loss in SoCal with a win here, he will supplant De La Rosa easily for #2 on tour. What a great achievement for Jake, who many thought would be mired in the 7-10 range as a peak for his career.
– Montoya will jump over both Parrilla and the missing Eduardo Portillo and moves into the coveted #4 spot. He'll continue to project into Moscoso in the semis, and may very well continue to face his long-time nemesis Parrilla in the 4/5 spot in the quarters, but he's now in position to put some points on the board.
– Manilla should move up to #8 spot.
– Murray drops to #9 and with his latest injury is in serious jeopardy of dropping out of the top 10 for the first time since 2016.
—————-
Doubles review
Match report in the PRS database: https://rball.pro/zc9
This tournament marked the triumphant return of Alvaro Beltran to the tour after months away, and also marks a new pathway forward for Beltran. For a while, he has been hinting at retiring from playing singles but still wanted to play doubles. However, his long-time doubles partner De La Rosa has been forced to find new partnerships in his absence.
Since Alvaro's injury, DLR has played with @Kadim Carrasco (semis loss in Florida), Sebastian Fernandez (semis loss in Austin), @javier Mar (a win in the Lewis Drug), Landa ( a win at US nationals, then a Finals loss in Atlanta before this weekend), and then with Moscoso (a loss in Minnesota). Suffice it to say, DLR needs a regular partner. Has he found one in Landa? Maybe so; he and Landa eased into the final by topping Chicago's champs Parrilla and Manilla in the semis.
There, they met … DLR's old partner Beltran, who teamed with Montoya this week in Mar's absence and got a very solid win over the PARC finalists from Bolivia Moscoso & Carrasco to get t here.
In the final, the former partners showed little good will towards each other in a tight, testy match that belied the existence of some tension between the long-time partners. In the end, DLR and Landa took the title, their first since taking US Nationals in February, though Beltran made his normal array of fantastic shots.
—————-
Other notable draws.
In the Men's Open, Trujillo (who curiously forfeited his pro match) took out for fellow Mexicans in a row (Sanchez, Nieto, Ortega, and Longoria) to take the Men's Singles Open title.
—————–
Thanks for all the streaming on the weekend, especially from broadcasters Favio Soto, Pablo Fajre and the IRTLive crew . thanks to Brian pineda for coming out of broadcasting retirement to make it happen this weekend.
Thanks to the Tourney Director @Favio Soto and for Keith Minor as always for your continued support of the sport. I'm not sure we have pro racquetball right now without KWM Gutterman and Minor.
——————
Next up?
Per our handy master racquetball calendar …
Next weekend the LPRT is back in action for the first of two back to backs, in San Antonio and then their Grand Slam in Greenvile, SC. The IRT has had several events fall through and now doesn't have a tier 1 again until the big event in Denver, which may very well feature the return of Kane Waselenchuk .
——————-
tags