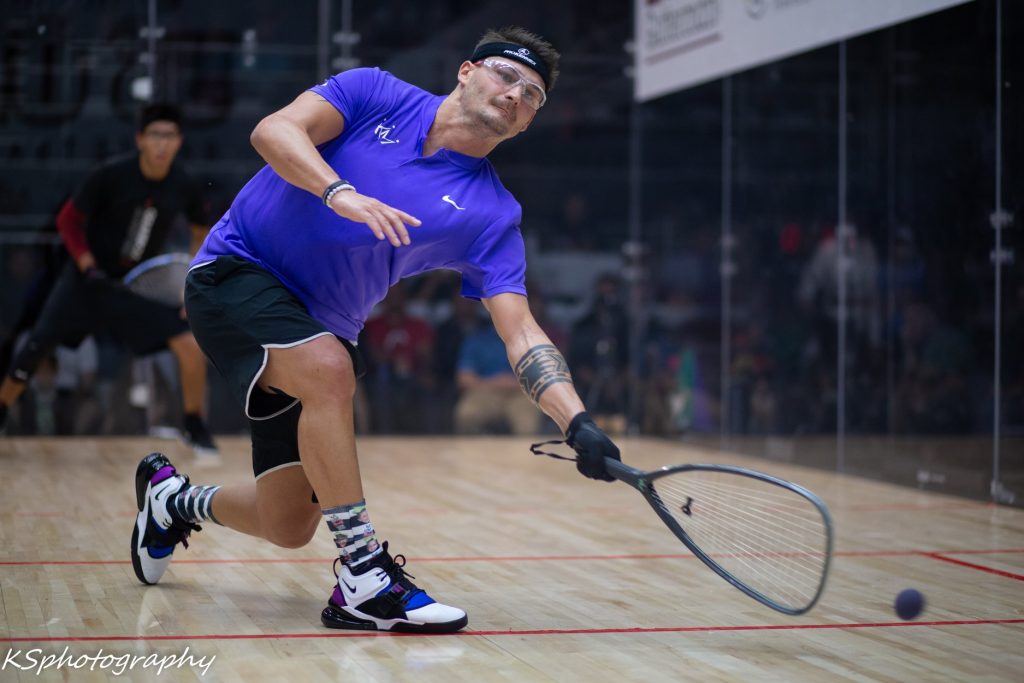 Congrats to Kane Waselenchuk on his 122th career IRT Tier 1 title on the weekend. He triumphed over a trio of top Mexican players then blasted Mercado in the final to take the title.
R2 Sports App home page for event: https://www.r2sports.com/website/event-website.asp?TID=31897
——————
Lets review the notable matches in the Singles draw.
Singles Match report in the PRS database: http://rball.pro/EB643C
—————-
In the 64s:
– #25 Sam Bredenbeck eked out a tie-breaker win over #24 Scott McClellan
– Both Kelley brothers (Sam and Joe), travelling from the NJ/PA area, fell in two to traveling pros. Great job supporting the event though, along with all the traveling players.
– #23 Kadim Carrasco] took a close match from #26 Justus Benson.
—————-
In the 32s, we started to see some interesting results.
– As suspected, the 16/17 match was close, with #16 Javier Mar taking out younger countryman #17 Sebastian 'Patata' Fernandez] in a tie-breaker.
– #12 Carlos Keller Vargas was stretched by Costa Rican veteran #21 Felipe Camacho, winning two closer games.
– #13 Thomas Carter got revenge from last week, topping #20 Javier Estrada in a breaker to move on. Sold win for Carter to reverse his two-tourney one-and-done streak.
– #11 Mario Mercado Valenzuela held serve against #22 Alan Natera Chavez, winning in two closer games.
– #10 Sebastian Franco was stretched by South American neighbor Carrasco, advancing 14,13.
– #15 Eduardo Garay played a complete match and dominated #18 Adam Manilla 8,8 to move on.
So, the 32s went perfectly chalk; all the seeds from 9-16 advanced into the next round. I think I predicted at least 2-3 upsets here but the seeds prevailed this time around.
—————-
In the 16s:
– #1 Kane Waselenchuk got his tourney started against a tough foe in #16 Mar, but advanced 7,8. We saw a similar pattern in game 2 to a lot of Kane's games against solid opponents; it was even for a while … then it was 8-8 … then you blink your eye and its 15-8 as Kane turns up the pressure and moves on.
– In a fascinating result, #9 Rodrigo Montoya Solís] dominated #8 Conrrado kevin Moscoso Ortiz Racquetball 12,4 to remain unbeaten against the Bolivian Iris Grand Slam winner and move on.
– #5 Samuel Murray held serve against Keller, moving on after taking a close game one.
– #4 Álvaro Beltrán stifled any chance of another upset at the hands of the lefty Carter (as had happened in December in Portland), cruising to a 4,12 win.
– #3 Andree Parrilla is ready to put this month behind him; the player I thought could make a run to the final here instead was upset in the round of 16 for the third successive week, this time at the hands of Gerardo Franco Gonzalez 11-7 in the breaker. Franco advances to his 4th pro quarter final.
– #6 Lalo Portillo's dreams of back to back finals ended early; he was dropped by #11 Mercado in the round of 16s for the 2nd time in three weeks, this time by the overwhelming scoreline of 4,7.
– #10 S.Franco evened up his career h2h line with #7 Jake Bredenbeck, taking him out in two to advance.
– #2 Alex Landa showed little ill-effects from his arm injury of last weekend, advancing over a tough foe in #15 Garay 6,(7),5.
So, three upsets at this stage; the top is nearly chalk 1,9,5,4 in the quarters, while the bottom is 14,11,10,2. I had predicted some upsets here … but none of them came to pass.
—————-
In the Quarters
– #1 Kane topped #9 Montoya to move on, but not with out a bit of controversy. Early in the second game a long rally had the players come together and Kane seemed to almost shove Montoya to get out of the way of a shot. It was kind of reminiscent of the early physical days of the sport. No penalty was given and nothing seemed to come of it … but at the end of the tourney Montoya scored the most points of any player against Kane in a game on the weekend, and seems to be getting incrementally better against the King each time they face each other.
– #4 Alvaro Beltran came from a game down to top Canadian #1 Murray and keep his perfect h2h record alive over him.
– #11 Mercado advanced to his first pro semi since the Bolivian Grand Slam by topping upstart GFranco 13,2. Franco looked frisky in game one … but collapsed once he lost the close opening game.
– #2 Landa made short work of #10 S.Franco 5,5.
—————
In the Semis; two interesting matches.
– #4 Beltran dominated #1 Kane …. for a quarter of their match. Beltran led 5-0 and 7-3 in the first …. and then didn't score again. Kane ran off 27 unanswered points from 3-7 down in the first game to win the match 7,0. Just a complete white washing where Kane played textbook ball for most of the match.
– #11 Mercado saved game point in the first and then took a close one from #2 Landa to advance to just his second ever pro final 14,11. He becomes the rare double-digit seed to make a pro final.
In the Finals…. it was one way traffic. Kane crushed Mercado 2,3 to take the title. 5 total points against represents the 2nd most dominant final scoreline in the history of the tour (see http://rball.pro/C1E703 for the full list … not surprisingly Kane owns most of the top scorelines on this report).
—————-
Points Implications of results;
There's no expiring tier 1 from last season to drop off, but there's still a lot of movement in the top 20 on tour after this event:
– Parrilla's 3-tourney swoon finally costs him in the rankings: he'll drop to #5 behind Beltran.
– DLR's absence costs him too; despite Moscoso's early upset exit, he'll pip Daniel for #6 on tour.
– Montoya and Mercado will both jump over Jake in the tightly bunched set of players in the 10-13 range. Around 30 ranking points separate 10th from 13th and these three players along with Sebastian Franco continue to juggle spots based on tournament results.
– Gerardo Franco jumps to #16, Mar continues to rise up (now #19), and the missing Acuna gets dumped three spots to #21.
—————-
Other Draws:
In the Men's Open, a solid bracket included several former top-8 IRT players plus a ton of locals. As it turned out, two of the pro quarter-finalists were the 1 and 3 seeds in the Open (and both forfeited out, thinning the draw) and the 8 quarter-finalists ended up being 6 touring internationals plus mid-western top amateurs Lee Meinerz and Anthony Martin.
In the qtrs:
– SFranco topped Meinerz 8,11
– Fernandez crushed Garay 4,1 to advance.
– Camacho got a walkover when Mercado withdrew.
– Portillo topped Martin 8,4
In the semis:
– Fernandez walks over Franco
– Portillo crushes Camacho 2,3
In the final, a familiar battle. Mexican nationals Fernandez and Portillo are a year apart and often met in the back end of junior nationals and junior worlds events. Some of their recent match history includes these notable finals:
– Portillo d Fernandez in the 16U World junior finals in 2016
– Fernandez d Portillo in the Mexican 18U natioanls final in 2018
– then, 3 months later the two met in the 18U junior worlds final, Portillo's last junior event, and Portillo won.
So how about on this day? They played a back and forth match eventually won by Patata Fernandez (4),7,8.
——-
In the Men's Open Doubles, in the absence of an official IRT pro doubles draw we saw a 15-team bracket headlined by the reigning Pan Am Games gold medalists Mar/Montoya. Also in the doubles draws were a couple of old friends from the East Coast, Brent Walters and Russ Bruns, both of whom have strong ties to the Virginia Racquetball scene.
In the end though, the top two seeds, both all-Mexican traveling teams, advanced to the final. #1 Montoya/Mar, one of the best teams in the world and the reigning Pan American Games gold medalists, ended up topping Natera/Estrada in two tight games for the title.
——————
Next up?
The IRT takes a break until mid-march when they return to Chicago. Meanwhile, USA National Doubles is next weekend, featuring a juicy pairing of 5-time pro champ Sudsy Monchik teaming up with IRT #2 Landa, who has to represent the USA.
In fact, there's almost nothing going on that we'd normally track in February; I may have to come up with some fun ideas to discuss during the break.
——————-
International Racquetball Tour
International Racquetball Federation – IRF
International Racquetball Federation
USA Racquetball
Racquetball Canada
Federación Mexicana de Raquetbol
Federación Boliviana De Raquetbol – Febora
Federación Boliviana de Racquetball
Racquetball Colombia
Federacion Colombiana de Racquetball
Federación Costarricense de Racquetball