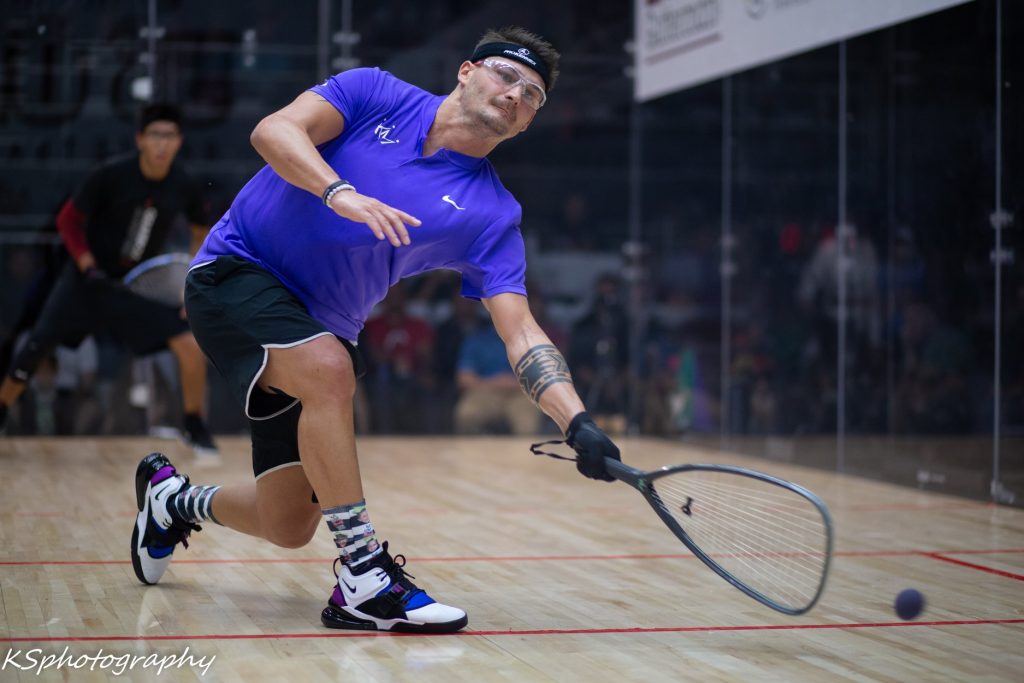 Congrats to your winners on the weekend:
– Singles: Kane Waselenchuk
Kane wins again, without dropping a game and only gave up 13 points in 6 games prior to the final. He secures his 600th professional match win in the process, behind only Cliff Swain all time on the men's pro tour (see http://rball.pro/133532 for a list of all time match wins on tour).
Kane is now 21-1 on the season, that one loss being a last-minute forfeit out of the season opening Atlanta event.
Thanks to an early loss by #2 Landa and an absence by #3 Carson, Kane maintains his 300+ point lead at top of the standings and looks poised to expand that in the next two weeks.
R2 Sports App home page for event: https://www.r2sports.com/tourney/home.asp?TID=31338
——————
Lets review the notable matches in the Singles draw.
Singles Match report on PRS: http://rball.pro/EDA61F
—————-
In the 128s and 64s:
First off, there were no less than six wbf-ns in the opening two rounds of qualifications. Unfortunately, several of the players who forfeited where guys who I thought could make somewhat deep runs here. I got a little bit of the context of the forfeits; lots of guys signed up quite early (because this is such a popular event), then could not secure funding for affordable flights and had to bail. I'm bummed though for those who wanted to play and couldn't get to Austin.
That being said, we did see some interesting early round matches:
In the 128s:
– #37 Diana-Shai Manzuri downed #28 Justus Benson 10,8.
– #38 Alejandro Almada downed #27 Scott McClellan 11-9 in the breaker. I wonder if the match was self-refereed.. (ok, ok, bad joke).
In the 64s:
– #20 Javier Mar took out fellow traveling Mexican #36 Juan Loreto in two to advance. Loreto made up for it by making a solid run to the Men's Open semis.
– #19 Adam Manilla was made to work for it from relative unknown Bolivian Miguel A. Arteaga Guzman , winning in the breaker to move on.
– #26 Bolivian Kadim Carrasco took out #39 Mexican Edson Martinez in two games 5,11. Solid win for Carrasco.
—————-
In the 32s, we started to see some fireworks.
– #24 Alan Natera Chavez​ downed #9 Jake Bredenbeck in two games 12,8. The giant-killer in Natera surfaces again and takes out the highest unprotected seed in the draw.
– #20 Mar continued his run, taking out #13 Carlos Keller Vargas​ in two. This is Keller's earliest exit this season but it comes at the hand of a player who's probably one of the top 6-7 players in the world irrespective of seeding.
– #19 Manilla gets a walk-over into the main draw thanks to #14 Gerardo Franco Gonzalezs no-show.
– #11 Mario Mercado Valenzuela​ had to come from a game down to top local Texan #38 Alejandro Almada in the breaker. Almada was the 38th seeded player out of 39 players in this draw thanks to the fact that its his first ever IRT Tier 1 stop. He had played a slew of WRT events as he matriculated out of the junior ranks, where he won a number of Mexican and World junior titles. He's currently a student at U-Texas, thus he's playing on his home courts, and he's the two-time runner-up at USAR Intercollegiates. He's also got solid wins in non-Tier 1 IRT events on his resume, and we hope to see more of him.
– #23 Javier Estrada went big-game hunting and took out #10 Sebastian Franco​ 13,7. Estrada played up to his potential and advanced.
– #18 Eduardo Garay topped #15 Thomas Carter​ in two close games to advanced into the main draw for the 7th time in his young career.
So, the round of 32 saw the #9, #10, #13, #14, and #15 seeds fall to lower seeded players. What would we see in the 16s?
—————-
In the 16s … even more fireworks
– #1 Kane Waselenchuk got his tourney started by crushing Costa Rican #16 Andres Acuña 3,2. They met at this gate earlier this year in Arizona with similar results.
– #8 Conrrado kevin Moscoso Ortiz Racquetball took out the upset minded #24 Natera 14,9 to setup the highly anticipated quarter.
– #5 Canadian Samuel Murray​ was pushed by #12 David Horn​ but prevailed in a breaker.
– #4 Alvaro Beltran​ surprised this observer and turned the tides on his younger Mexican rival for the first time in a while, topping #20 Mar in a tiebreaker. I can't recall the last time Beltran got the better of Mar on the court.
– In a huge upset, #19 Manilla took out #3 Andree Parrilla​ 6,9. Manilla advances to his 4th pro quarterfinal, and gets easily the best win of his career. He'll face a player in Mercado in the quarters who he has beaten multiple times, and he has to like his chances of advancing to the semis for the first time.
– #11 Mercado topped #6 Lalo Portillo​ to give the young Mexican his third straight one-and-done since achieving a top8 seed. A solid showing by the Colombian to get the wins he needed.
– #7 Daniel De La Rosa trounced #23 Estrada 6,4, avenging a loss to his Mexican rival in the Black Gold cup this past summer and getting DLR a solid win to advance.
– In the round's biggest upset though, #18 Garay took out the #2 player on tour Alex Landa ​6,(12),1. Garay served lights out in game one, frustrating Landa. They played a closer game 2, with Landa pulling away at the end to force the breaker. But Garay's ability to put power pinches away and force a lot of 3-shot rallies and pecked away to suddenly dominate and win the breaker 11-1.
Fun fact; there is a radar gun on the court, and Garay/Landa were routinely putting serves and kill shots in the upper 140 ranges. Cannot wait to see what kind of speeds we see in the Kane-Conrrado quarter.
Seed report in the 16s: top of the draw is chalk 1,8,5,4. Bottom? Instead of 3,6,7,2 its 19,11,7,18. We could be seeing a double digit seed in the final for the first time since Moscoso sprinted to the US Open final as a 15th seed last October.
—————-
In the Quarters:
– Fans were robbed of the anticipated Kane vs Conrrado match: Conrrado picked up an injury in his round of 16 match and could barely move from the onset of his match against Kane. On the match's first serve, he could barely put weight on his leg as he moved towards the ball, and looked to be in considerable pain. Curiously, he chose not to forfeit, but to play the entire match, giving up ace after ace and eventually losing 4,1. Lets just hope its not a serious injury, given that he's slated to play and compete in the next two events back to back.
– #4 Beltran held serve and topped #5 Murray for the third time in his career and second time this season, moving on to the semis.
– #19 Manilla indeed took care of business against #11 Mercado, a player he's beaten numerous times, dominating and winning 8,9 to achieve his first ever pro semi final.
– #7 DLR made short work of #18 Garay, advancing 6,8 and controlling the match. Garay showed none of the dominance that enabled him to frustrate Landa, and DLR puts himself into a position to be the favorite for the final. He also advances to just his second semi on the season; is this the event that allows Daniel to get his season back on track?
—————
In the Semis:
– #1 Kane absolutely blasted #4 Beltran 1,2 to advance to the final. Kane is set to possibly challenge his own record of "Most dominant tourney win." He's given up 13 points in 6 games thus far through three rounds. I think its safe to say he likes these courts … or likes playing in front of his home crowd.
– #7 DLR ended the cinderella run of #19 Manilla, but not before it looked like Adam might get another big win. Manilla took the first game 15-13, but then DLR got out to a dominant lead in game two to control it 15-7. In the breaker DLR continued his adjustments and cruised to an 11-2 breaker win and advanced to his first final of the season. We miss out on the first lefty-lefty final in more than a decade on tour.
—————
In the Finals:
– Kane was pushed for the only time all tournament by DLR, who ran off stretches of consecutive points at times that had fans remembering the days when it was a foregone conclusion that he was the "next big thing" in the sport. Kane was down big in game 2 before mounting a crushing comeback and eventual win 9,10.
—————-
Points Implications of results
Thanks to the results on the weekend, here's what I think will happen points-wise. There was an event from last season that expires 1/19/20, so this event will just replace those points like for like. This analysis doesn't include the Tier 5s going on this past weekend in Laurel, MD, but the points earned there won't appreciably change any rankings for any top players.
– Moscoso will move from #7 to #6 despite earning fewer points than DLR. Daniel drops to #7, his lowest ranking since the 2013-14 season, despite his finals appearance thanks to treading water with 2019's expiring points.
– Montoya will drop from 9th to 13th, which is kind of a bummer for him since he missed the event to accept an award for his accomplishments from his home city of Chihuahua.
– Garay jumps up from 21 to 17 on the back of his qtr appearance.
– Interestingly, Manilla's big weekend only moves him up one spot thanks to a big gulf of points between him and the players right above him previously. But, another qtr appearance could jump him up a few slots based on his closing that gap.
– Diaz drops 6 spots from 24 to 30 with his absence this weekend, further evidence of his touring status.
—————-
Doubles and other draws from the weekend:
No pro doubles on the weekend. But a recurring pro doubles team in Keller/Carrasco teamed up to win the Open doubles over two Texans in Manzuri and Mascorro.
In the Men's open draw, Lalo Portillo topped a solid field with an on-the-court win over Natera and a walk-over win in the final to take the title.
In the Women's Open, #1 seed Maria Renee Rodríguez took out #2 seeded Linda Tyler in the final between two regular LPRT players.
——————
Next up? The Men turn right around and head to Sioux Falls, while the ladies head to South Carolina for the big Grand Slam. A busy weekend of rball coming up!
——————-
International Racquetball Tour
LPRT
USA Racquetball
Racquetball Canada
Federación Mexicana de Raquetbol
Federación Boliviana De Raquetbol – Febora
Federación Boliviana de Racquetball
Racquetball Colombia
Federacion Colombiana de Racquetball
Federación Costarricense de Racquetball
Asociación Argentina de Racquetball
Racquet Chile
Jugadores Racquetbol GuatemalaRacquetball Tournament in Austin, TX USA. Dates: 1/16/2020 – 1/19/2020.R2SPORTS.COM