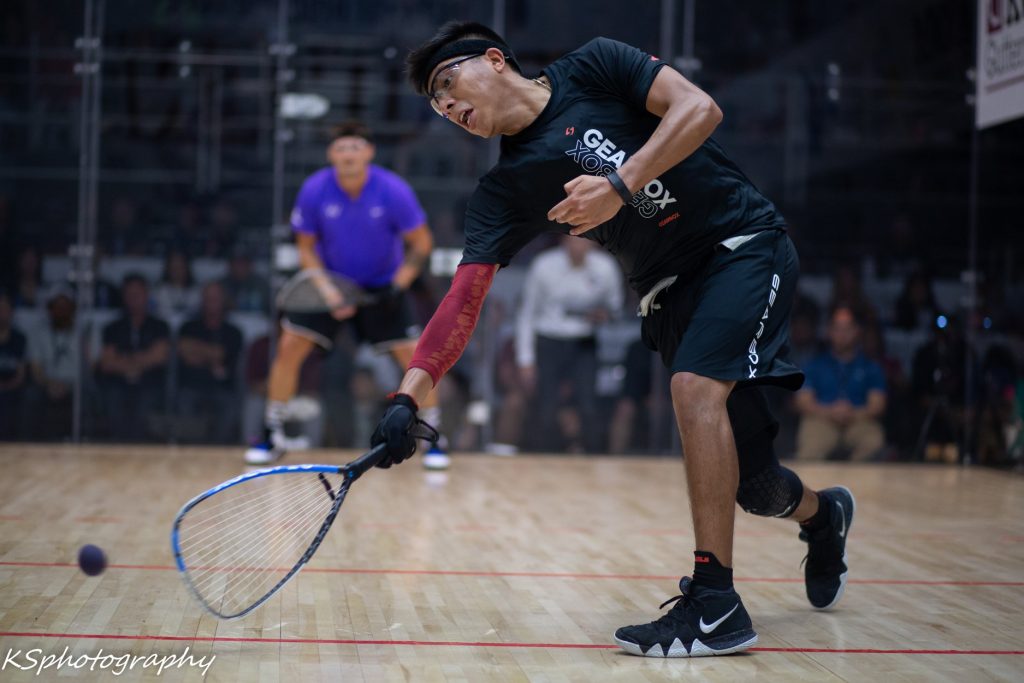 One of the sports biggest amateur events has added the IRT men to its slate of competitors, making for a massive tournament in Austin this coming weekend. No less than 457 players are entered into this weekend's Longhorn Open, with a healthy 39-man pro draw.
The IRT returns to the state of Texas for the first time since March of 2018 … and to Austin for the first time since Feb 2003. Its also the first time the tour's #1 player Kane Waselenchuk has been able to play a "home" event since Oct 2015.
R2 Sports App link: https://www.r2sports.com/tourney/home.asp?TID=31338
In the 39 man singles draw, we have the hoped-for strong Mexican player contingent, which is going to make for some *great* preliminary rounds and some fascinating match-ups. We are missing some key names though from the draw:
– #3 Rocky Carson announced on FB last week that he's decided to skip this event to give his surgically repaired knee a bit more time to heal. He had a small knee op done in mid-Dec and isn't quite ready to go yet.
– #9 Rodrigo Montoya Solís also missing.
These two absences jump #10 Lalo Portillo into the top 8 … and then thanks to the flip seeding this event he secures a lofty #6 seed. FYI, in case you're wondering why the 5-8 seeds look odd, the flip seeding has resulted in slightly altered seedings versus rankings this event:
– #5 seeded Samuel Murray is ranked 8th at current
– #6 seeded Portillo is ranked 10th as noted above
– #7 seeded Daniel De La Rosa is ranked 6th at current
– #8 seeded Conrrado Moscoso is ranked 7th at current.
The more apparent and obvious implication of the flip is the possible Moscoso-Waselenchuk match-up in the quarters.
Other top 30 players missing in this event are #18 Sebastian 'Patata' Fernandez, #27 Sam Bredenbeck and #29 Jansen Allen, the longtime touring pro who misses an event that's drive-able from his home outside of Dallas.
——————————
Lets preview the draw. Here's some notable qualifying matches that i'm looking forward to:
In the round of 128:
– #32 vs #33: Christian Longoria vs Andres Gomez; tough first rounder for the Colombian; Longoria is sneaky good and could be pressing for a main draw spot.
– #28 Justus Benson vs #37 Diana-Shai Manzuri; Manzuri continues to represent Argentina internationally well into his 40s, and will be a tough out for the regular tour player Benson. A home-state match-up for two Texas residents.
– #26 Kadim Carrasco vs #39 Edson Martinez: Martinez is seeded 39th of 39 players here, but he's not the 39th best player in this draw. He's made the quarters of this event twice in the last three years (albeit, when it was an WRT event). This could be a close match.
———————————-
In the round of 64:
– #33 Longoria vs #17 Robert Collins; Collins just misses out on the bye into the 32s, and may run into a player who can top him in Longoria.
– #20 Javier Mar vs #29 Alejandro Cardona; what a brutal match for these two. Mar is one of the top 6-7 players in the world, and Cardona isn't far behind him. This is a quarter-final quality match happening way too early. I like Mar to move on and make a deep run here, as he frequently does during his rare IRT appearances.
– #19 Adam Manilla versus #30 Ernesto Ochoa; a great "show me" match-up between an IRT touring regular and an up and coming Mexican player with a ton of impressive wins on his resume. I like Ochoa for the upset.
– #23 Javier Estrada versus the Carrasco/Martinez winner; Estrada had a number of quality wins in the latter part of 2019, including two wins over Javier Mar. But he's proven to be inconsistent. His last IRT appearance featured a win over Horn to make the main draw. Can he repeat here?
——————————-
Projecting the 32s: here's some possible matchups, though the depth of this draw could make for some upsets and make these predictions moot:
– #9 Jake Bredenbeck vs #24 Alan Natera Chavez; Natera is another wild-card; he's made the semis of Mexican Nationals two years running and has a ton of high-level wins, but he also can take curious losses. Which Natera will show up here? He can handle Jake's power for sure; will that be enough? Jake looks to build on a solid pro season so far, which features no main draws missed and a semis appearance in Portland.
– #12 David " Bobby" Horn vs #21 Jose Diaz; fly all the way to Texas to play the guy who lives down the road. Horn/Diaz know each other's game pretty well, both being NorCal players frequenting the "209." Who will have the upper hand on the day? I'm going to flip a coin and go with Diaz.
– #13 Carlos Keller Vargas vs #20 Mar: tough one for Keller; these two met at the US Open and Mar advanced. I think Keller's streak of making the round of 16 ends here.
– #30 Ochoa vs #14 Gerardo Franco Gonzalez; Ochao downed Franco the last time they played last year in an RKT event; i think he wins again.
– #10 Sebastian Franco vs #23 Estrada: This could be a great match-up; I think these two are pretty close talent wise and if both are on their games, expect a dog-fight. I'll go with Estrada here.
– #15 Thomas Carter vs #18 Eduardo Garay: Garay if he's on his game can overpower Carter here, despite the Ohioan's good play as of late.
——————————-
round of 16:
– #1 Kane over Acuna
– #8 Moscoso over #9 Jake
– #5 Samuel Murray over #21 Diaz
– #20 Mar over #4 Alvaro Beltran; Beltran gets one of the few qualifiers who I think can beat him. Mar pipped Beltran in the 2016 Mexican nationals to take a natioanl team spot from him, and since then Mar has continued to exude class.
– #3 Andree Parrilla over #30 Ochao; Ochoa has beaten Parrilla in the past (San Luis Potosi in 2018), but Parrilla needs to take advantage of his seeding to try to make a run to the final. i think he'll move on here.
– #11 Mario Mercado over #6 Portillo: Portillo has run into talented players and one-and-dones the last two tournaments at this stage, and he runs into another one in Mercado. Mercado has the patience to beat the youngster Portillo and will move on with a tactical approach.
– #23 Estrada over #7 Daniel De La Rosa: I don't think DLR's heart is in it right now; i think he's vulnerable to upset and a fired up guy like Estrada, who beat DLR the last time they played, could spell a one-and-done for the pickleball pro.
– #2 Alex Landa vs #18 Garay: Garay's power won't phase Landa, who's putting together his best season and has shown little in the way of cracks in the armor.
——————————
Projected Qtrs:
– #1 Kane vs #8 Moscoso: the US Open final rematch, a scintillating match on the sport's biggest stage that showed the world what we could be in store for, if only the Bolivian played the tour full time. They met a few weeks later in teh semis of Arizona and Kane issued a schooling 10,2. What may happy here? Has Conrrado fixed his foot fault issues? Can he press the King?
– #20 Mar over #5 Murray; they've played a few times, and I don't think Mar has ever lost to the Canadian #1.
– #3 Parrilla over #11 Mercado
– #2 Landa over #23 Estrada; Estrada's magic runs out, though notably i don't have a meeting between these two in the database. Would love to see these two face off.
Semis and Finals:
– Kane over Mar
– Landa over Parrilla
Finals; Kane over Landa.
——————————-
No pro doubles this event, but the Men's Open is a full 32 strong, headlined by a slew of touring players. Since Portillo is ranked outside the top 10, he's "allowed" to enter the Men's Open draw despite being the 6th pro seed, and he's the favorite in that draw. But there's a slew of top local and Mexican players also in that draw, making it as compelling to the neutrals as the pro draw.
I also wanted to point out that there's 52 players in the Men's A draw. 52. There weren't 52 combined men in Open, Elite AND A at the 2019 US Nationals event. Its no wonder the USAR is moving its Nationals event to this part of the country.
———————————
Look for Streaming in the regular places; can't wait for this event!
International Racquetball Tour
USA Racquetball
Racquetball Canada
Federación Mexicana de Raquetbol
Federación Boliviana De Raquetbol – Febora
Federación Boliviana de Racquetball
Racquetball Colombia
Federacion Colombiana de Racquetball
Federación Costarricense de Racquetball