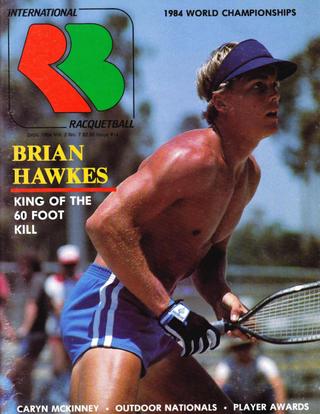 In Jan 2019, after years of research, WOR Hall of Fame chair Brett Elkins revealed a the initial results of his attempts to find all the past winners and semi-finalists of the Outdoor national championships singles events. PRS helped a little bit, finding old WOR nationals review articles in the magazines … but there's not a ton of coverage even in the publications of the time, so kudos to Elkins for reaching out to the players from each era to test their memories on each event.
This note is to tell you that we've updated the PRS database to put in all the results of Elkin's singles research so that All Finals and All Quarter/Semis/Finals reports work and display as much data as we have available. Furthermore I've added in some category queries so you can quickly run just the finals for Outdoor 3-wall and isolate that long-running event from the other major outdoor championships in Vegas and Florida.
Here's some example queries for you, now live with "better" data than we had before:
All Men's Outdoor Nats singles finals: http://rball.pro/946EC1
Current Record Holders for Outdoor Nats singles titles:
– Brian Hawkes with 20
– Rocky Carson with 12
– Several players with 2: Alvaro Beltran, Dan Southern, and Charlie Brumfield
– 8 players with 1 title each.
All Men's Outdoor Nats Quarters/Semis/Finals: http://rball.pro/A8AE3F

Once you run the Quarters/Semis/Finals report, you can see the dilemma we face; prior to the R2 era starting in 2006, there's almost no documented history of the event other than the stellar memory of the likes of Greg Solis, Mike Peters and others.
—-
The Women's singles data isn't as well populated: that's one of Elkins' todo items. We have the winners going back to 2006, nothing for most of the 1990s and 2000s, then some early history documenting the great rivalry between Lynn Adams and Martha McDonald.
All Women's Outdoor Nats singles finals: http://rball.pro/54B622
—
Of course, there's also a separate WOR Doubles database, with Men's, Women's and Mixed pro doubles reports for all three major WOR events; we published a major update for the Doubles Outdoor Nationals data last week.
—
Lastly a quick note that i've changed the "seasons" in WOR to be just the year in which the tourneys occurred, instead of assigning a "season" that crossed the Dec/Jan time-frame (which is what the pro tours do). This was an anachronism that I just never fixed, until now.
Enjoy!USA Racquetball