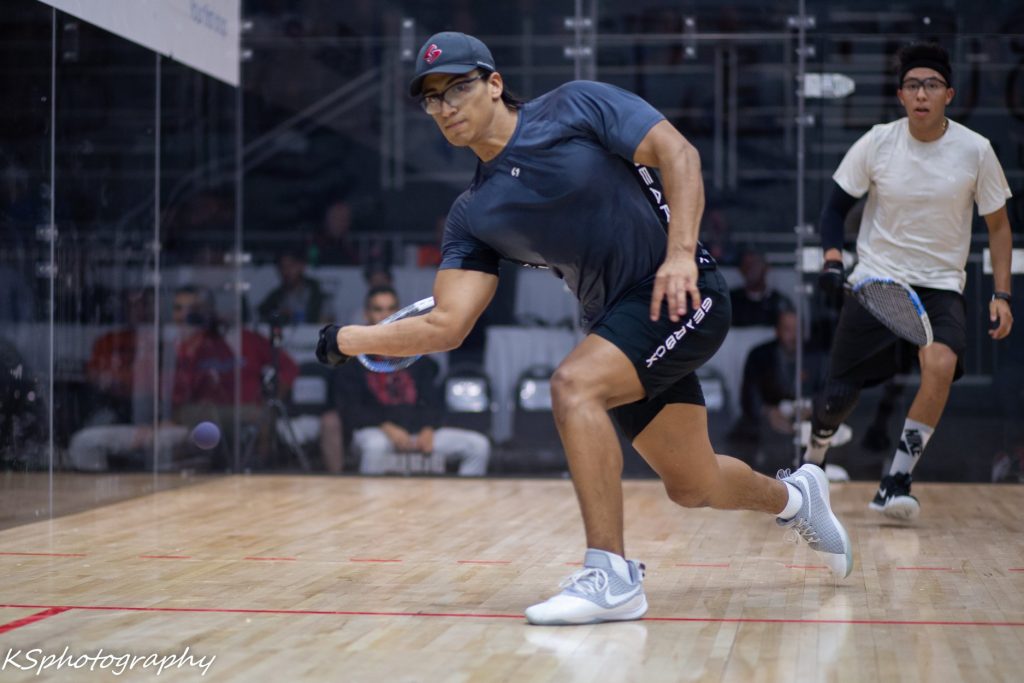 After a couple year's hiatus, the IRT returns to Long Island for the 2022 New York Open.
The tournament has a rich 47-man draw, including a ton of players we don't normally see on tour, which I'll call out in the "interesting matches to watch" section below.
Top20 players missing: #8 Carson misses a rare event; he went nearly 20 years without missing a tournament. Word is he's avoiding the cross-country trip ahead of Nationals. #11 Beltran is not here; he was clearly hurt at the last tournament and has mentioned he won't play in tournaments that don't have doubles anymore. #13 Keller misses his second straight pro event. #16 Montoya is not here, nor is #17 Carter (a rare tourney missed as well). Interestingly #20 Trujillo, who was making a big move, is missing the event after a strong run. Maye he has finals.
All these missing top seeds have meant that Fernandez is finally out of the 16/17 seed range and can get a more winnable first rounder, and Mercado gets a top8 protected seed, among other players ranked in the teens moving up.
Lets preview the draw. Here's some notable qualifying matches that i'm looking forward to:
In the round of 128:
Arteaga vs Ecuadorian national team member Cuevas should be interesting.
Sam Kelley versus Canadian national team member Leduc is a solid match.
Another Ecuadorian Ugalde takes on Cubillos in an intriguing all-South American match.
toughest first rounder: Canadian #2 Iwaasa versus the very good Joe Kelley.
Gomez vs Ortega Jr could be interesting too.
Bravo to all the NY local players who entered and will duke it out in this round of 128. Punjari, Puggioni, Galvez, Sullivan, Meguerditchian, and Behm all representing the tri-state area.
In the round of 64, we have some projected battles worth watching:
Floridian Zamudio versus Galicia could be great.
Ugalde versus Sam Kelley would be a good match.
Warigon versus the Guatemalan #1 Salvatierra would be great.
Iwaasa once again is in the toughest potential match of the round, projecting to face Cardona. Both these guys can make the 16s with the right draw, but one is going home in the 64s.
– Young Bolivian Barrios gets a test against veteran Wer.
Projecting the 32s:
#16/17 Alonso vs Zelada. Alonso has been on fire, but Zelada is no slouch. A nice test for the Mexican who has been hot lately.
#9 Bredenbeck vs Horn; all American matchup sends one team USA member home early. In their WRT peaks i'd favor Horn, but now i'm favoring Jake.
The best projected match of this round will be #11 Acuna versus the winner of Cardona/Iwaasa. Acuna should hold serve against both players, but both will press him as better than their seedings.
– #15 Robbie Collins is the most vulnerable of the 9-16 seeds, but the winner of Cuevas/Behm/Gomez/Ortega Jr quadrant may not have enough firepower to do so.
round of 16:
I Like DLR-Alonso for some fireworks. Alonso can score some points, but DLR will advance.
I think #9 Jake upsets #8 Mercado with better current form.
Can #13 Fernandez upset #4 Landa? Yeah, I think he can, especially if Landa gets off to a slow start. Fernandez has the explosive game to press Landa unless he's 100%.
#14 Garay has the firepower to top Murray but will need to play a complete match. Murray is a model of consistency and rarely loses to upstarts.
#6 Moscoso vs #11 Acuna: these two always play close.
– If Kane shows up, he has a straightforward winnable first rounder against Franco.
Projected Qtrs:
#1 DLR over #9 Jake.
#5 Lalo over Landa/Patata winner; i think Lalo is poised to take the next step and Landa is beginning to show some wear and tear. If Sebastian gets the upset win, I still think Portillo can top him in a battle of 20-somethings.
#6 Moscoso over #3 Murray, even though Murray has a number of wins over the Bolivian in their career. It nearly always goes breaker.
#7 Kane over #2 Andree. Again, if he shows. This would be a rematch of the epic 11-10 Andree win from Atlanta in January.
Semis:
#1 DLR over #5 Lalo; Lalo doesn't have what it takes to beat DLR yet.
#7 Kane over #6 Conrrado. But, if Kane no-shows I like Andree over Conrrado in a rematch of two weeks ago.
Finals;
– If he shows, Kane takes out DLR in a highly anticipated matchup of the current #1 and the long-time #1. If its DLR vs Parrilla, its a rematch of last week, a easy DLR win. If its DLR- Moscoso? Tough one: DLR has the better game and Moscoso would need a game-plan/strategy to counter it.
Look for Streaming in the regular places; follow the IRT on Facebook and sign up to get notifications when they go Live.
Look for Dean Baer, Favio Soto, Pablo Fajre and the IRTLive crew all weekend on the mike, calling the shots!
Associations
@International Racquetball Tour