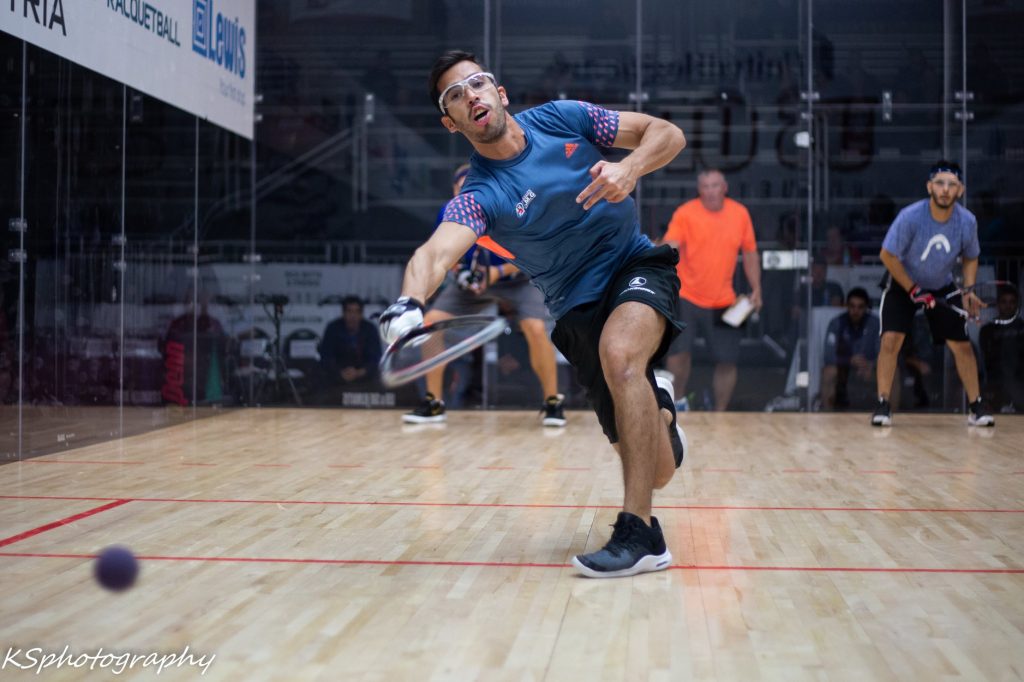 In the first part of this season-end post we went through the players who finished ranked in the top 10.
In this part 2, we'll go through players 11-20.
Here's helpful links that I use for year-end analysis.
– 2019-20 year-end points in the system: http://rball.pro/B8C116
– Season Summary Report: http://rball.pro/8F437B
– Season Seed Report: http://rball.pro/553125
– Year End Ranking Matrix: http://rball.pro/E441EB
—
#11 Sebastian Franco took a step back in the rankings after finishing the last four seasons in the top 10. He missed four of the events on the season, which makes it tough to maintain your seeding and ranking, prompting some observers to wonder if his days of full-time touring are over.
He started the season strong; making the semis of the first two events of the season, which got him as high as a #5 seed. But two round-of-32 losses (to Manilla and Estrada) conspired to knock him out of the top10 by seasons' end.
Franco may be at a career cross roads; he's just turned 27, he's a family man now with kids and may not be in a position to tour full time going forward. Plus, he'll take a big hit in the rankings right out of the gate in the fall as he defends two semi-final appearances. He could see his ranking crash into the mid teens quickly if he doesn't start well next season
See here http://rball.pro/00C54F for Franco's season summary report.
—
#12 Rodrigo Montoya Solís took a step back in the rankings from last season, slipping to #12 at the end after being ranked inside the top 10 all year. Montoya remains an enigma on tour; clearly possessing the talent to be making the back end of tournaments week after week (he won the Pan American games in August with wins over three successive higher ranked top-10 players), but yet only made two quarter finals on the season.
He did have some match-up bad luck; losing in the 32s to his doubles partner Mar 11-9 at the US Open, and running into Kane and DLR twice to exit at early stages. No shame in that. He also had a relatively dominant win over Moscoso in Wisconsin. But Montoya needs more consistency against the players in his 10-14 range (Mercado, Franco, Portillo, etc) to claw back into the top 8 conversation.
He also crashed out of Mexican Nationals way early, just a few months after winning gold in Peru, though he and Mar did hold onto the Mexican doubles title (ensuring a return trip to the next IRF event).
see here http://rball.pro/3BCDBA for Montoya's season summary report
—-
#13 Mario Mercado slipped to 13th after four seasons in the top 10. Mercado opted to skip two west-coast tourneys (he's based on the east coast), and suffered three round-of-32 upsets on the season (to Fernandez, Pratt and Martell, one of which was at the US Open), and the sum of these events conspired to drive his ranking down. He did have a great run to the final in Sun Prairie, just his second ever pro final.
Mercado's well set to regain his ranking if he can get back on track making 16s and quarters again, replacing round of 32 losses with solid point gains.
click here http://rball.pro/1291FB for Mario's season summary report.
—–
#14 Thomas Carter improved his season ending ranking for the fourth straight season on the backs of solid play and navigating his way into the main draws of pro events frequently. He had his best ever pro finish, upsetting Beltran and making the quarters in Portland. He also had solid wins over Diaz at the US Open and over Estrada at the Lou Bradley.
click here http://rball.pro/602C12 for Carter's season summary report
——
#15 Javier Mar played nearly as many events this season (6) as he had in 5 combined previous seasons (7) and he finishes 15th for his trouble. Despite my believing he's one of the top 6-7 players in the world, he struggled to put together solid runs into the later stages of events.
He had two round of 32 losses he'd probably like back (to Fernandez and Manilla), but also made a run to the quarters at the US Open as the #24 seed. Three of his season losses were to Kane and Moscoso, no shame there. Next season he'll hope to avoid the royalty of racquetball until later rounds.
Click here http://rball.pro/F3B934 for Mar's season summary report.
—–
#16 Sebastian Fernandez managed to play 7 of the 10 events on the season while balancing the tour and college, and makes a big jump in the rankings from #25 last year.
Patata made a huge run to the US Open quarters as the #23 seed. But he also struggled with his seeding running him right into top players week after week; he had round of 16 exists to Kane, Landa and Rocky this season. He should continue to improve and is a dangerous up and coming player.
click here http://rball.pro/99839C for Fernandez's season summary report.
—–
#17 Eduardo Garay Rodriguez squeaked into the #17 spot by season's end, improving from #28 last season. He played a number of tough round of 32 matches all year and was generally successful in making the main draw (qualifying 5 of 7 events). Once there, he usually played the top-8 seeds tough, with many of his losses on the year coming by tie-breaker. His big win on the season was a win over Landa in Austin, resulting in his first ever pro quarter reached.
Garay has re-classified his nationality, now representing Colombia. Which means he has a greater chance of playing IRF events going forward with a talent pool competing for the spots a bit thinner than in Mexico.
click here http://rball.pro/CB95CF for Garay season summary repot
——
#18 Gerardo Franco Gonzalez had a much better season in 2019-20 than the one before, making the main draw in 6 of the 8 events and pushing into the quarters once, but saw his season-ending ranking slip a couple of spots from last year. He had some really solid wins on the season, didn't have any "bad" losses, and played to his seeding nearly every event. He needs some more break through wins in 2020-21.
click here http://rball.pro/713B6F for GFranco's season summary report.
—-
#19 Carlos Keller Vargas, after playing just 5 previous pro events in his life, committed to traveling from Bolivia and playing the tour full time this season. He started the season ranked #29 and ground his way into the top 20 by season's end. He qualified for the main draw in 7 of the 9 events he played and faced off against 6 of the top 8 players on tour in various round of 16 matches. His biggest win of the year was an upset of #7 Murray at the US Open.
click here http://rball.pro/16387F for Keller's season summary report.
——
#20 Andres Acuña had a very solid season, playing 8 of the 10 events and making his first pro quarter when he downed Parrilla in Laurel early in the season. By season's end he found himself in the dreaded 16/17 seed range, which made for really tough round-of-32 match-ups and a couple of early exits. The Costa Rican #1 finishes one spot higher than he did last year, a testament to just how much talent is pouring into the tour right now.
click here http://rball.pro/224964 for Andres' career summary report.
——
tags
International Racquetball Tour
International Racquetball Federation – IRF
Pan American Racquetball Confederation – PARC
UnitedHealthcare US OPEN Racquetball Championships
USA Racquetball
Racquetball Canada
Federación Mexicana de Raquetbol
Federación Boliviana De Raquetbol – Febora
Federación Boliviana de Racquetball
Racquetball Colombia
Federacion Colombiana de Racquetball
Federación Costarricense de Racquetball
Reaching Your Dream FoundationPRORACQUETBALLSTATS.COM