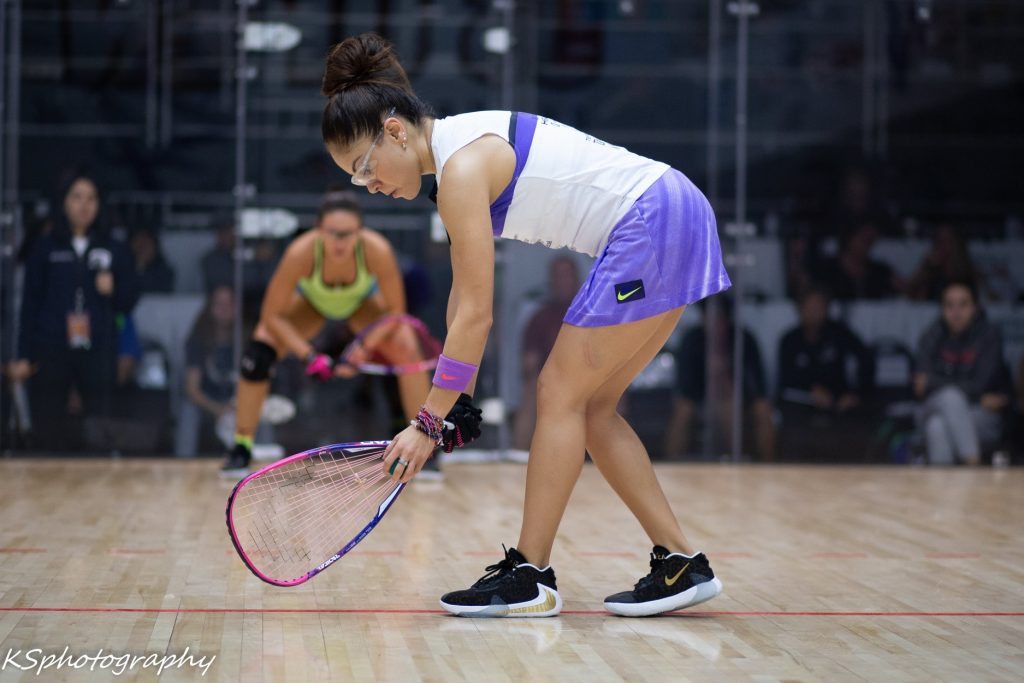 Congrats to your winners on the weekend:
– Mens Singles: Daniel De La Rosa
– Men's Doubles: Rodrigo Montoya/Javier Mar
– Women's Singles: Paola Longoria
– Women's doubles: Paola Longoria/Samantha Salas
The two singles finalists on the Men and Women's side qualify to represent Mexico at upcoming IRF events. The Doubles winners also qualifies to represent the country at upcoming IRF events. I'm assuming this is for the 2020 PARC games to be held in April in Bolivia and for the 2020 World Championships, but as with prior years there may be additional qualification parameters for the 2020 World Championships team that come to light later on.
R2 Sports App home page for event: https://www.r2sports.com/tourney/home.asp?TID=31821
——————
Lets review the notable matches in the Men's Singles draw.
Men's Singles Match report in the PRS database: http://rball.pro/279793
—————-
In the 32s: no upsets to this observer; all 10 round of 32 matches were two-game victories for the expected winner. The three closest games all involved the three highest ranked players playing in the play-in round, who were likely playing themselves into shape for the next round.
—————-
In the 16s, some notable results/upsets:
– #8 Christian Longoria topped #9 Andree Parrilla in a tie-breaker. This is a pretty significant upset, as Parrilla currently sits #5 in the world while Longoria (albeit in limited pro appearances) has yet to even qualify for a main draw. Parrilla continues his miserable tourney streak; he lost in the 16s of the last three pro events as well.
– #5 Gerardo Franco Gonzalez @got an excellent win over #12 Javier Estrada 6,(13),7 to move on. Franco continues to show he's a tough out, and takes out the enigmatic Estrada.
– #11 Sebastian 'Patata' Fernandez dominated Alex Cardona 8,8 to move on. Solid win from Patata, who I thought had a chance to beat Cardona but certainly not in two dominant games.
– #10 Lalo Portillo took out reigning World and Pan Am games singles champ Rodrigo Montoya Solís with relative ease 9,11. Portillo frustrated Montoya with off-speed Z-serves that were quite effective, then matched Montoya's athleticism to keep balls in play with diving gets and great retrievals.
By seeds, mostly chalk through the 16s with the seeds 1,8,5,4,3,11,10,2 advancing, but for me four of the eight matches were upsets or surprising results.
—————-
In the Quarters
– #8 Longoria gave #1 Alvaro Beltran a scare, taking the first game and giving Alvaro a run in the second before fading in the breaker. Final score (12),12,3.
– #4 Javier Mar took it to #5 Franco, controlling the match and advancing in two games 12,5.
– #11 Fernandez got his second statement win in a row, topping #3 Alan Natera Chavez 11,11 to move on. Natera's streak of making the semis at Nationals ends after two straight years, while Fernandez moves into the semis of Adult nationals for the first time (he made the quarters twice before, in 2017 and 2018).
– #10 Portillo pushed #2 Daniel De La Rosa, saving match point against in the second game to force a breaker, but DLR ran away with it there, advancing to the semis. DLR keeps his streak of making the semis alive; he's made the semis or better in every Mexican Nationals back to at least 2014 (he did miss 2017's event).
—————
In the Semis
– #1 Beltran gave credence to the old statement, "It only takes 26 to win" in dropping the second game to #4 Mar 15-1 but moving on by the final score line of 8,(1),9.
– #2 DLR put an end to #11 Fernandez's run, frustrating the young Mexican at the precipice of the National team by the score line of 10,11.
With these wins:
– Beltran secures his singles spot on the Mexican National team for the second year running after a 3 year gap from 2016-2018.
– DLR returns to the singles Mexican team after a year absence (he was beaten by Landa in the semis last year). DLR has now qualified for the team 4 of the past 7 seasons.
—————
In the Finals; a rematch of the 2015 Mexican National Finals, won by Beltran for his last National title. But on this day, DLR ended up on top of a close but casual match between friends and doubles partners 14,11 to take the title.
———————————
Lets review the notable matches in the Women's Singles draw.
Women's Singles Match report in the PRS database: http://rball.pro/3480BB
—————-
In the 16s, a couple of notable results
– #12 Lucia Gonzalez dominated LPRT top 10 player and #5 seed Nancy Enriquez 2,11 to move on. Gonzalez doesn't have a top-level match in the database since Dec 2018, but makes noise every time she plays.
– #10 Erin Nocam "upset" #7 Maria Gutierrez in two to advance. Gutierrez was a finalist at 18U last summer in Mexican junior nationals and still has a year left in the junior ranks, while Erin continues her excellent season of results.
—————-
In the Quarters, two pretty big upsets.
– #8 Jessica Parrilla returned to the semis of Mexican Nationals after a two year absence, and she did it by dethroning the defending champ Montse Mejia in two straight. Parrilla was in control for large parts of the match, taking advantage of Mejia's mistakes throughout.
– #12 Gonzalez got her second upset in a row, downing #4 Alexandra Herrera in a tiebreaker. These two are familiar foes, often competing for junior national titles as they grew up, and Lucia was able to get past her in a major event yet again.
– #3 Samantha Salas Solis cruised past veteran #7 Susy Acosta, improving to 12-0 in top-level/pro events over the lefty, to move into the semis.
– #2 Paola Longoria blitzed past #10 Erin Rivera 0,3, giving her younger countrywoman little chance to get some of the upsets she's gotten lately on tour.
—————
In the Semis
– #8 Parrilla played solid ball and outlasted #12 Gonzalez to make the Mexican national finals 12,10.
– #2 Longoria survived an injury scare to move past doubles partner #3 Salas 14,9 to get to the final. Early in game on at 1-6 down, Longoria and Salas got tangled up and Longoria seemed to have landed on her ankle wrong; it did not look good, and a full injury time out was taken. She recovered though, Salas could not take advantage of the mobility issues, and Longoria seemed to gain strength and confidence as the match moved on. In the second game Salas had her own injury scare, tweaking her knee in a rally but persevering without an injury time out.
With these wins:
– Parrilla returns to the Mexican national team singles spot for the first time in years: she last represented Mexico internationally at the 2016 PARC event, and before that at the 2013 World Games.
– Longoria secures her spot on the National team, and extends her streak held since 2006 of representing Mexico in singles at IRF events.
—————
In the Finals, Parrilla really put up a fight but couldn't convert in game one when it counted, dropping it 15-14, then collapsing in game two to lose 14,4. Longoria regains the title she lost last year and returns to the top of Mexican racquetball.
—————-
Mens Doubles review
Men's Doubles Match report in the PRS database: http://rball.pro/1D2489
In the Men's competition,
In the early rounds:
– Seeds 1,2,4 and 6 advanced to the semis.
– #5 team of Fernandez/Miguel Rodriguez Jr. took out Cardona/Franco early and pushed Estrada/Natera before falling.
– The #6 team of Portillo/Parrilla "upset" the #3 seeds Sebastian Longoria/Erick Trujillo to advance.
– The #7 team of Christian Longoria and Cesar Barragan really pushed the #2 team DLR/Beltran, falling 14,11
In the semis:
– #1 Montoya/Mar moved into the final over #4 Estrada/Natera, but had to save off game point against in the second game to do so 4,14.
– #2 DLR/Beltran kept their qualification hopes alive … by by the skin of their teeth, taking a scintillating match over #6 Portillo/Parrilla 11-10. The tiebreaker was a shot-makers paradise, with rallies generally only ending with splat rollout kill shots. Fantastic racquetball.
At 10-10, with both teams having saved match point against and with DLR/Beltran re-gaining the serve … something weird happened. DLR/Beltran were assessed a technical for … i'm not sure. At 10-10 against Parrilla called a time out, and Beltran playfully hit the ball towards him. I'm assuming the referee deducted a point for it (based on DLR's reaction when getting back the 10th point). Nonetheless, when play resumed it was 9-10. They gutted out the 10th point, then on match point rally DLR absolutely buried a reverse forehand pinch from 39′ feet to take the match with quite a statement.
In the final, these two teams went tie-breaker as expected. In the breaker Montoya/Mar jumped out to a bit lead but couldn't close out at match point. DLR/Beltran quickly ran off several points and it looked like maybe they could pull magic out of a hat again, but Montoya/Mar got the serve back and the ended the match with an amazing winner from Mar.
Montoya/Mar repeat as Mexican National champions and get a chance to build on their 2019 Pan American Games title. Perhaps more importantly, they get a rare win over the veteran Beltran/DLR team in their increasingly exciting rivalry.
—————–
Women's Doubles review:
Women's Doubles Match report in PRS database: http://rball.pro/D0916F
In the quarters
– #1, #2 and #4 teams advanced easily
– #6 Angela Veronica Ortega/Maria Gutierrez upset the #3 seeded team of Acosta/Sacristan in a tie breaker for the round's only upset.
In the semis:
– #1 Longoria/Salas, both of whom picked up knocks in their singles semi final match against each other, gutted out a two game win over the #4 team of Parrilla/Rivera 9,10.
– #2 Mejia/Herrera cruised past the upset minded #6 team of Ortega/Gutierrez 3,4.
In the Final, we got the quite-frequently seen doubles final as of late: these two teams have now met in the finals of four LPRT doubles events just this season, three last season, last year's World Doubles pro final, plus last year's Mexican National final. While the Mejia/Herrera team has gotten a couple wins in this rivalry lately, on the day today the veterans held serve, winning in two games 7,13 to take the national title and the right to represent Mexico in the upcoming IRF events.
——————
Next up?
After a month's break, the LPRT is back in action next weekend in Boston. The IRT has a couple of lower-tier events next week (in Minneapolis and in Pueblo, CO), and then returns to Chicago for the 35th annual KWM Gutterman classic the following weekend.
——————-
tags
International Racquetball Tour
LPRT
International Racquetball Federation – IRF
International Racquetball Federation
Federación Mexicana de Raquetbol
RKT