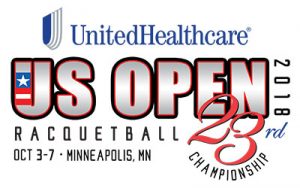 In addition to a great singles draw, there's massive IRT Pro doubles draw at the US Open; lets do a quick preview.
There's 23 teams entered, but just the top 4 qualify into the quarters, making for a very tough qualifying campaign for all but the top teams.
I'm going to predict a nearly chalk qualifying campaign, with the #5-8 seeds all advancing. That means:
– Jake Bredenbeck and Jose Diaz
– David Horn and Mauro Daniel Rojas
– Conra Moscoso Ortiz and Roland Keller 
– Rodrigo Montoya Solís and Javier Mar
Though by all means, these teams will have to earn it, with really quality "round of 16" matches in order.
A little birdie has told me that perhaps the Moscoso/Keller team is out; this may pave the way for Jansen Allen and Nick Montalbano to make it into the quarters.
In the main draw, I'm also mostly going chalk, predicting a rematch of last year's final and the World Doubles final. That means Kane Waselenchuk and Ben Croft versus Daniel De La Rosa and Alvaro Beltran.
This final resulted in one of the greatest matches in recent memory this time last year; will we get another classic?
Final Prediction: Kane/Ben repeat.