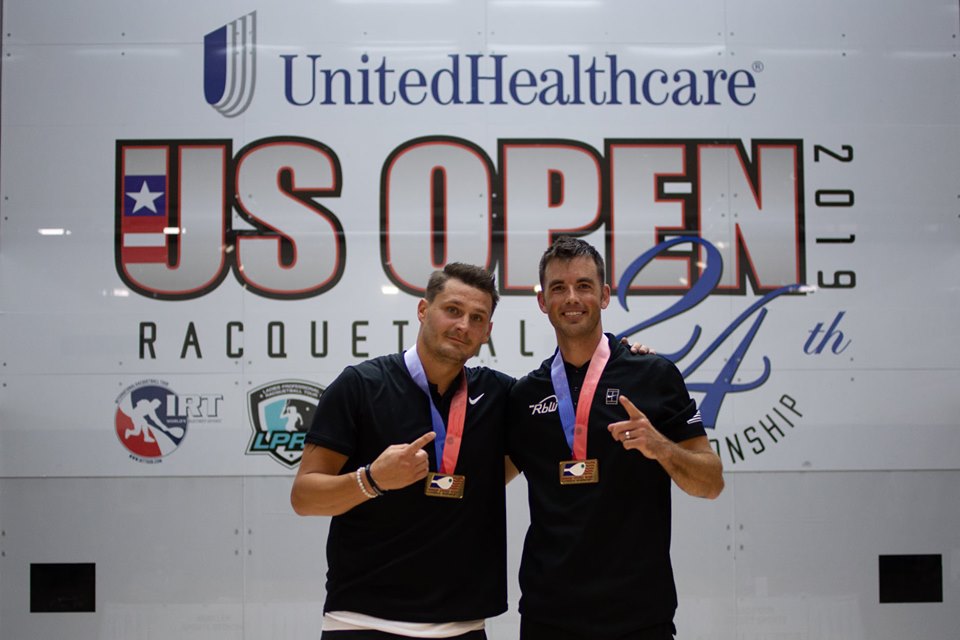 Congrats to Kane Waselenchuk and Ben Croft on their win at the 2019 US Open.
here's a quick wrap-up of the Quarters onward:
PRS Match Report: http://rball.pro/2D3D74
———————
In the qtrs:
– #1 seeds Daniel De La Rosa and Alvaro Beltran put an end to the geezer renaissance, ousting Cliff Swain and Rocky Carson (combined age: 93) in two.
– The #4 seed Colombian national team of Sebastian Franco & Mario Mercado Valenzuela were taken out by the Bolivian qualifiers #12 Carlos Keller Vargas & Kadim Carrasco in a tight tiebreaker.
– #3 seeds Alex Landa and Samuel Murray who have been playing solidly together for a while now, took out the experienced Bolivian national team pairing of Conrrado kevin Moscoso Ortiz Racquetball and Roland Keller in two easy games. Moscoso/Keller won the Bolivian Grand slam and the 2019 Pan American Racquetball Championships, and were losing finalists to Rodrigo Montoya Solis and Javier Mar at the 2019 Pan Am games and were a worthy qualifier here.
– #2 Kane Waselenchuk and Ben Croft cruised past Ernesto Ochoa and Javier Estrada in two. We hope to see more of Ochoa and Estrada on tour going forward.
————-
In the semis.
#1 DLR/Beltran defeated the upstart Bolivian team of Keller/Carrasco team (which had defeated the heavily favored #5 team of Jose Diaz and Jake Bredenbeck in qualifiers) in two.
#2 Kane/Croft played a complete match to down the very solid #3 Landa/Murray team 7,7.
————–
In the final, we got the two teams we wanted. This is a rematch of the last two US Open finals and the 2018 World Doubles final. The 2017 US Open doubles final was considered to be among the finest matches ever played on the pro circuit, a come from behind win for Kane/Croft. DLR/Beltran turned the tide in the 2018 US Open and dominated for a win. The World Doubles final was controversy filled, with the Mexican team walking off the court at match point against. What would we get here?
As it turned out, we got a solid match and a return to the winner's circle for the now 3-time US Open champion team of Kane and Ben, who won the title 11,8. They're now 28-5 as a team on the pro circuit with 7 titles since 2014.
—————–
International Racquetball Tour
UnitedHealthcare US OPEN Racquetball Championships
US OPEN Racquetball
Federación Mexicana de Raquetbol
USA Racquetball
Federación Boliviana De Raquetbol – Febora
Fecoracquet Fecoracquet
Racquetball Canada
International Racquetball Federation – IRF