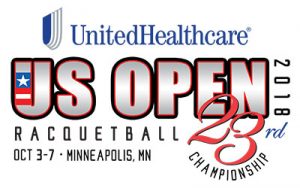 The last of our four previews for the US Open; Ladies Pro Doubles. Like with the men, the top 4 teams qualify into the quarters; the rest of the 14-team field has to qualify.
We're predicting a more or less chalk qualifying round with these four teams making it to the main draw:
– Michelle De La Rosaand Carla Carla Muñoz Montesinos
– Susy Acosta and Kelani Lawrence
– Montserrat Perez and Erin Groves
– Rhonda Rajsich and Sheryl Lotts
Rajsich & Lotts may have the toughest draw, going up against a solid Bolivian team of Jenny Daza Navia and Angelica Barrios. De La Rosa/Munoz also have a tough match-up with the reigning world doubles champion Bolivian Yazmine Sabja teamed up with solid Mexican pro Nancy Enriquez. This match could go either way.
In the main draw, I'm going to predict a re-match of this past summer's Mexican Worlds qualifying event, with #1 seeds Paola Longoria and Samantha Salas Solis taking on #2 seed Alexandra Herrera and Montse Mejia. Herrera/Mejia scored a pretty large upset to take the Mexican spot at IRF Worlds this year over the Longoria/Salas team … but I don't expect lightening to strike twice. The best doubles team in the world, by far, should win here again.
Champs: Longoria & Salas