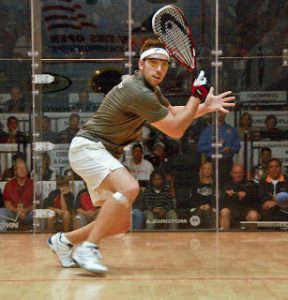 When the International Racquetball Federation – IRF World Juniors event finished up in November, I took the opportunity to tackle some Juniors-focused data entry.
Historically I have only pursued full match results for 16U and 18U juniors events only. 16U has been my "dividing line" for tracking match results, thinking that tracking younger kids match results was slighly unsavory. However, the winners of these tourneys become part of permanent racquetball history no matter what their age, and there's value in having it all in one easy to consume report.
So now the PRS database has every junior tourney winner from every USA and IRF juniors championships for all of time loaded up into the database. Furthermore, I've created a new "Junior Champ Matrix" report that shows all the junior winners in one place. Here's the IRF Boys Junior's champion matrix for all IRF Junior Worlds dating to 1989:
http://www.proracquetballstats.com/cg…/print_results_new.pl…
And here's the Girls version:
http://www.proracquetballstats.com/cg…/print_results_new.pl…
We also have this same data completed for all of USA juniors history, dating to 1974.
Canada is a work in progress; I've got limited data from 2013 on-wards online and need to do r2sports and archive.org work to build history. Mexico is in even worse shape, with online records in r2sports only to 2013 and the former Mexican federation website that would have held such data having been left to pasture at some point in the 2013 time-frame. As always with Amateur FMR data … any help is appreciated.
To run these reports yourself, go to the www.proracquetballstats.com home page, click on the "Juniors" icon and scroll down to the section titled "Select category for All Results Matrix."
——————————-
One great side-effect of having this matrix is this: we can now get great trivia questions answered quickly!
Here's some IRF Juniors trivia:
– Who holds the most Junior Worlds Boys titles? A tie between Jack Huczek and David Ortega, each of whom won 11 World Juniors titles. b is next, with 8.
– Who won the most Junior Worlds Girls titles? Adrienne Fisher Haynes holds the record with 10 international titles; she missed out on an 11th by getting upset in her final 18U event by Samantha Salas in the 2004 world championships. Paola Longoria is 2nd with 8 junior world titles.
– Both Sudsy Monchik and Rocky Carson won three successive 18U world junior titles. The only other player to hold 3 successive titles in any age bracket was Sudsy's now wife Veronica Vero Sotomayor, who held the 12U title from 2003 to 2005.
– American Erika Manilla had an interesting Junior Worlds career; she won 6U-multi bounce in 2005 … then didn't win another World Junior title until her last eligible tourney, taking 18U in 2016.
Enjoy!