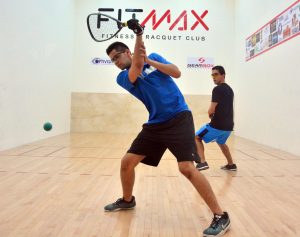 A competing event to the IRT Portland event was the 2018 Alamo City Open in San Antonio, TX. Originally set to be an WRT event, this tourney and the WRT parted ways but it still featured a healthy purse. As such, it drew a few quality players to cross the border and compete.
R2sports link for the pro singles draw is here.
Here's a quick review of the draws, singles and doubles.
No surprises really in the round of 16s: all travelling Mexican players advanced, including the criminally under-seeded Alan Natera Chavez , who took out the #3 seeded Arturo Arturo-Cinthia Burruel 4,9. If you had asked me to seed this tourney looking at who was there, i would have gone Ochoa, Estrada, Martell, Natera, Fernandez, Mendoza, then the rest of the local players starting with Burruel and Smith. Its just tough on everyone to make two guys play in the 16s who should be meeting in the quarters. Anyway.
In the quarters, the travelling contingent of Mexican talent vanquished all comers, with Martel, Estrada, Natera and Ochoa all advancing with ease. That's when the matches of interest started.
In the first semi…Jaime Jaime Martell Neri reversed a trend of late and beat Javier Estrada 14,6. In the bottom half, Natera also showed why form doesn't always dictate results, beating the red-hot Ernesto Ochoa in a tiebreaker 13,(6),4.
In the final, Natera held on a late rush to take game 1 15-11, then dominated the rest of the way, winning the title 11.4, Martel just had no answer for Natera's excellent drive serve. Great local tourney, good talent for the locals. The top four Mexicans all combined to make for a great doubles final as well, with Natera/Martel combining to beat Ochoa/Estrada 11-10.