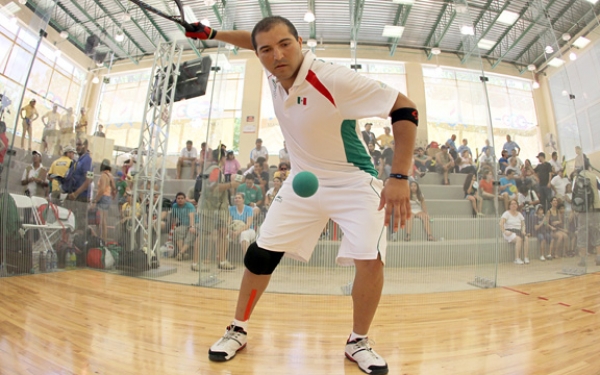 The International Racquetball Tour is back, and in Chicago for the 34th annual Shamrock Shootout, sponsored by frequent IRT patron KWM Gutterman.
R2sports home page for the event: https://www.r2sports.com/website/event-website.asp?TID=30236
(as of this posting, the draws are not yet active but can be gotten from IRT's facebook page postings…)
There's a huge draw in Chicago; 43 pros entered into singles. That's the biggest non-US Open draw since Sept 2014, and this draw is stacked. There's great representation from the top pros: 19 of the top 20 players are entered (missing only #13 Charlie Pratt, who's playing Oregon State Singles this weekend instead), and the draw includes reigning World champ Rodrigo Montoya Solis to mix things up. He'll be seeded 14th, playing into his Mexican national nemesis #3 Daniel De La Rosa for what could be a heck of a round of 16 match (we'll get to that later)…
Because its Chicago, we get some Midwestern guys entered such as Geoff Goldblatt, Juan Martinez III, Alok Mehta, Ferd Samson and Nadeem Sharifuddin. Some of these guys are long-time players with match histories that go back a ways (Goldblatt's first pro tourney on record was in 2006), some we havn't seen since the 2018 Worlds (Mehta represented India at the 2014 and 2018 IRF events), and some are making their pro tour debuts (like Sharifuddin).
Interestingly, what looks like the entire Guatemalan national team is entered, and the qualifying rounds will include Edwin Galicia, Javier Martinez, Hanzel Martinez Perez, Jeovany Mendoza, Juan Salvatierra, and long-time veteran Christian Wer, all hailing from the Central American country. Its great to see so many great internationals in one place.
Lets preview the draw. There's such a huge draw that they needed three round of 128 matches, one of which features two of the traveling Guatemalans. That's a bummer: fly all the way up here and have a rematch of every Tuesday night at the home club.
We pick up in the 64s; here's some matches to watch for:
– #9 Jose Diaz is the highest ranked player w/o a bye into the 16s, and for his trouble he has to play twice in qualifying; he's rewarded at first with a crap-shoot against the winner of the Mendoza-Martinez all-Guatemalan play-in. 
– #17 Long-time Costa Rican vet Felipe Camacho gets a tough opener against mid-westerner Kyle Ulliman. Ulliman has played a couple of pro stops already this year but doesn't have a break-through win yet and Camacho is a tough out.
– #20 Eduardo Lalo Portillo faces off against long-time Guatemalan #1 Edwin Galicia in a tough opener for both. Galicia has been representing Guatemala at International Racquetball Federation – IRF events for 6 years running, while Lalo (the reigning 18U junior world champ) is coming off a disappointing 1st round exit at Federación Mexicana de Raquetbol Nationals last month.
– #12 Jansen Allen (who has now fallen completely out of the top 10), has a tough 1st rounder against regular Guatemala international representative Juan Salvatierra in his quest to get back into the top 10.
– #22 Maurice Miller faces off against Mauricio MoMo Zelada, a rematch of the final of the February Open final at the Wintergreen event in Laurel, MD. Zelada won 6,12 then and seems a good bet to advance again.
– IRT regular Justus Benson is the unlucky first round match for reigning IRF World Champion Rodrigo Montoya, looking to make a splash and keep his IRT ranking on the rise.
– #15 Adam Manilla gets a tough Mexican up and comer Jordy Alonso as his 1st round opponent.
– #18 Robbie Robert Collins faces off against long-time Guatemalan international Christian Wer, who I first have playing for his country in 2004 and who was on the Worlds team in 2018. That's a pretty long int'l career.
– #10 David Horn has the unenviable task of facing off against one of the more unheralded Mexican players today in Eduardo Garay Rodriguez. Garay has wins over IRT top 10 players on his resume in the past couple of seasons and has the ability to win here too.
In the 32s…here's some projections based on potential match-ups:
– the #16/#17 match-up looks solid: Camacho vs Thomas Carter. A great test for both players; I sense the veteran Camacho advances to the main draw and a date with Kane.
– #13 Jake Bredenbeck vs #20 Portillo: I like Portillo's chances here against Bredenbeck, who has yet to get out of the 16s this season after multiple quarter-finals appearances in prior seasons and is coming off an upset loss in Pueblo to a guy who has never played a pro match.
– #12 Allen over #21 Troy Warigon; the solid playing Allen should advance over part time IRT player Warigon here.
– #11 Mario Mercado over Zelada: the all-DC Metro area match-up, with the two relative neighbors facing off for a chance at the 16s. Mercado has the edge but it wouldn't surprise me if this went Zelada's way.
– Montoya vs Gerardo Franco Gonzalez; tough break for Franco, who runs into his countryman at this stage for the 2nd time in 3 months. He's trying to build on the momentum of his run to the Mexican national quarters last month, but Montoya should advance here.
– #15 Manilla vs #18 Collins: the very-rare lefty vs lefty match-up, likely a win for the up and coming Manilla.
In the 16s…
– #1 Kane Waselenchuk starts off his title quest against the veteran Camacho and cruises to a win.
– the #8/#9 looks like a dog-fight: Diaz versus Sebastian Franco. After a solid start to the season, Franco has faltered, with two straight round of 16 exits and having missed Sioux Falls (for his Honeymoon; can't fault him there). One of those early exits was at the hands of Diaz, who may very well do it again here.
– #5 Parrilla vs #12 Allen: Andree has been on a tear, but Allen plays solid, consistent racquetball and may cause Parrilla some troubles here.
– #4 Alejando Alex Landa vs Portillo: the newly crowned Mexican champ faces off against one of his country's best young players; Landa should dominate this match based on playing styles.
– #3 De La Rosa vs #14 Montoya; this is the match of the round. 3 vs 14 by seeds, but two of the best 5 players in the world by capabilities. They met in Sioux Falls and DLR destroyed Rodrigo 1,4. In fact, Montoya may be the reigning world champ, but DLR has beaten him 3 out of 4 times they've played in the past year. I think DLR advances and Montoya misses out on an opportunity to gain valuable IRT ranking points yet again due to the luck of the draw.
– #6 Alvaro Beltran vs #11 Mercado; fresh off his surprise National finals appearance, Beltran runs into the mercurial Mercado (alliteration intended), who has beaten Alvaro in the past, but seems to be in a bit of a rut this season. Mercado has three one-and-done events this season and will have his work cut out for him to make it to this point. Alvaro advances.
– #7 Samuel Murray vs #10 Horn; tough match for Murray here. Bobby beat Sam in April of 2018, but has three one-and-dones on the season and missed Sioux Falls b/c of injury. Horn did make the final of the Pueblo Shootout before getting waxed by Kane and seems to be healthy; can he outlast Murray here and put himself back on the winning ways? If he's healthy, I think so.
– #2 Rocky Carson vs #15 Manilla: these two havn't played in years on the pro tour, and while Adam can put up a fight against top players he should fall at this gate.
In the Quarters…
– #1 Kane over #9 Diaz. I'll bet the versatile Diaz conjurs up some 209-magic and stays in rallies longer than expected, but Kane advances.
– #4 Landa over #5 Parrilla: I like Landa here, despite the fact that Parrilla took him in their last meeting (2018 US Open). Landa played so solidly at Mexican Nationals, its hard to envision him losing to Parrilla's game-style.
– #6 Beltran takes out his doubles partner #3 DLR in a classic let-down game after DLR's tough win over Montoya. They played in Portland in December, and Alvaro trounced him in two there, and I'm betting on a similar result here.
Beltran is on a career renaissance this season and continues his stretch of solid play.
– #2 Carson defeats Horn in a battle of contrasting pace of play styles. Carson will slow it down, while Horn tries to speed it up. Neither are happy with the referee at the end of the match.
In the semis…
– #1 Kane defeats former #1 Landa, but Landa puts up a fight and makes the scores 15-11, 15-9 or so. If Landa is on and making shots, Kane needs to find a slightly higher gear to beat him, which he eventually does since he's such a master at the end-game of matches.
– #6 Beltran goes up against his long time rival #2 Carson for the third time this season and makes it 2 out of 3 with an upset win.
In the final, Kane takes out Beltran with ease, but not before Alvaro plays his typical shooter's delight game plan and makes Kane sweat for a while. Its worth noting that Alvaro is the last player to take a game off of Kane (the 2017 US Open) and still has the capability to run off a game even against a guy who is currently working on a streak of 64 straight games won in competition.
——————–
There's also a massive Pro doubles draw; a full 16 team draw. The #1 team is, as normal, DLR/Beltran, who just got upset at Mexico Nationals and will not have the opportunity to compete for 2019 IRF crowns. They'll have to possibly work their way through 1/2 of the team that dethroned them in Montoya, playing here with Parrilla, who themselves have to get by the Columbian National #1 doubles team of Mercado & Franco.
On the other side of the draw, the other "best doubles team in the world" in Kane & Ben Croft makes a rare appearance, seeded 6th. They likely face #3 seeds of Jake/Diaz for an excellent quarter final match before likely facing the excellent #2 seeded pairing of Landa & Murray in the semis. However, Landa/Murray may have to get past Rocky Carson, who plays pro doubles for the first time since Sept 2017 (!). He's playing with Manilla for a nice little lefty-righty combo, perhaps a nod by Carson to help get ready for the upcoming WOR championships (where doubles is king).
I like Kane/Croft over DLR/Beltran in the final, a slight reversal of how this match-up has gone the last couple of times … but also an indicator that DLR/Beltran may have some cracks in the armor after their upset in Chihuahua last month.
——————–
Can't wait for more IRT action!