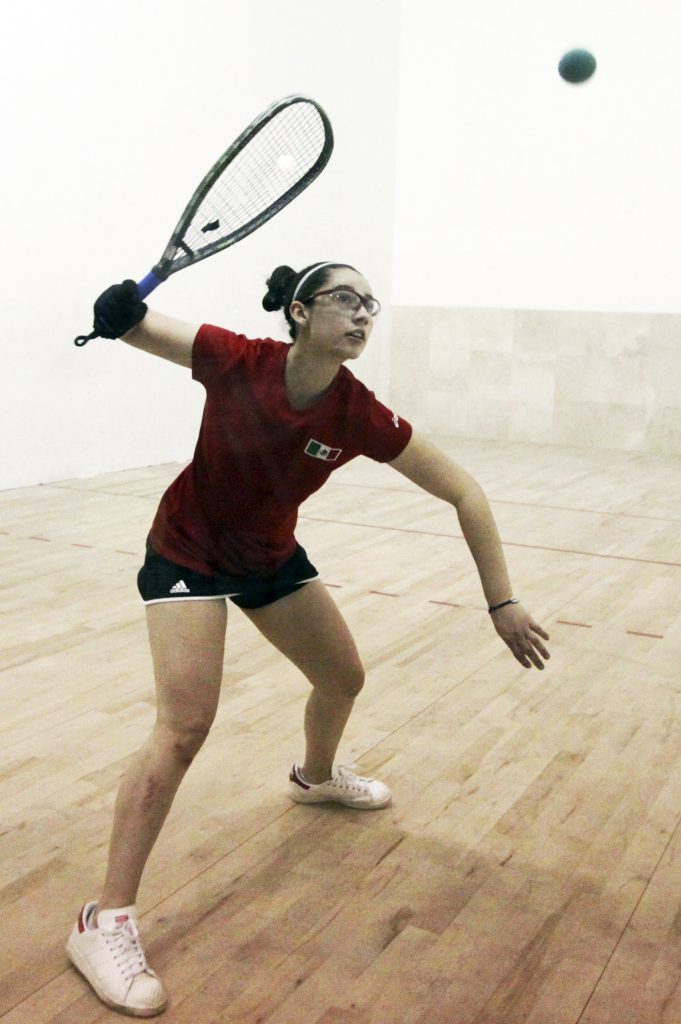 Congrats to your 2019 Mexican National Team, set to represent Mexico at both the International Racquetball Federation – IRF major events this year:
– Men Singles Finalists: Alejandro Landa & Alvaro Beltran
– Women Singles finalists: Montserrat Mejia & Paola Longoria
– Men's Doubles champions: Rodrigo Montoya & Javier Mar
– Women's Doubles champions: Paola Longoria & Samantha Salas
Click here for the R2sports home page for the event: http://www.r2sports.com/tourney/home.asp?TID=30505 .
If you missed any of the matches, follow "RKT" on Facebook and they did a fantastic job of streaming throughout the weekend.
And see below for links to the match reports for the events within Proracquetballstats.com.
Lets review the event. Below by round are the matches I found interesting, including significant upsets, new champions and other noteworthy results.
——————————
Men's Singles:
PRS Match Report: http://rball.pro/D38678
In the 32s…there were no major upsets, no amazing #32 over #1 upsets like we've seen in the past. Best matches of the round:
– Jaime Martell Neri topped Eduardo Lalo Portillo with a solid 10,7 win to avenge a h2h loss at Monterrey mid last year.
– Alvaro Beltran cruised by Polo Polito Gutierrez 4,13 to avoid an early upset.
– Gerardo Franco Gonzalez got a solid win, topping the hot Ernesto Ochoa 13,10 for the upset by seed, if perhaps not by talent.
In the 16s…
– #1 seed Daniel De La Rosa overcame a slow start to get past Rodolfo Esparza 12,8.
– 2-time WRT champ #9 seed Alejandro Alex Cardona pasted Sebastian Fernandez 6,4 to advance to the quarters. This result surprised me; usually 8/9 match-ups are close, and Fernandez has a number of solid showings on tour lately while Cardona has stepped back a bit from touring … but this is a dominant win.
– Former world #1 Alex Landa cruised by the over-seeded Christian Longoria9,6 to setup an excellent quarters match with Mar.
– #4 Seed Javier Mar blew out #13 seeded Martell in the first, but then it turned into the close match we expected and he held on for the win 2,(14), 7
– #14 Beltran, as under-seeded in this draw as Landa, was calm and collected while controlling his match against #3 Andree Parrilla, advancing in two games that probably weren't as close as the scores suggest (8,13).
– #22 seed Gerardo Franco beat #6 seed Javier Estrada 11-10 in a marathon match that featured the players diving on nearly every point. Two really solid wins in a row for Franco here over two solid players.
– #10 seed Alan Natera Chavez saved match point against and advanced over #7 seeded Edson Martinez in another 2-hour marathon (9),14,6.
– Reigning World Champ and #2 seed Rodrigo Montoya Solis raced past the veteran Javier Moreno 3,4.
Quarter final seeds: #1, #2, #4 … then #9, #10, #12, #14, and #22. When 5 of your top 8 seeds fall, you know the seeds were out of whack.
In the Quarters:
– #1 DLR had to work for it, topping #9 Cardona in a drawn-out tiebreaker. Final score: 12,(13),3. A solid tourney for Cardona, who has really limited his tourney playing schedule lately but looked great this weekend.
– #12 Landa played a complete game and advanced over #4 seed Javier Mar in two straight games. Landa was in control throughout, was playing his typical crisp shots and Mar could do little to turn the tides. I predicted Landa to fall at this gate, the third tourney in a row where i've called for his upset early. From now on, i'll take the opposite of what I think for Landa predictions 🙂
– #14 Beltran played his typical controlled match and outlasted #22 Gerardo Franco 8,13. Beltran has really played well so far this event, playing smart, controlling racquetball and outlasting younger and (perhaps) better players.
– In the upset of the event, #10 Natera topped #2 seed and presumptive favorite to return to the finals for the 3rd major Mexican Singles event in a row Rodrigo Montoya 9,9. This marks the second National singles finals in a row that Natera has made the semis in, both times as a drastic underdog and with significant wins over major players. If you've never heard of Natera it is understandable; he has yet to play in a single IRT event.
Montoya's loss means that Mexico will have a new singles representative in this year's PanAms/Pan Am Games, and that Montoya will not have a chance to defend his 2018 World title in the next set of international events.
So your semis are #1, … and #10, #12 and #14 seeds. Mexican Nats always seems to bring out the upsets.
In the Semis…
– #12 Landa was in control from the start and never seemed in jeopardy of losing to his long-time rival #1 De La Rosa, hitting shot after shot and advancing 11,10. Landa improves to 7-5 in all top-level competitions against DLR. Landa returns to the finals for the first time since 2017, and returns to the Mexican National team for the first time since he won the 2017 PARC tournament.
– #14 Beltran dominated his semis match against upset-minded #10 Natera, advancing to his first Mexican final since 2015. This will also be the first time he has represented Mexico in singles since that 2015 year, where he made the quarters of PARC and the finals of the Pan Am Games.
So the final ends up being the #12 and #14 seeds, ironically the two players I called out as being most under-seeded in this event in the preview. Coincidentally, if you're wondering how i'd have seeded this draw, I'd have gone DLR, Montoya, Landa, Parrilla, Beltran, Mar, Cardona, Natera. Maybe we'd still have the same final, maybe not. The top three guys in Mexican racquetball all seem capable of beating each other week in, week out.
In the Final, Landa controlled his long-time rival Beltran, dominating in the final for (what I believe is) his first Mexican National title 8,7.
——————————
Women's Singles:
PRS Match Report: http://rball.pro/A54C5B
In the 16s… a couple of notable matches:
– #9 Ana Laura Flores raced past #8 seed Erin Rivera 11,3.
– In her return to the court after 8 months off, #5 Jessica Leona Parrilla split two games with her fellow LPRT touring pro (and drastically under-seeded) Alexandra Herrera before running out of gas and falling in a tie-breaker 13,(11),0.
– #13 Montserrat Perez waxed #4 Diana Aguilar 10,3, and in doing so confirmed that the 5/12 and 4/13 match-ups probably should have been reversed seed-wise
In the Quarters:
– #1 Paola Longoria dominated the youngster lefty #9 Flores 7,2
– #12 Herrera cruised past #13 Perez in two 11,5
– #6 Monste Montse Mejia got one of the best wins of her career, coming back from a game down to move past #3 Nancy Enriquez (10),4,6.
– #2 Samantha Salas Solis advanced past the veteran #7 Susana Acosta in two 7,2
So your semis seeds are #1, #2, #6 and #12. Not too bad, since the #12 seed probably should have been the #4 seed.
In the Semis, we saw a couple of regular LPRT match-ups:
– #1 Longoria waxed #12 Herrera 4,3. They've played 12 times (10 times on the LPRT) and Longoria has now won all 12. Longoria returns to the Mexican National team in search of extending her current IRF title record of 17 international titles. She'll get two more shots in 2019.
– #6 Mejia got her second major upset in a row, downing #2 Salas in relative ease 11,4. This was a rematch of last year's quarters, a close Salas win, and now Mejia has earned her first Adult national team appearance.
In the Final, Mejia shocked the racquetball world and took out the world #1 Longoria in two games 8,14. She accomplished the unique task of defeating the #1, #2 and #3 players in the draw on the weekend, and now holds simultaneously both the Adult and 18U Mexican National titles.
——————————
Men's Doubles:
PRS Match Report: http://rball.pro/DBA748
A huge upset in the semis, when the #4 team of Landa/Cardona upset the reigning pro and world champion #1 seeded team of DLR/Beltran, knocking them out of the international events for 2019. On the other side, the #2 team of Montoya/Mar fought off the tough #3 team of Parrilla/Martinez to play for the National team berth.
In the final: the two teams traded games before Montoya/Mar caught fire in the tie-breaker to win 11-0 and clinch their first national doubles title and berths in Columbia & Peru later this year.
——————————
Women's Doubles:
PRS Match Report: http://rball.pro/81F0A4
The semis went according to seeding, though the #2 team of Longoria/Salas was taken to tiebreaker by the young Rivera/Perez team before advancing. The #1 defending champs Herrera//Mejia fought off the #4 team of Parrilla/Enriquez 11,12 to advance to the final to defend their title and national team berth.
In that final, Longoria/Salas got revenge for last year's finals defeat and took out the #1 seeds 13,5 to clinch the IRF berths for 2019.
——————————
That's it. Thanks for reading, another fun event.