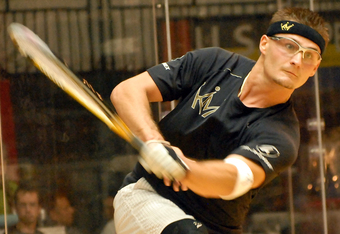 In addition to Mexican Nationals and High School Nationals, there were a couple of lower-tier IRT events this past weekend. This is a wrap-up of the best of them, the Pueblo Athletic Club Shoot out, a Tier 4 held in Pueblo, CO that featured a few familiar names and a couple of surprising results.
Here's a wrap-up of the event.
r2sports link: http://www.r2sports.com/website/event-website.asp?TID=30460
Reminder: we don't load non-tier 1 or higher events into the PRS database; this post is just a wrap-up as a fan of the game. I'll pick up the draw reviews at the latter stages when the familiar pro names start playing each other.
———–
Men's Pro Singles:
The draw featured 30 players, and its top 4 seeds were tour regulars that included #1 Kane Waselenchuk. David Horn, defending champ Jake Bredenbeck and Nick Riffel formed the top four seeds. This is notable to me because I can't recall seeing Kane play in a non Tier-1 IRT tournament in .. well a long time. It may be b/c I don't generally track non-Tier1 events.
The 5th seed is the dangerous Erik Garcia, who beat touring pro Robert Collins before taking a game off of eventual champ Rocky Carson at the US Singles qualifier event in Tempe last month. The rest of the draw featured mostly local players, with a sprinkling of traveling players w/ enough IRT points to rate a seeding.
In the Quarters. a couple of surprises:
– Erik Garcia got a solid win over touring pro Nick Riffel in a tiebreaker in the 4/5 match. He earns a match against the King in the semis. I'd like to see Garcia play more pro events; he's got some good results lately and I think he could make some noise on tour.
– Complete unknown (to me) Ruben Baez ousted #3 seed Jake Bredenbeck 10,(5),5. I can't find Baez playing any match in any format that the PRS database tracks, and he was seeded 27th in this event, traveling up from El Paso to play it. I saw bits and pieces of this match: Baez plays a control game, has a very effective lob serve, and was completely non-plussed by Jake's power, re-killing power DTL shots and anticipating power-pinches. He earns a match-up against #2 seeded Horn in the semis for his efforts.
In the Semis:
– Waselenchuk took out Garcia 8,3. Garcia kept up with the champ briefly, but eventually fell in typical Kane dominance.
– Horn took out the upstart Baez by the close scores of 13,14. Thanks to Matt Melster for streaming this one real-time; I watched part of this match as well to see how Baez matched-up with the different playing style of Horn, one which was much closer seemingly to his own … and as expected this was a very back-and-forth close match throughout.
In the Final, Kane turned up the heat and cruised by Horn 7,0, showing his typical dominance that the rest of the IRT tour sees on a regular basis.
———–
My take-away here: it isn't often that a player just shows up without any prior pro experience and plays so well against two of the top 20 players in the world. I hope to see more of Baez in the future.
———–
Men's Pro Doubles:
The Pueblo supporters were also blessed to have with them one of the two best doubles teams in the world. Kane teamed up with Ben Croft, and they've won more than a few major doubles titles in their day. They were the #1 seed, with Jake & Horn teaming up to be the #2 seeds and Riffel/Garcia being the #3 seeds.
In the semis, Bredenbeck/Horn took out Riffel/Garcia 11-9, while Kane/Ben took out the team with the surprising Baez teamed with Daniel Bautista.
In the Saturday night final, the #1 team did not disappoint and won in two 10,5 over the #2 seeds.
———–
Women's Open: there was a small but solid Women's open draw, with two touring LPRT pros in Carla Muñoz Montesinos and Adriana Riveros, joined in the draw by multi junior world champion Erika Manilla and periodic LPRT tour player Brenda Laime Jalil.
In the semis, Manilla took out #1 seeded Munoz in two solid games 11,12, while Riveros advanced past Laime 6,13.
In the Finals, Manilla made it two upsets in a row, downing Riveros 12,13. Great results for Manilla on the weekend, and I hope to see more of her on the pro tour going forward.