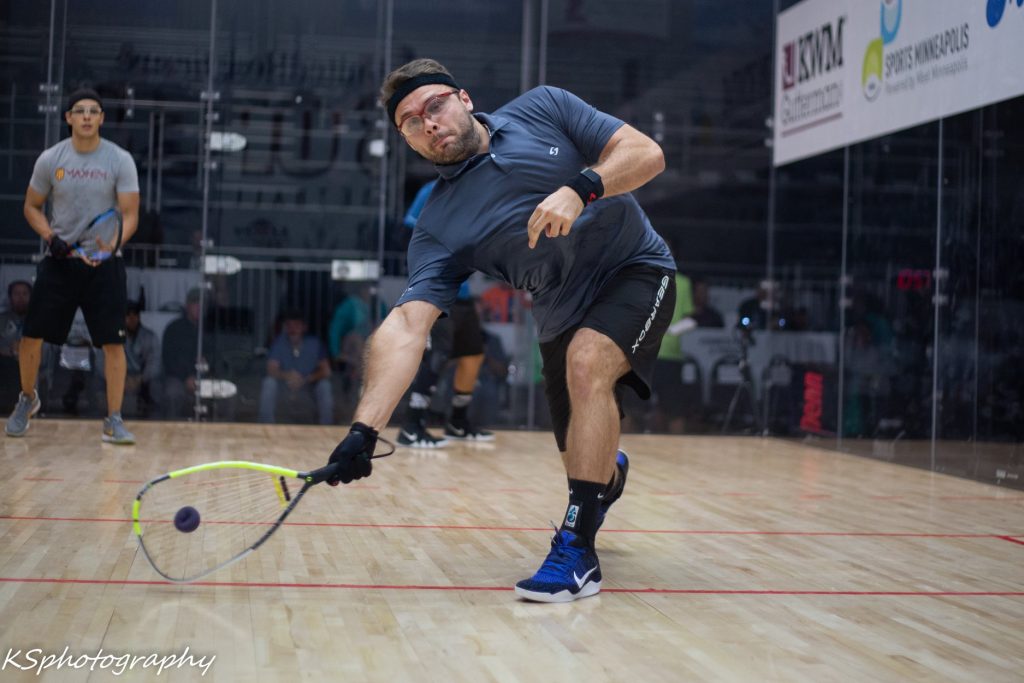 Congrats to your winners on the weekend:
– Singles: Samuel Murray
– Doubles; Alex Landa/Sudsy Monchik
Also congrats to the winners of the massive Open and 18U draws (which we'll talk about later on):
– Men's Open: Andres Acuna
– Men's Open Doubles: Moscoso/Carrasco
– 18U Juniors: Erick Trujillo
Murray, who was in jeopardy of not even traveling to the tournament thanks to Covid-related travel restrictions coming out of Canada, becomes the 41st ever Tier 1 tournament winner in the history of Men's pro tours. Ironically, the previous person to fulfil that particular bucket list item was also the player he vanquished in the final. Murray had a fantastic event, getting his first ever wins over both Mar and De La Rosa, then playing solid racquetball all weekend to win the title. Arguably Murray was the underdog in every match from the round of 16 on, and proved all pundits and prognosticators wrong.
(see http://rball.pro/ABA6F8 for a list of all tour winners in history).
On the Doubles side, the reigning US national team champs topped a number of top teams en route to the final, including two top international teams that they might face in the next IRF championship. They seem to be growing as a team and looking more dangerous the more they play together.
R2 Sports App home page for event: https://www.r2sports.com/website/event-website.asp?TID=34826
——————
Lets review the notable matches in the Singles draw.
Singles Match report in the PRS database: http://rball.pro/A1D93C
—————-
In the 64s, the huge draw made for 16 round of 64 matches, and we saw a couple of surprising results and tough tiebreakers:
– Up and coming Costa Rican international Gabriel Garcia moved past solid Alabama-native Destry Everhart 9,9 in the always-tough #32/#33 matchup.
– Junior Timmy Hansen moved past the ref Scott McClellan 12,11 in a hard fought opener.
– Another member of the Costa Rican team
was stretched to a tiebreaker by home-town favorite Austin Cunningham before advancing (13),13,7.
– #19 Sam Bredenbeck dropped the opener against relative newcomer Texan Brennen Jennings before moving on (9),11,4.
– #23 MoMo Zelada was pressed by top amateur player from Monterrey Daniel Diaz 13,9 before advancing. This is the first time i've seen Diaz in any top-level competition tracked by PRS and he played well, hope to see more of him on tour.
– In one of the best matches of the opening round, 18U junior lefty Andrew Gleason came from a game down to beat tough Bolivian Miguel A. Arteaga Guzman (5),5,7. Gleason showed some great mental toughness for a junior, many of whom would have folded after a first game beat down.
—————-
In the 32s, we saw the top 16 pros enter into the draw for the first time … and the draw went perfectly chalk. Every one of the top 16 seeds advanced. There were a couple notable matches though.
– the #16/#17 seed match always seems to provide a close call, and this was no exception. #16 Javier Estrada took out his doubles partner and good friend
12,10.
was stretched a little too close for comfort against improving youngster
before advancing 8,14
– #14 Costa Rican number one Andres Acuña came back from a game down against the improved Sam Bredenbeck to advance in a breaker.
was also stretched to a tie-breaker by the Bolivian veteran
before moving on.
– #10 Mario Mercado blitzed by Zelada 6,8, making much faster work than the last time they played (season opener in Laurel in Sept 2019).
—————-
In the 16s, despite the size of the draw and all the upset potential …. the draw went chalk again. All top 8 seeds advanced.
took a game off, but advanced over the big man from Chihuahua Estrada. Final score 11,(1),9
– #8 Jake Bredenbeck advanced past fellow big hitter #9 Franco] 6,10 in the 8/9 match which is typically a lot closer.
fought back from dropping game one to the dangerous #12 Javier Mar before advancing 11-7 in the breaker. I thought for sure this was an upset special.
– #4 Daniel De La Rosa made fast work of #13 Eduardo Garay Rodriguez 7,1 … a result that might give the rest of the tournament pause.
crushed the Costa Rican #1 Acuna 1,4 . A great result for Parrilla, who was struggling for consistency when the tour paused.
– #6 Eduardo Portillo Rendon was stretched to a breaker by the suddenly dangerous Carter before advancing.
beat fellow Bolivian native #10 Mercado in two straight, a solid win against an opponent that used to give him trouble.
– #2 Rocky Carson shook off the rust and advanced past
, who played him tough in game two but could not force the breaker.
—————-
In the Quarters, we started to see the seeds breaking down, in a slew of fantastic matches that put the show court behind nearly 3 hours inside of 3 matches (the last quarter final was a 1pm scheduled start and didn't go on until nearly 4pm). Lets recap
– #1 Landa over #8 Jake: Landa made it 10 for 10 in top competitions versus Jake, but the big Minnesotan did not make it easy, keeping it close throughout. Landa advances 11,13.
– #5 Canadian number one Murray got his first career win over #4 DLR in an 11-9 thriller. Game one was back and forth, with DLR coming back to eke it out 15-14, then Murray blitzed game two in about 10 minutes to force the tiebreaker. There, the players were neck and neck, playing back and forth racquetball that was just great for the neutrals, with DLR shooting constantly, Murray putting on a defensive and diving clinic, and then Sam pulling out a great winner to break a 9-9 tie that had lasted several service changes before DLR pressed on a forehand winner to skip out at match point against.
– #6 Portillo showed some real veteran poise throughout his match against #3 Parrilla, keeping to his game plan and grinding out the 11-8 tiebreaker win. This isn't necessarily Lalo's best ever win (he beat Carson in Arizona in 2019) or his best result (he made the final of the 2020 Lewis Drug) but it was the kind of match he won when he wasn't necessarily favored to win, and he did it by just out playing and out thinking his opponent.
– #7 Moscoso got another win over #2 Carson in an IRT event (the third in as many pro meetings), but really had to dig deep to do so. Carson controlled game one, but Moscoso ground back in game two before racing to the 11-4 breaker win. Kane and Sudsy were on the mike for the first part of this match and put on a broadcasting clinic, with some of the best in-match analysis you'll ever see. It is worth a re-listen to the broadcast.
—————
In the Semis
– #1 Landa seemed to show some of the effects of the layoff and lots of play on Saturday, looking tired throughout the match. He was pressed continually by the Canadian #1, who put on an absolute clinic on defensive racquetball and athletic prowess diving around the court and showing amazing agility for a big man. Murray saved match point against and ran off a couple points for victory on the back of a couple of pretty amazing kill shots from the back court. This was one of those matches you wished was still win by two, because there was little separating these two players on the day. Murray advances to just his second ever pro final, first since Sept 2018 with the 11-10 thriller.
– #7 Moscoso advanced to the finals over #6 Portillo, but Lalo continued to show his maturation as a player, bouncing back from an embarrassing first game 15-2 shellacking to take a game from one of the world's best players before falling quickly in the breaker. Moscoso advances to his 3rd major final in just 10 career tournaments and is in a great spot to take another title.
—————-
So, just to note the pathway for the two finalists:
– Murray has beaten Mar, DLR and Landa to get here.
– Moscoso has beaten Mercado, Carson and Portillo.
Murray in particular really having a great event.
In the Finals…
Murray controlled game one easily, playing smart racquetball and exposing Moscoso's go-for-broke style. Conrrado came back in game two, getting on a hot streak to push to a breaker. In the tie-breaker, Murray continued to grind out points, playing smart racquetball and counter-punching against Moscoso's shots. Momentum seemed to swing against Murray as Moscoso ran off four straight towards the end … but Murray stiffened up, played smart racquetball, mixed in a few highlight-reel 39 foot roll outs of his own to match the flashier Moscoso, then ended the match with a diving re-kill roll-out to take his first ever IRT title.
Murray played lights out all weekend, and more than earned this title.
—————-
Points Implications of results
Well, we're not entirely sure what the points implication of this event will be, because we're not sure what the tour will do yet with the rankings points The points have been frozen since March, but just turning the system back on and expiring 9 months of points will have a pretty radical effect on the rankings.
There's talk of changing the points system as a result, to go away from a rolling 12-month calendar for the time being to something based on the last 10 tourneys, or perhaps the last two years of events. There's also talk of moving to a calendar year system versus a rolling seasonal system.
IF (and this is a big if) we were to stick with rolling 12-months and just expire the points dating to the end of 2019 … then these are some of the big-time moves we'll see in the rankings:
– DLR jumps to #2
– Finalists Murray and Moscoso jump to #3 and #4 respectively.
– Landa drops to #5
– Mercado jumps to #7
– Estrada, amazingly, jumps from #23 to #8
– Parrilla gets dropped to #9
– Manilla, also surprisingly , jumps from #21 to #10.
– Beltran drops all the way to #11
– And lastly, most amazingly, Carson would drop from #3 all the way to #15. That's right; Rocky, a player who has not been outside the top 3 in 20 years or so, had such a badly timed run of results and missed early 2020 events due to injury that he'd nearly be out of the top 16.
Take all this with a grain of salt, because I sense the ranking system needs to be modified to protect against such radical moves. Stay tuned.
—————-
Pro Doubles review
Doubles Match report in the PRS database: http://rball.pro/6066EC
The 14-team doubles draw provided a ton of interesting results on the first night of competition, with a ton of really surprising results. Here's a walk through.
In the 16s:
– #3 seeds DLR and tournament sponsor Donald Williams were handled by the local team of Zachary Patterson and Austin Cunningham 14,3. I thought the presence of top doubles player DLR would get them at least a round further, but they fall at the opener.
– #6 seeded Colombian's Garay and Franco dug deep to hold off the tough pair of Mexicans from Chihuahua Natera & Estrada in two tight games 14,10. They're setup for a good shot at the final.
– #10 seeds and new pairing Carter & Mar really surprised me and blew past the all-Colombian team of Mercado and Herrera 6,5. Mercado is such a good doubles player, I thought this would have gone the other way based on the inexperience of Carter+Mar pairing … but as they say, this is why they play the games.
In the Quarters
– #1 Murray/Jake had to go breaker to top the experienced Costa Rican pair of Acuna/Camacho.
– #4 Sudsy Monchik and Landa had a tense, tight match against the Bolivian team of Moscoso/Carrasco, pulling it out in a heated breaker where the American reps came back from 5-8 down in the breaker to run the match out. At the death, a highly contested two-bounce call, several debatable replays and then match point awarded via an avoidable when Monchik had a setup in the middle of the court that hit a jumping Moscoso. It was an animated finish to say the least.
– #3 Garay/Franco destroyed the Cinderella local team of Patterson/Cunningham to move into the semis.
– #2 Parrilla/Portillo took a close 2-game win 11,13 over Carter/Mar.
In the semis…
– The US national team of Monchik/Landa stiffened up after a first game blowout loss to #1 seeded Murray/Jake and eventually cruised to the tiebreaker 11-3 to move into the finals.
– The Colombian national team of Franco/Garay held off match point in game two, then blew it out in the breaker to move into the final over the #2 seeded all-Mexico team of Parrilla/Portillo.
In the final…
– Monchik & Landa had match point on their racquets … twice, but the new Colombian pairing of Franco/Garay fought back and forced the breaker. There. the US champs controlled throghout and ground out the win. The tail end of game two was some of the best doubles play i've ever seen, with all four players hitting amazing shots, and both teams showing tactical adjustments on the fly to try to strategize their way to a win.
—————-
Men's Open review; a 35-man open draw went down, with a ton of top pro players dipping down into the draw and making for some great matches.
In the final, Acuna topped Natera in a breaker. Floridian vet
and Costa Rican newcomer Gabriel Garcia were the semi finalists.
—————–
18U Junior draw review
The IRT is embarking on a new program to highlight juniors, and Atlanta was their first foray into the program. A large scholarship purse was devoted to the draw and they got a fantastic multi-national 18U junior draw as a result.
The top two 18U players from Mexico advanced to the final, with
topping 2019 Mexican 16U champ Sebastian Longoria in a breaker. American juniors Gleason and
were the semifinalists.
—————–
Thanks for all the streaming on the weekend, especially from broadcasters Dean DeAngelo Baer, Favio Soto, Pablo Fajre and the IRTLive crew . Also a special shoutout to
and Kane Waselenchuk, who provided amazing commentary for some of the Saturday afternoon matches.
——————
Next up? the next "known" event from any major organization is Mid March's Shamrock shootout in Chicago-land. We hope to have something hit in February but the odds seem low.
——————-
Tags
International Racquetball Tour
Federación Mexicana de Raquetbol
Federación Boliviana De Raquetbol – Febora
– Febora
Federación Boliviana de Racquetball
Federacion Colombiana de Racquetball
Federación Costarricense de Racquetball
Reaching Your Dream Foundation
FormulaFlow
Beastmade Apparel
Wear Rollout
Racquetball Warehouse
Splatit
Hashtags #racquetball #proracquetball #outdoorracquetball #irt #lprt #wor