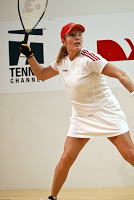 Qualifying is done for the LPRT; lets highlight the notable matches and preview what looks to be a fantastic round of 32.
In the 64s:
– Linda Tyler took out Costa Rican junior Maricruz Ortiz in a tie-breaker to earn a shot at #1 Longoria.
– Jenny Daza Navia took out US junior Annie Roberts 8,5 in Robert's debut. Daza feeds into the 6th seeded Mendez, a player she can beat.
– Legend Cheryl Gudinas qualifies for another US Open main draw, downing Mexican youngster Anna Rivera 13,9.
————-
Here's some round of 32 matches to watch for:
– #9 Masiel Rivera Oporto vs #25 Jessica Parrilla; man, what a tough first rounder for Rivera, who has shot up the rankings in the last year and is on the cusp of a top8 ranking (Rivera was seeded 22nd in this event last year by way of comparison). Parrilla is of course on the come back trail from being a former top-4 pro. Expect a hard-hitting battle here and a possible upset by seed.
– #12 Montse Mejia vs #21 Maria Renee Rodriguez; they havn't played in several years, and the draw is well positioned for Mejia to make a semis run this year. This is a first test. Rodriguez is trying to build on some solid wins in 2019 on the court.
– #14 Frederique Lambert vs #19 Angelica Barrios; Two years ago this would be a predicted blow out, as Lambert was ranked #2 on tour and Barrios was still in juniors. Now this is a dangerous match: Barrios dispatched two top-10 players in the Bolivian grand slam to make the semis and made the quarters of the Pan Am games before losing to Longoria. This one may come down to how rusty Lambert is.
– #6 Natalia Mendez Erlwein vs #27 Daza; The veteran Bolivian has been known to take out top ranked players; in this event last year she topped Vargas, for example. Mendez needs to be on her A-game for this South American match-up.
– #7 Nancy Enriquez takes on #26 Hollie Rae Scott; this should be an interesting one. Scott is the reigning intercollegiates champ and was the losing US national finalist in 2019. I'm not sure Scott has faced someone with the power of Enriquez before (this is their first meeting) so this should be an interesting match.
– #10 Brenda Laime Jalil vs #23 Michelle De La Rosa; people forget, but in 2015 mDLR (nee Key) finished 7th on tour in her sole full-time season of touring before stepping back for family reasons. She's a player. Laime has climbed into the top 10 on tour with some solid results, but this is a different challenge for her.
———————
We'll regroup for the round of 16s later today.
LPRT
UnitedHealthcare US OPEN Racquetball Championships
Federación Boliviana de Racquetball
Federación Mexicana de Raquetbol
Fecoracquet Fecoracquet
USA Racquetball
Racquetball Canada