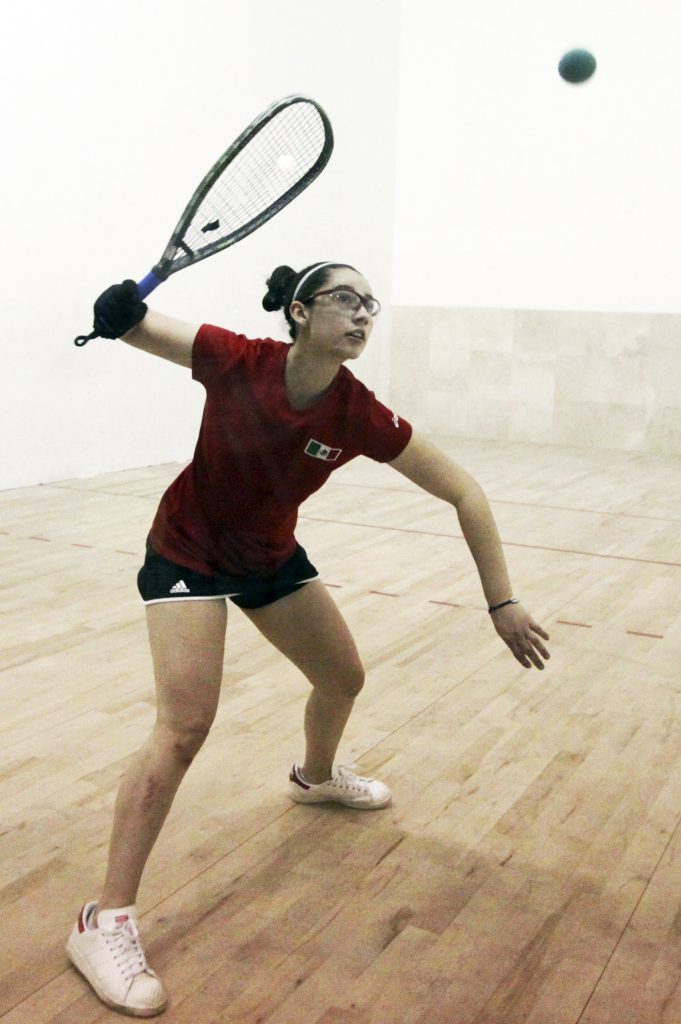 we're catching up on the LPRT action from yesterday; here's a review of the 32s and 16s.
In the 32s, here was the notable results for me:
– #17 Adrienne Fisher Haynes took out #16 Sheryl Lotts in a tie-breaker for a surprising result (for me). Haynes turns the tide on Lotts from the last time they played at the 2018 Nationals and moves on.
– #9 Masiel Rivera Oporto made a statement with a dominant win over #24 Jessica Parrilla 8,4. I thought this was an upset special; instead it was a dominant performance by Rivera, who continues to impress this season and is racing up the LPRT rankings.
– Big upset by #25 Erin Rivera who took out #8 Amaya Cris in two close games 13,13.
– #12 Montse Mejia defeated #21 Maria Renee Rodriguez 12,4 to move on. Credit to MRR for staying in game one against a tough opponent, but Mejia ran away in game two.
– #20 Carla Muñoz Montesinos got a great result, topping #13 Ana Laura Flores Saavedra in a tie-breaker to move on. She'll get her second lefty in a row later this afternoon in the 16s.
– #14 Frédérique Lambert vs #19 Angelica Barrios went as close as it could go, with Lambert squeaking by in two games over the Bolivian youngster 14,13.
– #6 Natalia Mendez Erlwein dominated #27 Bolivian Jenny Daza Navia 4,3 to move on. No hiccup here for Mendez; she kept the pressure on Daza relentlessly and controlled the match from the start.
– #11 Adriana Riveros Racquetball dominated #22 Kelani Lawrence 6,12 in a somewhat surprising result to me. Lawrence played Vargas really tight in Chesapeake but couldn't get anything going against the Colombian on this day.
– #7 Nancy Enriquez took on #26 Hollie Rae Scott in a tense, contested match that was tight all the way through. Enriquez fought off game-point against in game two when it was looking like this might go tie-breaker and won 12,14 to advance. Not much between these two players on the day.
– #10 Brenda Laime Jalil was taken out in two straight forward games by #23 Michelle De La Rosa.
————
16s Review
– #1 Paola Longoria dominated #17 Haynes to move into the quarters.
– #9 Rivera held on and ousted upset-minded #25 Groves in a tie-breaker to move into just her fifth ever career quarter final.
– #12 Mejia wiped out #5 Rhonda Rajsich 6,8 in a match that seemed to take about 15 minutes. Mejia showed the whole arsenal today; power drive serves, touch in the front court, rally control, and Rhonda couldn't get anything going. Mejia plays fast, Rhonda couldn't slow her down and she looks pretty focused for this event.
– #4 Alexandra Herrera ended #20 Munoz' run, taking a close first game then moving on in two 13,8.
– #3 Maria Jose Vargas dominated former world number two and #14 seed Lambert 4,9; we heard during the match that Lambert was working in the ER til 2am on the day of hte match, caught a same-day flight then played two pro matches. Yeah; i think we understand why she may have lost to one of the best players in the world.
– #6 Mendez showed some mettle and outlasted #11 Riveros in a tiebreaker to setup yet another showdown in the quarters of a pro event against her doubles partner Vargas.
– #7 Enriquez got a solid win over outdoor specialist #23 Michelle De la Rosa, who pushed her to 11-7 in the breaker but held on.
– In the dominant performance of the day, #2 Samantha Salas Solis made a statement by downing 2018 world champ #18 Ana Gabriela Martínez12,4. Salas has been "upset" early in both pro events so far this season and faced a stiff challenge here, but she made a statement in this win.
——–
16s seed review: 1,2,3,4,5,6,7 (seven of the top eight), then 9,11,12,14,17,18,20,23 … only one qualifier in #25 Groves into the 16s.
Then, the seeds into the qtrs: 1,9,12,4,3,6,7,2; mostly chalk, with #9 and #12 breaking in.
Quarters Nationalities represented: 5 mexicans, 2 Argentinians, 1 Bolivian.
Same question for the men; is this the first time a US Open has not featured a single American into the quarters? here's the QSF report by Nationality for LPRT: http://rball.pro/032ACA
Answer: yes it is the first time the US Open has not featured an American into at least the qtrs. It has happened multiple times before though (a LPRT event w/o an American into the quarters) before this; first time was Nov 2016 in Monterrey.
——–
LPRT
UnitedHealthcare US OPEN Racquetball Championships
USA Racquetball
Racquetball Canada
Federación Mexicana de Raquetbol
Federación Boliviana de Racquetball
Asociación Argentina de Racquetball