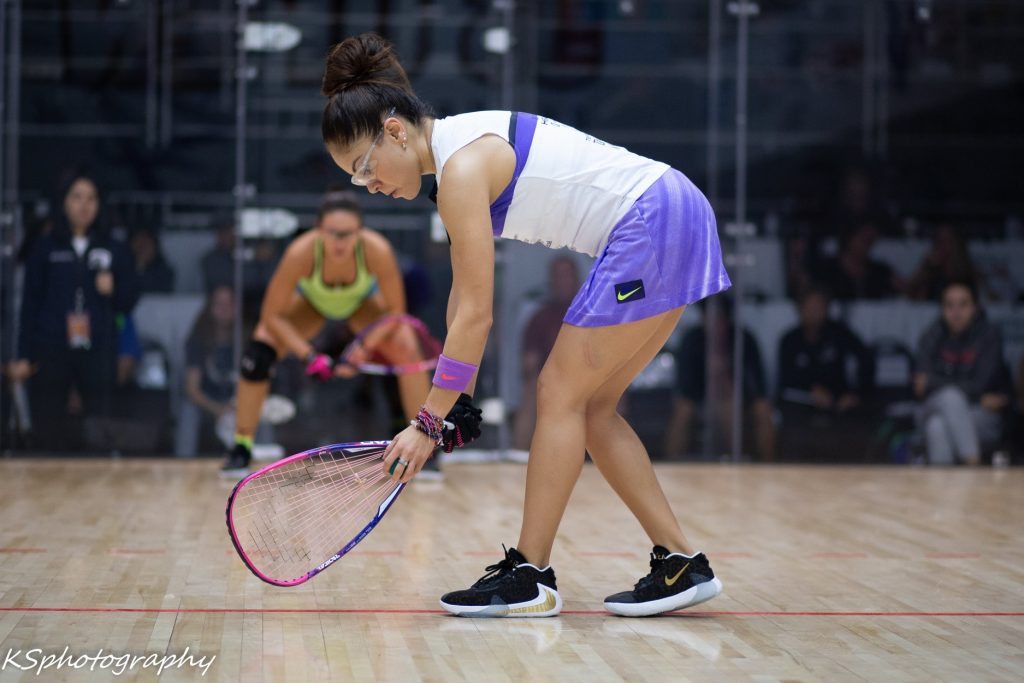 Congrats to your winners on the weekend:
– Singles: Paola Longoria
– Doubles; Paola Longoria/Alexandra Herrera
A double win on the weekend for Longoria, who takes her 96th Tier-1 singles tournament win along with her 43rd pro doubles title since the fall of 2013.
R2 Sports App home page for event: https://www.r2sports.com/website/event-website.asp?TID=31860
——————
Lets review the notable matches in the Singles draw.
Singles Match report on www.proracquetballstats.com: http://rball.pro/D163E1
In the 16s, a couple of upsets:
-#12 seeded junior Valeria Centellas took out veteran #5 Rhonda Rajsich in a tie-breaker. Centellas won a topsy turvy match where she dropped the middle game 15-2 but held on in the breaker, keeping the pressure on Rhonda with a lot of pace and great getting ability.
– #13 fellow Bolivian junior Micaela Meneses Cuellar fared well against #3 Natalia Mendez, losing 6,8. Its worth noting that Meneses just finished her age-15 year.
– #11 Kelani Lawrence finally got a pro win over a top 8 touring player, downing #6 seeded Nancy Enriquez in a tight 13,14 match. She achieves her first pro quarterfinal appearance with a great showing.
– #7 Amaya Cris held on to down #10 @Maria Maria Renee Rodríguez 11-8 in the breaker.
—————-
In the Quarters, the top 3 players advanced and we got another big upset.
– #1 Paola Longoria handled #8 Jessica Parrilla 6,9 to move into the semis.
– #2 Maria Jose Vargas took two closer games against #7 Amaya to move on.
– #3 Alexandra Herrera held off upset-minded #11 Lawrence 6,13.
– But the big result of the round was another upset at the hands of the Bolivian junior Centellas. #12 Centellas took out #4 Natalia Mendez Erlwein in two games 5,12 to move on to the semis. This is just her 5th pro tournament and she's got a match-up with #1 Longoria.
—————
In the Semis and finals, the draw went chalk.
– #1 Longoria showed Centellas what it means to be #1 in the world, advancing 5,8. A great showing for Centellas on the weekend, as she also won the Women's open RR draw.
– #2 Vargas advanced over #3 Herrera in two, but it almost went tiebreaker 5.14.
In the final Longoria raced to a game 1 win, then held on for the title 6,12 over Vargas.
—————-
Doubles review
Match report in the PRS database: http://rball.pro/54B7D4
In the final it was #1 versus #2, but it was as close a final as fans could ask for. Longoria and Herrera, who are now 13-0 together as a pro doubles team, took out the #2 Argentinians Vargas/Mendez by the razor thin scoreline of 14,14.
——————
Next up? The Men are back in action next weekend in Austin, then the subsequent weekend is the Sweet Caroline Grand Slam event in Greenville, SC.
——————-
LPRT
USA Racquetball
Federación Mexicana de Raquetbol
Federación Boliviana De Raquetbol – Febora
Federación Boliviana de Racquetball
Asociación Argentina de Racquetball
Federación Chilena Racquetballacquetball
Federacion Colombiana de Racquetball
Jugadores Racquetbol Guatemala