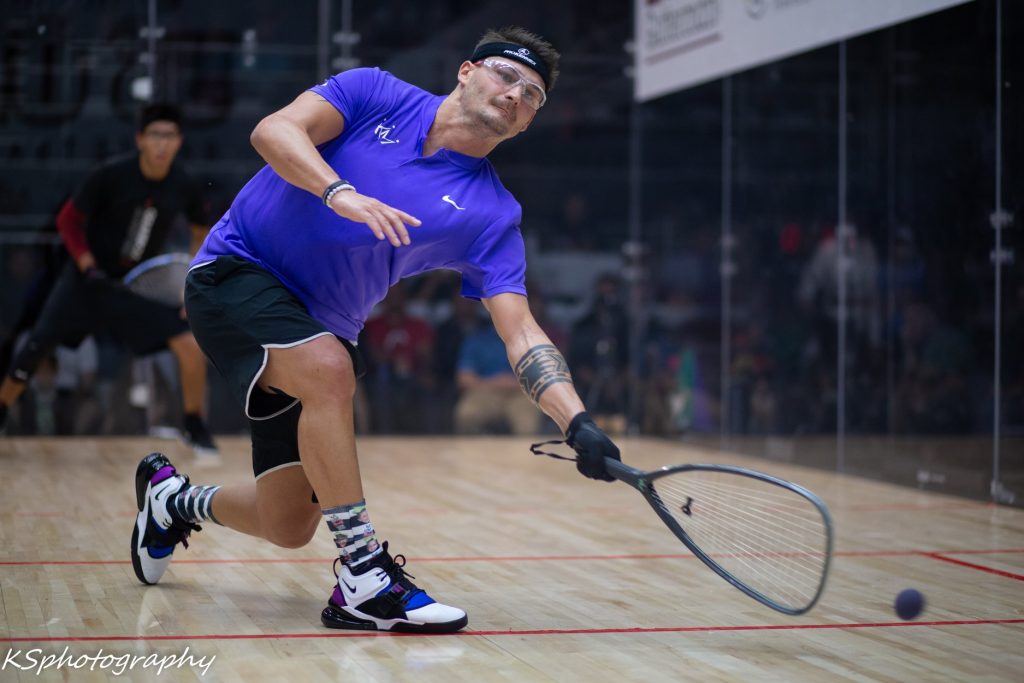 The realities of the Covid-19 pandemic have come home for both pro tours at this point; the IRT, which held out hope that its last scheduled Tier 1 could be held in June has made the decision to officially end the season.
The rolling 12-month points for the players were frozen on 4/1/20 and remain frozen now; they're now the season ending points. The tour made the decision not to penalize players with expiring points where there were no tournaments to play in which to make them up from Mid-March til now. Once the tour starts up again, we'll see all the last few month's of older points expire, making for an interesting start to next season. More on that in Aug/Sept.
With this post, the 2019-20 season ending rankings have been officially updated to the database. All relevant data has been loaded and all relevant links have been updated.
– 2019-20 year-end points in the system: http://rball.pro/B8C116
– Year End Pro titles list: https://www.proracquetballstats.com/irt/year_end_titles.html
– Running Tour Summary document updated (kind of an ongoing oral history document in bullet point format): https://www.proracquetballstats.com/…/year_end_summaries.ht…
– Number of overall titles: https://www.proracquetballstats.com/i…/number_of_titles.html
Meanwhile, here's some of my favorite seasonal reports to run, and which i'll draw heavily to write the rest of this post:
– Season Summary Report: http://rball.pro/8F437B
– Season Seed Report: http://rball.pro/553125
– Year End Ranking Matrix: http://rball.pro/E441EB
(the last one is a relatively new report; it shows all the current players and shows all their season ending rankings in one matrix; its pretty cool if you have not yet seen it).
—–
Congratulations to Kane Waselenchuk , who secures his 14th pro title in dominant fashion. He went 29-1 on the season (that one loss being a last-minute withdrawal in the season's first event). Furthermore, he lost only one GAME on the season, that being a dropped game to Rocky in the Laurel final in September. Just eight times all season did his opponent even score double digits in a singular game against him. I've seen some speculation on FB about whether the tour is "catching up" to Kane Waselenchuk … i think its safe to say the answer is "No."
He now holds a career .920 winning percentage and has won 123 of the 177 Tier 1 events he's ever entered. In his age 38 season, he is as dominant as ever and shows no signs of slowing down.
See http://rball.pro/88FC92 for Kane's match W/L record
See http://rball.pro/0AD532 for Kane's Game W/L record
See http://rball.pro/67990A for Kane's Career summary rpt
See http://rball.pro/9237E3 for Kane's Player Profile page
—–
#2 Alex Landa ended a tumultuous season with a dominant lead over #3 Rocky in the standings, finishing #2 for his highest ever pro ranking. He secured his 4th career tourney win, made 3 other finals and 3 semis. It's still kind of hard to believe he didn't really tour full time until his age 29 season, when he suddenly rocketed up the rankings to hold his currently lofty status. Landa also switched country allegiances, won US National Doubles with partner Sudsy Monchik, and essentially guaranteed himself a spot on the US National singles team as well with his finals appearance in the national team singles qualifier in Tempe. Not a bad season.
See http://rball.pro/8B6B3D for Landa's Career Summary report.
—-
#3 Rocky Carson was knocked from the #2 spot on tour for the first time in a decade, enduring a tough season where he underwent another knee operation. The rehab ended up costing him at least one missed event, and then he took another off in the midst of the 3-tourney midwest swing (a rarity for racquetball's ironman). Two seasons ago, he made the semis or better in 8 of the 9 events; this year he got upset in the 16s or quarters five times as the tour has gained depth and he's faced tough opposition earlier. He also got unlucky with early round match-ups: his round of 16 loss was to Moscoso at the US Open, and two of his quarters losses were to DLR, whose early season slide forced him into a lower seed than he is merited by his quality. That being said, Rocky's in a great position to make a big run back up the board this coming fall and winter, as he won't have many points to defend. Just making the semis or final at the US Open will be a huge points swing when it happens (or if it happens, as the US Open scheduling might be in flux). The #2 slot next season is shaping up to be a big dogfight.
see http://rball.pro/FCB94D for Rocky's Career Summary report
——
#4 Andree Parrilla edged #5 Beltran for the #4 spot by just a few points thanks to his performance at the season's final event. Parrilla had lost the #4 ranking after holding it for much of the season, but made the semis in Chicago (perennially one of his favorite events) and ends the season #4 for the second year running.
How Parrilla got to #4 is pretty amazing; he endured a stretch in Jan/Feb where he was defeated in the 16s in three successive Tier 1 events and looked lost on the court. This is no disrespect to the players he lost to (in order Manilla, Mar and GFranco), each of whom are solid players and earned their wins. Parrilla also suffered a very early out in Mexican Nationals right afterwards, but rebounded to play strong in Chicago. He takes the #4 spot by just 40 ranking points (by way of comparison; you get 40 points for making the round of 32 in a tier 1) and trails Carson by less than 200 points for #3.
Here's where things will get interesting next season: Parrilla has a chance to rocket up the rankings in the season's second half, thanks to all these early round losses. If he turns three round of 16 losses into three semi final appearances? That's a 400 point swing and may be enough to vault him to #3 or higher.
click here http://rball.pro/3C78A0 for Andree's Career summary rpt.
—–
#5 Álvaro Beltrán as noted above gets edged for #4 and thus finishes ranked 5th for the third year running. More impressively, Beltran finishes his 21st straight year touring and he's finished ranked 6th or better in 18 of those seasons (the other three being his debut season, and then two seasons impacted by a knee injury).
Beltran was able to navigate the landmines of up and coming players on tour all year, making the quarters or better in 9 of the 10 events he entered. He did not break into the semis once this year, the first time that's happened since his injury season of 2009-10, But, he ends up edging his doubles partner DLR for #5 by the skin of his teeth, currently sitting just 15 points ahead of Daniel for #5.
In fact, just 212 points right now separate #3 Rocky from #6 DLR, meaning we will see some major jumbling when the tour kicks back up next season.
Beltran also qualified for the Mexican national team with DLR, losing a close singles final in February for the National title.
See here http://rball.pro/5D443D for Alvaro's career summary rpt.
—–
#6 Daniel De La Rosa had a very interesting season, finishing 6th for the second successive season. To the outside observer, DLR may look like he's fading; after all he was in the top 4 for five successive seasons leading into the 2018-19 season. But DLR's season ended a heck of a lot stronger than it started.
He missed an event early, then was upset in the 16s in his "home" event in Arizona in October. He was knocked out in the quarters in both events in December and some thought he may be reconsidering touring altogether. But, he came back in January energized, making the final of the stacked Longhorn Open, winning the Lewis Drug, then winning Mexican Nationals. He lost a tough tiebreaker to Landa in the season's last event, but the statement has been made. DLR will race up the standings with a strong start to the 2020-21 season, with fewer points to defend in the fall, and then will have to hold on next spring.
DLR continues to be a force on the outdoor scene too, winning the Men's and Mixed Pro Doubles titles at both the 2019 Outdoor Nationals and the 2019 3WallBall Vegas event. DLR and Beltran continue to be arguably the top doubles team in the world, and DLR with wife Michelle De La Rosa are arguably the top mixed doubles team.
see http://rball.pro/A8C548 for DLR's career summary report.
——
#7 Samuel Murray finished ranked 7th for the second consecutive season, having a very consistent season. He played to his seeding 6 times out of 10 events, losing in the quarters to higher-ranked opposition. He made two semis to offset two early-round upsets.
The Canadian #1 took both of his country's qualifier events, securing his place on the national team once again. He also continues to be one of the top pro doubles players, playing most of the season with Landa.
see http://rball.pro/48CA0B for Murray's career summary report.
——-
#8 Lalo Portillo rocketed up the rankings this season, finishing 8th on the season after being ranked 17th at season's end last season. Touring full time for the first time, he qualified for the main draw 10 times out of 10, and got upset wins throughout the season to add a quarter, a semi and, at the Lewis Drug, making his first pro final. He lost that final to DLR 14,9, but his performance rewarded him with a 5th seed the next event.
Portillo has room to grow; once he got into the top 8, he suffered three straight one-and-dones at the hands of his immediate competition for the back end of the top 10 spots (SFranco, Montoya, Mercado), but held on to #8 in the end.
One last note; Portillo is easily winning the IRT's unofficial off-season social media contest, frequently posting both serious and funny videos nearly daily. He's a good follow if you havn't already done so.
see http://rball.pro/24862F for Lalo's career summary report.
——-
#9 Conrrado Moscoso committed to playing the tour in a significant fashion in the 2019-20 season, traveling up for long stretches of time from Bolivia to compete. He ended up playing in 6 of the 10 events and fared well.
He made the final of the sport's biggest event, the US Open, playing a scintillating first game against Kane before losing in two He stayed in the country to compete the two following events, making a semi in Arizona and then losing to Parrilla in the quarters of Fullerton before returning to Bolivia. He came back for the 3-events-in-3-weeks stretch and got a lesson in the rigors of pro touring; he limped out of a quarter final against Kane, played well but lost to DLR in the semis in Sioux Falls, then got dominated in a one-and-done loss to long-time nemesis Montoya in Sun Prairie. He was ranked as high as 7th until he missed the final event, dropping him two slots to #9 where he ends the season.
The #9 seeding slot might be the worst one to have on tour; If everyone shows at an event he'll have to play a qualifier, then beat a top 8 player in order to then match-up with Kane in a quarter. Its hard to earn points when you're playing a major final quality match in the quarters. He'll have his work cut out for him to move up next season; lets hope he can get the resources to play as much as we'd like to see him.
click here http://rball.pro/5E7B89 for Moscoso's career summary report.
—–
#10 Jake Bredenbeck improves his year end ranking for the fourth successive season, and at season's end just held onto his first ever top 10 finish over Franco.
Jake made his second ever career pro semi in Portland with wins over two top-10 pros, and nearly took out DLR in an 11-10 heart-breaker loss in Chicago. His season has a number of just misses that might easily turn into wins next season.
Off the field, Jake is leading the charge on a new clothing line called Beastmade Apparel, with t-shirts, hats and now long sleeve pullovers. Support a fellow rballer and buy some gear.
click here http://rball.pro/F31CDD for Jake's career summary report
==================
Since I tend to be a bit verbose, i'm breaking up this season ending rankings analysis into multiple posts. That way we're not reading 5,000 words in one clip. Stay tuned for the next set of players in the rankings and my thoughts on their season.
——
tags
International Racquetball Tour
International Racquetball Federation – IRF
Pan American Racquetball Confederation – PARC
UnitedHealthcare US OPEN Racquetball Championships
WOR – World Outdoor Racquetball
USA Racquetball
Racquetball Canada
Federación Mexicana de Raquetbol
Federación Boliviana De Raquetbol – Febora
Federación Boliviana de Racquetball
Racquetball Colombia
Federacion Colombiana de Racquetball
Reaching Your Dream Foundation