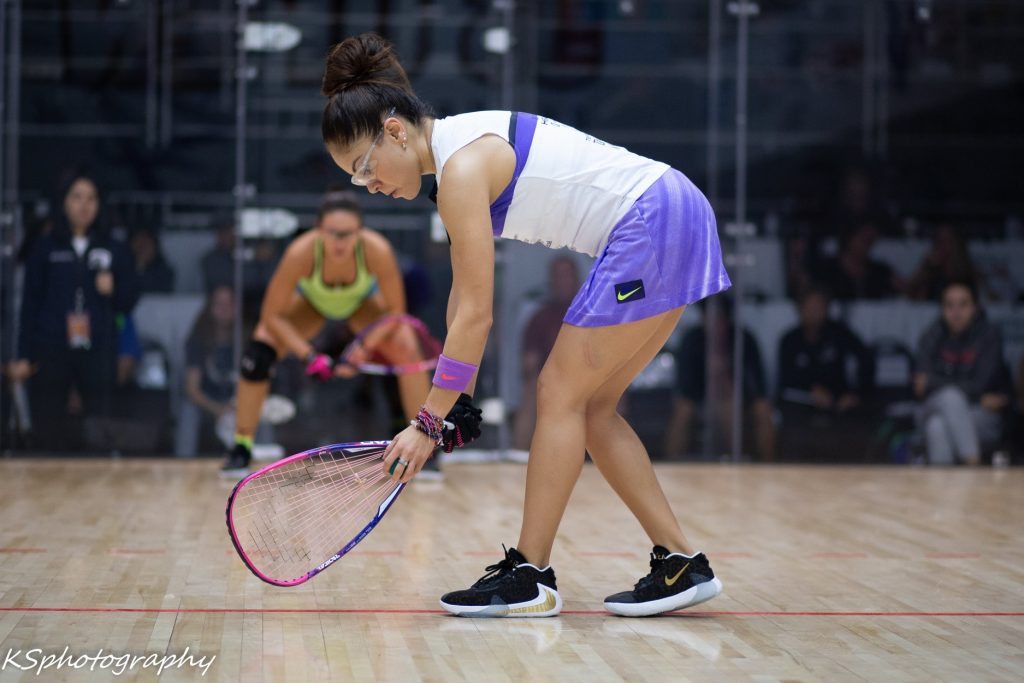 Congrats to your winners on the weekend:
– Singles: Paola Longoria
– Doubles: Paola Longoria/Samantha Salas
Longoria wins her 98th career Tier 1 or higher event (105th title overall). See http://rball.pro/65DCE3 for a list of all LPRT tourney winners. Longoria beats her doubles partner in the final, then they turn around and take their second tournament in as many weeks (they won Mexican Nationals last weekend). They improve to 96-5 as a team since we began tracking LPRT pro doubles data in Sept 2013. click here for Longoria's pro doubles history W/L by partner report; http://rball.pro/F5E61D
R2 Sports App home page for event: https://www.r2sports.com/website/event-website.asp?TID=31948
——————
Lets review the notable matches in the Singles draw.
Singles Match report in the PRS database: http://rball.pro/4B764C
—————-
In the 32s, a bunch of surprises to me, which in and among itself is NOT surprising in that this draw was stacked from the get-go:
– #12 Ana Laura Flores got a solid win over #21 Hollie Rae Scott 11-5 in the breaker. I thought this was an upset special waiting to happen but the lefty Flores recovered from a game one loss 15-14 to take the match and on.
– #14 Valeria Centellas flipped the script from a few weeks back in Laurel and topped #19 Kelani Lawrence in a tie-breaker.
– #10 Brenda Laime Jalil trounced #23 Ana Gabriela Martínez 13,5 to move on in a pretty surprising result for me. I'd love to have seen this match to gauge whether Martinez is rusty, or if Laime played out of her mind.
– #18 Maria Renee Rodriguez got a solid win over #15 Erin Nocam (i.e. Erin Rivera)11-8 in the breaker. Really solid win for MRR, who was stuck on several straight one and dones in the past few pro events.
—————-
In the 16s, a lot of upsets.
– In the 8/9 game, a tie-breaker. After losing the first game 15-1, Masiel Rivera Oporto rebounded to force a tiebreaker but eventually fell to #9 Jessica Parrilla. Parrilla closes the gap a bit on the #10 ranking on tour but probably cannot get there this season.
– #5 Rhonda Rajsich overcame a strong upset bid from lefty youngster #12 Flores before advancing in a tie-breaker.
– In the biggest upset of the round, veteran #13 Adriana Riveros took out #4 Natalia Mendez in two games 8,10. Mendez was all out of sorts on the match, really seemed off from the get-go and Riveros took full advantage. This loss may end up costing Mendez the #5 spot on tour as Rhonda's result moves the two players basically even on ranking points.
– #3 Samantha Salas Solis had a pretty amazing turnaround in her match against junior phenom #14 Centellas. She dropped the first game 15-3 and was essentially getting beat with 3-shot rallies over and over (serve, return, kill). Then mid-way through the second she found the light and dominated from there out, winning the second game and eventually the tie-breaker 11-4. A common refrain in these recaps is the sudden loss of form for Salas this season; can she build on this rebound and move forward?
– #11 Carla Muñoz Montesinos gets her second win over a top-10 player on the season, coming from a game down to top the #6 seeded Mexican veteran Nancy Enriquez in a breaker. She advances to her second quarter of the season and faces a player she beat the last time they played.
– #10 Laime gets a walk-over over #7 Amaya Cris; I thought her name in the draw indicated that she was going to attempt to play through her injury, but instead it just indicated that her hand injury occurred too late to change the draw. Reports indicate that she'll be out of action for 6 weeks, which may put her participation in April's PARC championships at risk. Amaya has represented Colombia at every PARC event (save one) since 2008.
—————-
In the Quarters, the three top seeds plus a surprise advanced.
– #1 Paola Longoria dominated #9 Jessica Parrilla in a rematch of last week's Mexican National singles final 6,3 to move on.
– #2 Maria Jose Vargas blitzed past #10 Laime 1,9 to advance to the semis.
– #3 Samantha Salas Solis turned the tables on #11 Munoz from their last meeting, advancing in two games 10,6
– The big surprise of the round was #13 Riveros beating her second top-8 player in a row, moving past #5 Rhonda Rajsich Fan Club in two solid games 13,10. Riveros makes just her second ever pro semi final; the only other time was more than four years ago (Jan 2016 in Cincinnati).
—————
In the Semis
– #1 Longoria trounced #13 Riveros 4,1 to advance to the final. Its been nearly 3 years since Longoria failed to make a LPRT final and this tournament was no different.
– #3 Salas got a well-earned win over #2 Vargas to make her first final of the season. It was a streaky match, with Salas racing to a huge first game lead before Vargas took it, then Salas saving off match point against and gutting out a second game win. From there, Vargas' spirit seemed broken and Salas cruised to a well earned win.
In the Finals, Salas hung with Longoria early, running out to a lead even, and had some wondering if it was an upset-special … then Longoria turned it on and cruised to an 8,3 win.
—————-
Points Implications of results: There's only two remaining LPRT stops on the schedule right now: a tier 1 in San Antonio.in April and a "super max" grand slam in Kansas in June. While there could be more events added last minute, based on the fact that there's just 2 events left…
– Irrespective of results at the remaining 2 events, Paola has a large enough lead over #2 Vargas (782 points) that she has guaranteed the #1 year end spot. It will be her 11th year end title.
– Despite Salas' win over Vargas here, she remains well behind Maria for #2. Far enough behind that the only way Salas could catch Vargas for #2 is if she wins both remaining events (worth 500+ points) and for Vargas to miss them. That seems pretty unlikely, so we're ready to declare that Vargas has sewn up #2 on the season.
– Salas seems pretty locked into #3 as well; she's got a huge lead to #4 that would take some unlikely scenarios to overcome.
– #5 and #6 on tour may flip b/c of this event: Rhonda and Natalia both have nearly identical points right now.
– #7 and #8 might flip as well: based on my records Mejia and Enriquez also have identical number of points right now.
– thanks to a relatively large points gulf between 10 and 11, it seems likely that the year end top 10 has been sewn up for all participants; its just a matter of the order in the latter half.
The only other significant moves in the rankings would be Riveros moving up one spot, and MRR moving up two spots thanks to their results on the weekend.
—————-
Doubles review
Match report in the PRS database: http://rball.pro/352057
The top 2 seeds cruised to the final with little difficulty. There, the #1 seed continued their dominance over the doubles tour, beating the Argentines Vargas/Mendez in two. Longoria/Salas have never lost to Vargas/Mendez, and they continue the streak.
—————-
Other Draws in Boston:
– Munoz topped MRR in the Women's Open final
– Connecticut's Jose Flores Jr. won a 20-man Open draw, topping Massachusetts' Orlando Cabana in the final.
—————–
Thanks for all the streaming on the weekend, especially from broadcasters Timothy Baghurst, great technical work and streaming graphics/replays by Jerry J Josey Jr., and mike work/tour leadership from Tj Baumbaugh.
——————
Next up on the schedule? we'll publish wrap ups of the two IRT events that went on this past weekend tomorrow, then the IRT returns to Tier 1 action with the 35th annual Shamrock Shootout in Chicago next weekend.
——————-
tags
LPRT
International Racquetball Federation – IRF
USA Racquetball
Federación Mexicana de Raquetbol
Federación Boliviana De Raquetbol – Febora
Federación Boliviana de Racquetball
Racquetball Colombia
Federacion Colombiana de Racquetball
Asociación Argentina de Racquetball
Federación Chilena Racquetball
Jugadores Racquetbol Guatemala