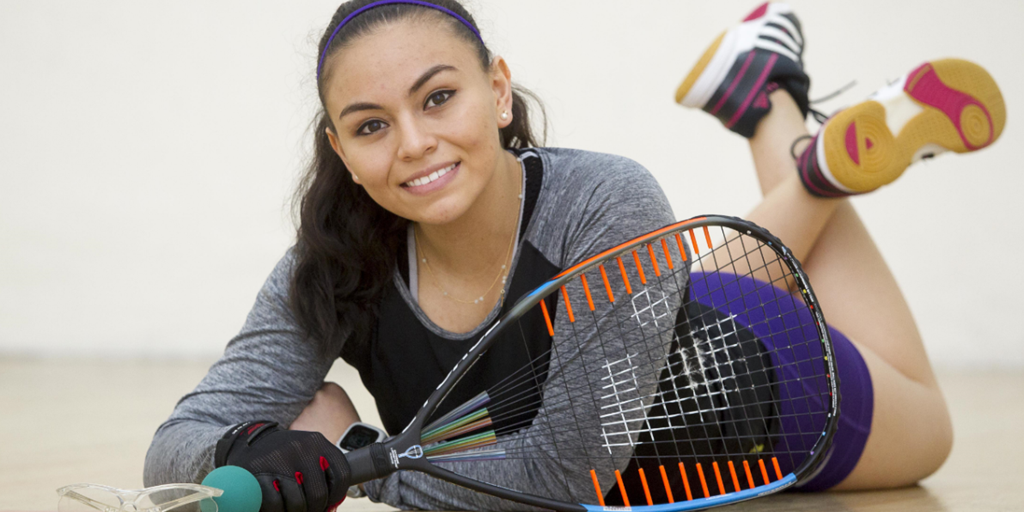 Hot on the heels of Mexican Nationals last weekend (which involved a good percentage of the current LPRT regular touring squad), the LPRT returns after a five week break in the schedule.
We're in Boston this week for the 2020 Boston Open. The Boston Open first popped up on the schedule in Oct 2016, was held three years running, missed 2019 but its great to see them back on the schedule for 2020.
R2 Sports App link: https://www.r2sports.com/website/event-website.asp?TID=31948
24 Pros in the draw, a good sized draw and one of the bigger turnouts of the season so far. Notables playing this week include Amaya Cris, who just had hand surgery on her non-playing hand but will gut it out and play on the weekend. #12 Ana Laura Flores is here after curiously missing Mexican Nationals last week.
Notables missing this week: #4 Alexandra Herrera and #7 Montse Mejia. Herrera's absence is odd; she has missed just two pro events in the last 5 seasons combined. Mejia continues to balance school and travel and probably could not miss two straight weeks of time.
From the 11-20 ranked players, only tour stalwart Adrienne Fisher Haynes is missing, meaning that the event is stacked, with 17 of the top 20 players present.
And, just to make this an even deeper draw, we have 2019 US champ Kelani Lawrence, the 2020 US qualifier champ Hollie Rae Scott, and 2018 World Champ Ana Gabriela Martínez making a rare appearance to make this one of the best LPRT draws in some time. All these top non-regular touring players will make the opening rounds brutal.
——————————
Lets preview the singles draw. Here's some notable qualifying matches that i'm looking forward to:
——————————-
In the 32s, here's some matches to look for:
– #21 Scott versus #12 Flores: Great opener; Scott defeated Flores in the sole h2h match I have on record … in 2017. Flores started off the 2019-20 season with a bang, making the quarters, but has been one-and-done in 3 straight pro events since. Scott is hot (hey! I'm a poet and i didn't even know it), is coming off a great showing in Tempe to take the qualifier title and essentially guarantee herself a spot on the US National team, and will be looking to make noise here. Look for Scott with the "upset" here.
– #13 Adriana Riveros vs #20 Susy Acosta; interesting match here; they met earlier this season and Acosta got the upset win, but otherwise Riveros has a ton of really solid wins lately on her resume. She was fantastic at the Pan Am Games in Lima, downing Centellas and Rajsich to make the semis. I'd favor Riveros here but the match-up with the veteran lefty may make for an upset as it did earlier this season.
– #14 Valeria Centellas vs #19 Kelani Lawrence; Centellas has raised some eyebrows on tour this year, with multiple wins over top 10players, but to get there in Boston she'll have to go through a player who just topped her dominantly in a local event a month ago in Lawrence. This should be a really competitive match.
– #11 Carla Muñoz Montesinos vs #22 Lexi York; Munoz keeps climbing up the rankings on tour, now on the brink of the top 10. She'll have a tough younger opponent in York to start her tournament this weekend.
– #10 Brenda Laime Jalil vs #23 Martinez: The presence of Martinez in the draw is the ultimate wild-card; when she's playing regularly, she's a top 4-5 player in the world and a threat to make the semis or better of any event she enters. But since "retiring" to go to school she's played sporadically with mixed results. Here she runs into Laime, who has had a hit or miss season, missing more events than she's played but making a quarter final in Virginia Beach in September. I think Martinez moves on here.
– #15 Erin Nocam vs #18 Maria Renee Rodriguez; An intriguing match between Rivera, the righy with an unconventional swing path and a number of solid wins this season, versus MRR, who seems stuck in a rut right now with five straight one-and-dones. I think Rivera moves on.
——————————-
Round of 16; here's a look at the round as it may play out if my round of 32 predictions come to pass:
– #1 Paola Longoria vs #16 Sheryl Lotts; 9 times they've played, mostly in the 2012-13 time frame, Longoria is 9-0 against the American. Paola is fresh of a double win in Tijuana and hopefully shows no ill-effect of the nasty-looking turned ankle.
– #9 Jessica Parrilla vs #8 Masiel Rivera Oporto: Rivera unfortunately draws Parrilla, who took out defending Mexican champ Mejia en route to the final and qualified for the Mexican national team for the first time in years. Rivera beat Parrilla handily at the US Open earlier this season, but has suffered some early upsets since, while Jessica has been red-hot. Look for the upset here.
– #5 Rhonda Rajsich vs #22 Scott; Hollie didn't have to play Rhonda at the doubles qualifier but won it by defeating the player who downed Rhonda in the final. Is it a changing of the guard in US Racquetball? Every time Rhonda does NOT win a title we have the same talk. But Scott is candidate 1-A right now to take over the mantle of the "Best American" based on results. This will be a good test for both player, and I think Scott moves on.
– #4 Natalia Mendez likely takes on #13 Riveros: a nice south american matchup; Mendez leads 4-1, Riveros beat her in jan 2019 but not since, and the matches are often close.
– #3 Samantha Salas Solis vs the Lawrence/Centellas winner: Salas has never lost to either player, and crushed Lawrence when they played in Greenville in January. Look for Salas to move on here in a close match.
– #6 Nancy Enriquez vs #11 Munoz: these two played three times in 2017, never since. Munoz has been creeping up the rankings, now sitting at #13 while Enriquez has been showing some vulnerabilities in earlier rounds this season. I think Munoz can get the upset here.
– #7 Amaya vs likely #23 Martinez: On paper Martinez is the better player, but she's not playing full time. Meanwhile Amaya just had surgery and isn't 100%. Not knowing just how sharp Martinez is … i'll go out on a limb and predict the upset here.
– #2 Maria Jose Vargas Parada likely takes on #15 Rivera, in what I believe is a debut meeting for the two players. Vargas to move on.
——————————
Projected Qtrs:
– #1 Longoria over #9 Parrilla: a rematch of last week's Mexican National final, won by Longoria in two.
– #4 Mendez vs #22 Scott: these two are nearly the same age and have prior junior worlds meetings. But that was a while ago. I see a tough match here that could go either way, but I'll go with the higher ranked Mendez to move on.
– #3 Salas vs #11 Munoz; if this meeting comes to pass, Munoz has a win already over Salas this season and should be able to repeat the feat. Salas took a slight knee knock last weekend; not sure if it was serious or not (it did not seem to affect her in the doubles final), but something to look out for.
– #2 Vargas vs #23 Martinez. Great match-up. They met at 2018 worlds (a Martinez win) and 2019 PARC (a Vargas tiebreaker win). I like Vargas here over the non-touring Martinez.
Semis:
– #1 Longoria over #4 Mendez; Natalia has never beaten the #1 player, and that won't change here.
– #2 Vargas over #11 Munoz: Argentina vs Chile, a battle of two of the best Syrah-growing countries in the world. Oh, and two solid players. I have Vargas 8-0 lifetime over Munoz in pro and IRF competitions; she makes it 9-0 here.
Finals: #1 over #2 Longoria over Vargas.
6 of the first 7 finals this season have been Longoria v Vargas, might as well make it 7 of 8.
——————————-
Doubles review
13 teams entered. Some interesting teams this time around trying to dethrone Longoria/Salas. We have a number of internationally flavored teams: the #2 Argentinian national team pairing of Vargas/Mendez, a promising all-american team of #6 Lawrence/Lotts, the Guatemalan national team #9 Martinez/Rodriguez, and an interesting "all veteran" team of Rajsich/Acosta, with more than 40-years of pro experience between them. One last team of note: María Paz Riquelme steps in for Amaya to partner with Riveros this time around; Riquelme and I used to play at the same club in Arlington VA. If you're reading this Maria … hello!
In the end, I'm going with the #1 team to prevail over the #2 Argentines in the final.
———————————
Look for Streaming in the regular places; follow the LPRT on facebook and sign up to get notifications when they go Live.
Look for Timothy Baghurst], Jerry J Josey Jr., JP Edwards and Tj Baumbaugh on the mike, calling the shots!
———————————–
LPRT
International Racquetball Federation – IRF
USA Racquetball
Federación Mexicana de Raquetbol
Federación Boliviana De Raquetbol – Febora
Federación Boliviana de Racquetball
Racquetball Colombia
Federacion Colombiana de Racquetball
Federación Costarricense de Racquetball
Asociación Argentina de Racquetball
Federación Chilena Racquetball
Jugadores Racquetbol Guatemala