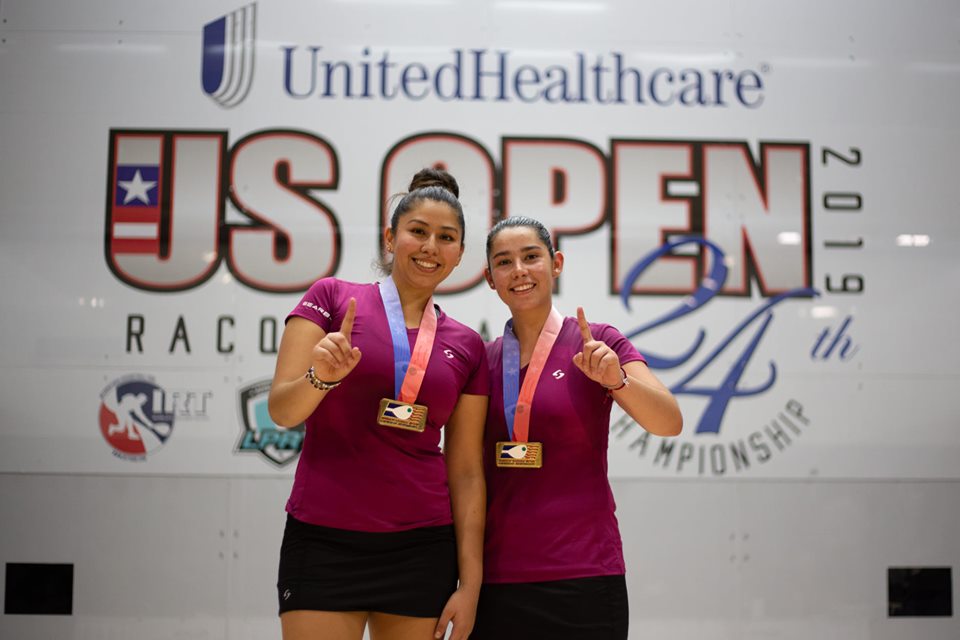 Congrats to Alexandra Herrera and Monserrat Mejia on their win at the 2019 US Open.
Lets review the Q/SF after the last post ran through the 32s and 16s.
PRS match report: http://rball.pro/835FD7
——-
Quarters wrap-up:
– #1 Paola Longoria / Samantha Salas Solis dominated the #8 team of Michelle De La Rosa and Kelani Lawrence to move into the semis.
– #4 seeded Masiel Rivera Oporto and Brenda Laime Jalil outlasted the #12 seeded Lexi York and Hollie Rae Scott combo to advance.
– #3 Montse Mejia and Alexandra Herrera, the sometimes Mexican national team representatives, were pushed to the limit by the strong #6 Guatemalan national team of Ana Gabriela Martínez and Maria Renee Rodríguez before advancing 11-8.
– #7 Jessica Parrilla / Nancy Enriquez surprised the #2 seeded Argentinian national team of Maria Jose Vargas and Natalia Mendez Erlwein, dropping the first before running away with the match 15-6, 11-1 to finish it off.
Still on track for the all-Mexican final, which we've seen multiple times on tour, including last year's 2018 US Open final.
———–
In the semis:
– the #1 team blitzed Rivera/Laime 6,4 to move to the final.
– the #3 team destroyed the upset-minded #7 team Parrilla/Enriquez to move to the final.
————
In the finals, we got the match-up most had predicted. Longoria/Salas versus Mejia/Herrera is a rematch of multiple finals throughout the last couple of seasons. These two pairings met in the finals of the 2016 US Open, multiple pro finals in the 2017-18 season, the 2018 Mexican Worlds selection event, 2018 World Doubles, the 2018 US Open, 2019 Mexican Nationals, and at the SLP pro stop earlier this season.
It did not disappoint. The younger Mexican pairing won two closely contested games to vanquish the top-ranked veteran pairing to capture their first US Open title 13,12.
——————
LPRT
UnitedHealthcare US OPEN Racquetball Championships
US OPEN Racquetball
Federación Mexicana de Raquetbol
USA Racquetball
Racquetball Canada
Federacion Boliviana Tiro Deportivo
Asociación Argentina de Racquetball
Jugadores Racquetbol Guatemala
International Racquetball Federation – IRF