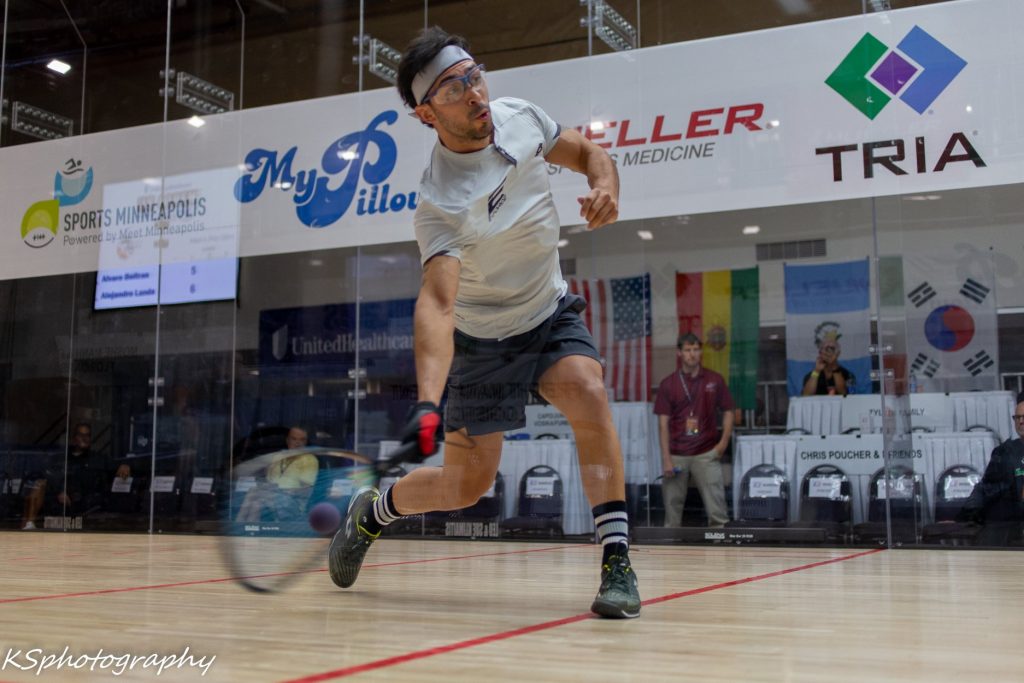 Congrats to your winners on the weekend:
– Singles: Alejandro Landa
– Doubles: Daniel De La Rosa/Alvaro Beltran
Some quick stats on his win:
– This is his 4th win, tied for 19th all time
– As Kramer X noted in his re-cap, Landa has overtaken his country men to be the leading title winner of any Mexican player.
– He improves to 13-4 on the season, 121-65 for his IRT career (23rd all time).
R2sports link: https://www.r2sports.com/website/event-website.asp?TID=31129
———–
Here's a review of the notable matches in Singles (doubles is below)
PRS Singles report: http://rball.pro/5ADEEB
In the 128s:
– #33 Majeed Shahin survived a tough opener against Canadian vet #32 Lee Connell 11-9 in the breaker.
– #31 Luis R Avila was pushed even further, saving match point against to survive 11-10 against Mexican 18U player #34 Manuel Moncada.
——
In the 64s, one big surprise and a couple of close matches:
– #33 Shahin kept the ball rolling from his opening win and topped #17 Jose Diaz 5,14 to advance into the 32s. A great win for Shahin and kind of a shocking loss for Diaz, who was on the cusp of the top 10 the last two seasons but now has opened his season with two missed events and two first round losses.
– #24 Alan Natera Chavez took a close one against #25 Sam Bredenbeck 11,12. Solid showing from the younger Bredenbeck sibling.
– #26 Mexican 17yr old Oscar Nieto got his second win this calendar year over #23 Scott McClellan 9,10. He earns a shot at a top 10 player on tour for the first time.
——–
In the 32s, we started to see some of the talent out there in the player pool take over seeded players:
– #9 Rodrigo Montoya Solís took out #24 Natera 11,2, dominating the match and putting down the upset attempt.
– #19 Eduardo Garay Rodriguez dominated #14 @Gerardo Gerardo Franco Gonzalez 8,2 to move into his second main draw of the season.
– #22 Javier Estrada took out #11 David Horn 11-9 in a back and forth match. Horn was down big in game one and came back to take it, but Estrada stormed to game 2. In the breaker, it looked like Horn was in control, but Estrada went on a run that Bobby couldn't stop, and at the tail end of the tie-breaker Horn took a knock to his foot that hobbled him on match point against. A great win for Estrada, who advances into his first IRT pro draw since 2010
(fun fact: the IRT visited Chihuahua, Estrada's home town, and had just a 17-man draw … so Estrada, as a 15-yr old, played in the round of 16. He's the 4th youngest player ever to make the round of 16 in an IRT pro event.
———–
In the 16s:
– #8 Daniel De La Rosa improved to 3-1 on the IRT over #9 Montoya, taking the match in two solid games 7,10.
– #5 Conra Moscoso Ortiz dropped the first game 15-9, then blized #12 Jake Bredenbeck 15-2, 11-1 to advance.
– #3 Alvaro Beltran fended off a furious upset bid by #19 Garay before advancing 11-9 in the breaker.
– #6 Samuel Murray dispatched #22 Estrada in two games, winning clinically 11,7.
– #10 Sebastian Franco provided the sole upset-by-seed of the round, coming back from a game down to oust the upstart Mexican @Lalo Portillo 11-8 in the breaker. Even though these two players are heading in different directions ranking-wise this season, there's not a lot between them and I sense we're going to see more of these kind of close matches between those players in the 7-12 range all season.
– #2 Alex Landa made fast work of Bolivia's Carlos Keller Vargas 4,7. Keller has now played in all 5 IRT events so far this season and has fallen at the 16s all five times.
So, we have nearly a perfect chalk quarters in a tournament missing the #1 seed (which historically has meant a wide-open draw). In my preview I surmised we' may see some upsets here, especially with two up and coming players Garay and Estrada in the mix, but the tour's elite held on.
—————–
In the Quarters:
– #1 Rocky Carson eked out a solid game 1 win 15-14, then held on to turn the recent tide of results versus #8 DLR and advance 14,9.
– #4 Andree Parrilla make a significant statement in defeating #5 Moscoso 13,7. These two met in the 2017 US Open, a 5-game Moscoso defeat that helped propel him onto the world rball stage. This time around, Parrilla gave a master class in defensive racquetball, continually retrieving shot after shot, making Moscoso hit ball after ball, until eventually a mistake was made going for too much. I thought Moscoso was the pre-tournament favorite once we heard that Kane was out, but he struggled all match to gain the upper hand against Parrilla and may have some things to think about heading into his next event.
– #3 Beltran blized past #6 Murray in the first game 15-1 then held on in a closer game two to make the semis for the first time this season. Beltran's consistency this year has kept him in the top seeds, and a semis appearance will only help.
– #2 Landa took revenge on an earlier season defeat to Franco by blasting him 5,6 to move on. He makes the semis for the 4th time in 5 events this year and continues to play really solid ball. He must really rate his chances to get a win here in Kane's absence.
——————-
In the semis, more chalk.
– #1 Carson, coming off of two upset losses in the last two events, absolutely flummoxed #4 Parrilla en route to a 7,3 win. Parrilla just could not find a way past Rocky's serves, and Carson's consistency led to easy points throughout the day.
– #2 Landa topped his long time rival #3 Beltran for the 7th successive time in pro/top level competitions 12,12.
———–
In the singles final, Landa got his first win over Carson since April and improved to 5-8 for their careers with a gutsy (9),14,10 win that featured Landa saving match points in both game 2 and game 3.
With the win, Landa inches closer to Carson for #2 on tour, but more importantly opens up a significant gap between himself and #4 Beltran. Landa's consistency so far this season has really paid off and he's closer to overtaking Rocky right now than he is in getting surpassed.
———–
Here's a review of the notable matches in Doubles
PRS Doubles report: http://rball.pro/7EE21E
In the 16s, a couple of great matches:
– The Bolivian pairing of Moscoso/Keller topped the great Mexican team of Estrada/Natera 11-7 in the breaker.
– Sebastian Fernandez/ Felipe Camacho were taken to the limit by Bredenbeck & Connell, advancing 11-10.
In the qtrs:
– Moscoso/Keller played a very solid match to oust the #1 seeded Landa/Murray team 6,11.
– Both the #2 and #3 seeds were forced into tiebreakers to advance past solid doubles teams. Jake and Diaz took out Garay & Montoya, while Mercado/Franco took out Portillo/Parrilla.
In the semis:
– The upset run of the Bolivian team continued, with Moscoso/Keller taking out Bredenbeck/Diaz 12,8.
– The accomplished #2 Mexican team of DLR/Beltran was stretched to a breaker by the Colombian National team Mercado/Franco before advancing.
In the final, DLR and Beltran took the final over the Bolivians 12,8 to take the title. its their first IRT doubles title since Jan 2019.
————
A quick comment on the Men's Open draw: Mexican 16U player Guillermo Ortega took out Mexican 18U player Manuel Moncada in the final. Ortega defeated Set Cubillos Ruiz and Shahin enroute to the final, while Moncada defeated Francisco Troncoso and Connell en route to the final. Those are some accomplished players for two kids to take out.
Interestingly, neither Moncada or Ortega won their respective Mexican Junior titles this year: Moncada fell in the semis to Sebastian Fernandez while Ortega Jr. was defeated in the 16s.
————
Next Up on the schedule:
– IRF World Juniors in Costa Rica kicks off 11/8/19 and runs for a week
– 17th Annual turkey Shootout, Portland, OR IRT Tier 5 event.
– Marigold Resources Quad City Open, Eldridge, IA: IRT Tier 5 event
– There's supposedly an RKT event called the Copa Prince event somewhere in Mexico; if it happens we'll cover it.
————-
International Racquetball Tour
International Racquetball Federation – IRF
Federación Mexicana de Raquetbol
Racquetball Canada
USA Racquetball
Fecoracquet Fecoracquet
Federación Boliviana de Racquetball
Federación Costarricense de Racquetball