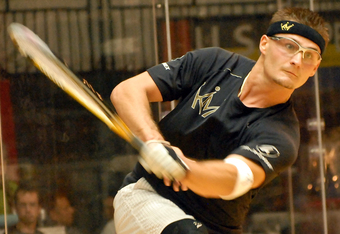 Congrats to Kane Waselenchuk for winning the 2019 International Racquetball Tour California Open. With the win, he captures his 113th career Tier1/Grand Slam event, extends his current match winning streak to 74 matches (3rd longest ever streak), and extends his current game winning streak to 48. He's yet to drop a game since the tour went to best of 3.
With this win, he rises to #3 in the tour rankings; this was the event in which he got injured last season, so from here until May he's got no points to defend and should pretty quickly rise up the rankings. He's got 300+ point advantage in season-to-date rankings already and is well positioned to claim another year end title.
r2sports link for event: http://www.r2sports.com/website/event-website.asp?TID=29824
Proracquetballstats.com Match report for the event is here.
Lets review the draw, with comments on notable (to me) results.
In the round of 64:
– In the battle of reigning world Junior champs, the elder 18U champ Eduardo Portillo Rendon outlasted 16U champ Diego Garcia Quispe 12,11. Garcia showed a lot of power, with a sneaky fast serve, but Portillo's smooth approach kept him just ahead of the Bolivian.
– Mexican Junior Oscar Nieto Valadez snuck by the Ref Scott McClellan 11-10. Nieto made the Mexican National 16U final in 2017 … then seems to have missed the 2018 Nationals and Selection events. But he's still got a year of juniors and looks like a pretty solid player.
– Robert Collins took out Sebastian Longoria in 2 straight … which isn't normally notable except that Longoria is just 16 years old. He lost in the final of the Jr Worlds 14U in Minneapolis in 2017.
– Nick Riffel outlasted outdoor champ Luis R Avila 11-8 in the breaker, in a close match between two solid players.
In the round of 32, we had some surprises:
– Rodrigo Montoya Solis cruised past Gerardo Franco Gonzalez 9,6, setting up a match against #1 Alejandro Alex Landa .
– Portillo took out #9 seeded David Horn 11,13. This is a pretty significant result for me, demonstrating how far Portillo has come in the past year. Its also another early loss for Horn on the season, who now in four events has lost in the 32s twice and the 16s once. Reports are that Horn was under the weather, contributing to his loss, and he forfeited out of doubles after this result.
– Sebastian Fernandez took out Adam Manilla 8,12. Also a notable result, in that its another 18-yr old taking out a pretty experienced IRT touring pro. Both Portillo and Fernandez are flexing their muscles on tour right now.
– Nieto took Jake Bredenbeck to a tiebreaker before falling 11-3. Not a bad result for a kid playing in his age 18 season.
– Mauro Daniel Rojas took out veteran Felipe Camacho 11-6 in a breaker. Very good result for Rojas.
– In the 15/18 match-up, Robert Collins earned another match against Rocky with a solid 2-game win over Riffel.
In the round of 16…
– The highly anticipated match between #1 Alejandro Landa and IRF world Champ Montoya, the fans were not disappointed. Landa came out on top after dropping the first and racing away with the second. Landa dominated the tiebreaker, jumping out to a 9-2 lead, then held on for a 11-6 win. These two matched up in the Mexico City Open in Dec and Montoya came out on top; this time it was Landa.
– With his greatest ever IRT victory, Portillo downed #8 seeded Samuel Murray 14,14.
– Andree Parrilla held off the other 18U champion in the draw Fernandez, holding on for an 11,13 win.
– Kane Waselenchuk left nothing to chance, dominating Bredenbeck 8,3
– Daniel De La Rosa cruised past the youngster Rojas 4,13
– Jose Diaz indeed got the upset of Sebastian Franco in a tie-breaker, continuing his fantastic season. Diaz now has two quarter-final appearances on the new season and is on track to break into the top 8 based on performance.
– Alvaro Beltran held off the solid Jansen Allen in a tie-breaker.
– Rocky Carson left nothing to chance, giving Collins a donut en route to a 2-game win.
In the Quarters…
– Landa pounded the 18U champ Portillo 3,5, ending his tournament quickly. Still, this is easily Portillo's best ever IRT event (prior career best was a round of 32 exit at the 2017 US Open).
– Waselenchuk made quick work of Parrilla, ironically by the same 3,5 score as Landa's win. Kane's serves were just outstanding, Parrilla could do little with his match all night, and to add insult to injury Kane hit splats from down the line positions at 39 feet and rolled out between-the-legs shots. Just unfair.
– DLR outlasted Diaz in a back and forth tiebreaker.
– Carson got revenge and came from a game down to beat Beltran.
In the Semis:
– Kane gave #1 Landa a donut before he caught his breath, then outlasted him in the second to advance to the final 0,9.
– DLR won a fantastic 11-10 tiebreaker over Rocky Carson, a scintillating match where each player had multiple shots at match point.
In the Final, DLR was making shots and was pressing Kane most of the way, but in a common refrain Kane controlled the end game like a chess master, and quickly turned a game that was close up until the 8-8 or 10-10 range into a 15-8 or 15-10 game win. DLR tried some unconventional (to say the least) tactics to try to throw Kane's service game off, to some success it should be said, and really experimented with his service game, but it was to no avail. A sharp Kane and concrete walls proved to be unstoppable.
——————-
In the doubles draw, it came down to #1 vs #2. In the end, DLR rebounded from his singles loss to team with Beltran to top #2 seeded Landa/Murray in two straight. These two teams are separating themselves this year, playing together nearly every event and making a name for themselves (along with the Kane/Ben Croft team) as the best in the world.
——————–
We have a rare break in the schedule; nothing on the books for the weekend of 1/13/19. But the following weekend we have the great annual Lewis Drug Pro-Am in South Dakota and the equally good Longhorn Open in Austin. I'll publish some content in the interim related to some new reports and bug fixes i've been working on.