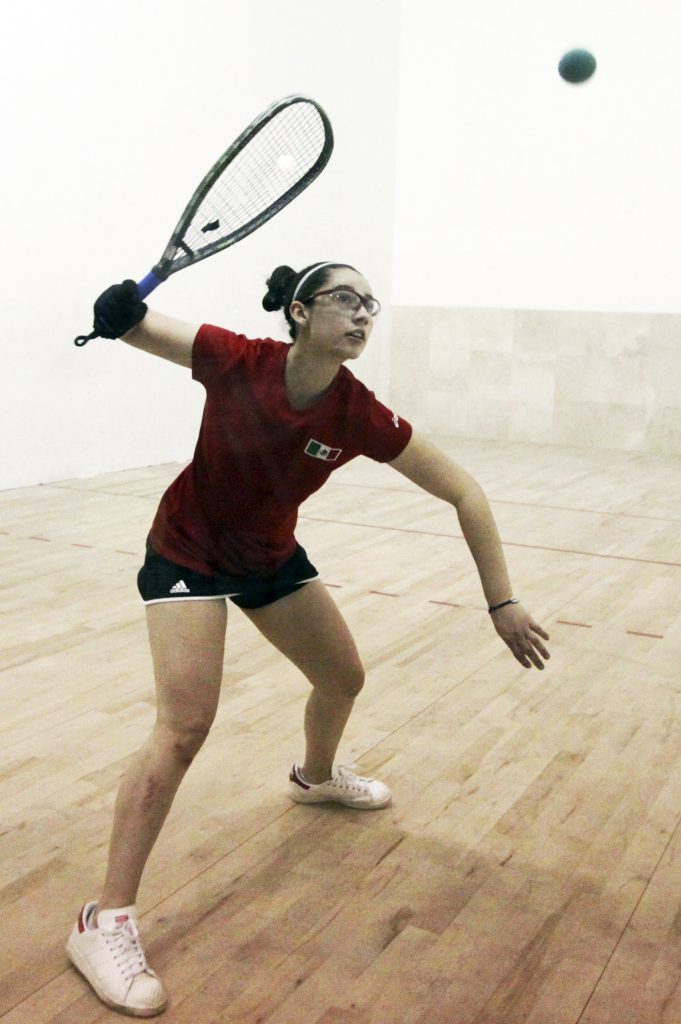 International Racquetball Federation
We're through the round robin/group stages of the 32nd annual Pan American Racquetball Championships; lets review the interesting and upset results from the singles RRs and then preview the knockouts. A reminder; the results are re-seeded after the group stages for the knockouts.
Men's singles RR matches of note:
– #4 seed Charlie Pratt took out #13 Mario Mercado in his home country in an 11-7 tiebreaker. 
– #3 seed Alvaro Beltran saved match point against versus Chilean journeyman Francisco Troncoso before finishing off a tie-breaker win.
– #8 seed Canadian Coby Iwaasa was upset in the RR stage by Costa Rican #1 Andres Andres Acuña 8,7. Acuna took out Horn in the 2018 US Open and has made the quarters or better of the last three PARCs, so this is no fluke. 
– Dominican #1 Luiz Perez lost 11-10 to unknown Venezuelan Roberto Leyes … but then took out two IRT veterans in Felipe Camacho and top-8 player Samuel Murray to win his group. This is not the first time Perez has made noise in IRF events: he's got wins over Acuna and Montoya in 2018 and now gets a seed in the knockouts.
Women's Singles RR matches of note: 
– #1 Montse Mejia was stretched to a tie-breaker by long-time IRF Ecuadorian vet Maria Paz Munoz.
– #13 Amaya Cris scored the biggest RR upset, taking out #2 Rhonda Rajsich in a close tie-breaker 14,(14),8. Amaya is the home-court favorite here and has now put herself in a great position to advance deep.
– #3 Paola Longoria outlasted Maria Jose Vargas Parada 12,13. Vargas' sole career win over Longoria was at this event in 2018 but could not repeat the feat.
– #5  Maria Renee Rodríguez played a solid game to beat Natalia Mendez Erlwein and remain the favorite to advance as the seeded player out of the group. Mendez then lost to long-time Venezuelan player Mariana Tobon before defaulting the last match of the group.
—————————
Singles Knockout Predictions:
In the Men's singles draw, just two of the top 8 seeds were upset in RRs: Murray and Iwaasa. So here's some projections of the Men's singles draw here on out:
Matches to watch for in the 32s:
– The 16/17 match between Cuban #1 Maikel Mollet and Chilean #1 Francisco Troncoso should be close.
– Ecuadorian #1 and #9 seed Fernando Rios gets a tough test against Costa Rican veteran Felipe Camacho. Could go either way.
– #10 Coby Iwaasa gets an interesting match against long time Argentinian veteran Diana-Shai Manzuri, who has been representing Argentina in international events for more than 20 years now.
Matches to look for in the 16s:
– If Camacho can take out Rios, he likely faces his country-man Andres Acuna, who beat Camacho on the IRT twice in 2018.
– #5 Luis Conrrado Moscoso Serrudo vs #12 Samuel Murray: a brutal round of 16 here; these two met at the 2018 US Open and Murray topped Moscoso in a tie-breaker. So Murray can beat the newly crowned Bolivian champ. What to make of Murray's upset in the RRs? This is a hard one to predict but the winner could go pretty far. I think i'll go with the hot-hand Moscoso here.
– #14 Mario Mercado vs #3 Alvaro Beltran; another tough draw for a seeded player; Beltran has to face Mercado on his home soil. Beltran beat Mercado handily in Chicago in March … but Mercado played lights out at the Bolivian Open in making the semis. I think this is close and Beltran ekes it out.
– #7 Carlos Keller Vargas, your defending champ, faces a tough out in Canadian Coby Iwaasa in the 16s. I think Keller advances, but Iwaasa makes it hard on him.
Projecting the Quarters:
– #1 Alejandro Landa over #8 Acuna: this is a rematch of the 2017 PARC semis, a 2 game close win for Landa. They also met at the 2018 Florida IRT championship. Landa prevails.
– #5 Moscoso over #4 Pratt: Moscoso's firepower overcomes Pratt's tactical game.
– #3 Beltran takes out the upstart Dominican #6 Perez.
– #7 Keller over #2 David Horn; this is a rematch of the final of last year's event, a tie-breaker win for Keller. I'm going to predict it happens again.
Semis:
– #5 Moscoso over #1 Landa; they met in Bolivia, in the semis of that Grand Slam … and Moscoso won in an epic donut tie-breaker. I think we see a similarly close game this time around with the same result.
– #7 Keller over #3 Beltran: they met in the quarters of the 2015 PARC and Keller got him then. I think Keller can do it again.
Final: an all-Bolivian final, with #1 over #2 as Moscoso downs his countryman for the title. If it happens this way, Moscoso will have more than earned t his win.
—————————
In the women's singles draw … 3 of the 7 group top seeds were upset, leading to some interesting looking seedings in the knockout and some tough matches out of the get go:
Matches to look for in the 32s:
– #9 Cuban Maria Regla Viera gets to play the 24th seeded Natalia Mendez; is Mendez hurt? Why did she default her final RR match? Either way, the LPRT top 10 player has a tough one against a tough Cuban.
– #12 Vargas gets the precocious Costa Rican Maricruz Ortiz. Ortiz was the losing finalist to Centellas at world 16U juniors in 2018 but is already representing her country at the Adult level.
– #15 Maria Paz Munoz gets a tough match against the other Cuban in the draw, Yurisleidis Alluie. Munoz should advance but as we've seen, the unknown Cuban competitors can make waves.
Matches in the 16s to look for:
– #8 Angelica Barrios faces off against the Mendez/Regla Viera winner, in what could be a pretty good match. Either way, I like the Bolivian junior to advance.
– Vargas vs #5 Maria Renee Rodriguez; a tough draw for Rodriguez, who wins her group and earns the bye but gets current top 4 LPRT player Vargas for her troubles.
– #4 Carla Carla Muñoz Montesinos vs Rajsich; tough break for Munoz, who wins her group and then gets the two-time defending PARC champion. 
– #6 Valeria Centellas vs #11 Kelani Lawrence; this could be a good match-up. I think Lawrence could pull the upset-by-seed here over the reigning 16U world junior champ.
Projecting the Quarters:
– #1 Montse Mejia vs #8 Barrios: they met in the 18U world juniors semis in both 2017 and 2018; both Mejia wins. I think Mejia continues her run.
– #12 Vargas vs #13 Rajsich: they've met 29 times across all competitions and are just about dead even; Rajsich currently leads h2h 15-14, and has won their last two meetings. But Rajsich was struggling in Bolivia with a knee issue; is she recovered? I'm going with Vargas here to ensure a new PARC champion.
– #3 Longoria over #11 Lawrence: Longoria has something to prove here, having lost to Mejia at Mexican Nats and having been the losing finalist the last two tournaments. She outclasses Lawrence here, looking for more.
– #2 Amaya takes out #7 Delgado on home soil.
Possible Semis:
– Vargas over Mejia: they've only met once; in April 2018 on the LPRT, a 3 game dominant Vargas win, and even thought Mejia has really stepped up on the world stage lately, Vargas has been on fire.
– Longoria over Amaya: they've met 12 times across LPRT and IRF and Amaya has never won. I don't think she breaks that duck here.
Final: Longoria over Vargas. Longoria has owned Vargas in their careers (30-1 in 31 matches in LPRT and IRF). If Mejia takes out Vargas… then this is a whole new ball game. Mejia's solid win over Longoria on home soil was a big step up in the world and a Longoria/Mejia final would be pretty compelling to watch. Longoria is basically unbeatable in the pro format, but has taken losses here and there over the past few years in the amateur format; can it happen again here?
——————————-
Men's doubles thoughts: no real surprises in the RR sections, as the pre-tourney 1,2,4 and 6 seeds won their group. I think the knockout draw is top-heavy, with the semis featuring the two best teams (that being the Mexican team of Rodrigo Montoya Solís & Javier Mar and the Bolivian team of Moscoso and Roland Keller). The Bolivians fell to the Mexican teams at both the 2018 PARCs and Worlds, albeit with different players. I think the same happens here, despite Moscoso & Keller coming off of the Bolivian slam win.
I think the Canadians (Murray & Iwaasa) take out the American team of Jake Bredenbeck and Mauro Mauro Daniel Rojas in the quarters, on the bottom half, then get past the Costa Rican team of Acuna/Camacho before losing to the Mexican pair in the final.
——————————-
Women's doubles thoughts: As with the Men's side … the top half of this draw is packed, and the projected semis is the best match of the event, featuring the dominant Mexican pair of Longoria & Samantha Salas Solis vs the current World champion Bolivian side of Yazmine Sabja Aliss and Centellas. But to get there, the Mexicans have to take out the talented Argentian team of Vargas & Mendez (they who just took the Bolivian Grand slam title) while the Bolivians have to take out the American team of Lawrence & Sheryl Lotts
I think the Mexicans down the Bolivians in one semi, then take out the home-town Colombian pair of Riveros and Amaya for the title.
——————————-
Follow @IRF on Facebook to get Tim Timothy Baghurst calling all the streaming matches.