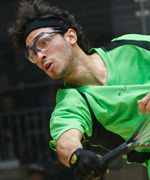 visit www.internationalracquetball.com to follow along Mens and Womens, Singles and Doubles draws. Follow the IRF on facebook for live streaming as Tim Baghurst has flown down to the tourney to provide streaming commentary all week.
The time has come for the first big International Racquetball Federationevent of 2019; the 32nd annual Pan American Racquetball Championships (PARC). This event was first held in 1986 in San Jose, Costa Rica and was initially known as the "Tournament of the Americas." The initial tournament results have been lost to the wind as we can find no records for it. But, nearly every year since the tourney has moved around North and South America.
The tournament skipped a couple of years when Racquetball was included into the Pan Am Games (but, not this year), and skipped one year in 2000 when civil unrest in the host country rose up, but otherwise has been an annual event that has done a great job of introducing top players to the scene who don't normally travel to the states to play domestic IRT events.
Here's a list of Men's PARC singles winners: http://rball.pro/347FCD , and here's a list of past Women's PARD singles winners: http://rball.pro/FEBF4E
Women's #1 Paola Longoria has 7 career PARC titles … but has lost to long-time rival Rhonda Rajsich a few times in this event (including the last two finals). The Men's singles draw has been an interesting competition over the years, with 9 different players winning the last 10 titles. There's plenty of opportunity this year, with 3 past champions in the men's draw plus both the losing American finalists in the last two iterations.
The competition features days of round robins that are seeded, then the competition is re-seeded for the knockouts. Players are seeded not by individual accomplishment but by past country performance.
—————————
Singles draw previews
The top 8 seeds on the Men's side are:
1. Alejandro Alex Landa; the reigning Mexican champ and 2017 PARC winner.
2. David Horn, the 2018 USA National Champion
3. Alvaro Beltran, the 2019 Mexican National finalist and a 3-time PARC winner
4. Charlie Pratt, who made the semis of 2018 USA Nationals and the finals of the qualifier held at national doubles earlier this year to earn his spot. Pratt's seeding has been done no favors as he has current IRT top 10 pro Mario Mercado in his round robin grouping, seeded 13th here.
5. Luis Conrrado Moscoso Serrudo is seeded 5th as Bolivia's #1 player; Moscoso just won the Bolivian Open Grand Slam and beat a couple of the players seeded above him here and is clearly a threat to win his first major international title.
6. Samuel Murray is seeded 6th as the clear #1 Canadian male, having swept Canadian qualifiers leading up to this event.
7. Carlos Keller is seeded 7th; he's Bolivia's #2 but is also the reigning champion of this event, having beaten Horn in the 2018 final.
8. Canadian Coby Iwaasa is the 8th seed; he was the losing finalist to Murray in the last three major Canadian singles events.
We won't do predictions until the knockout draw is announced … but if these seeds hold we stand to have some really good quarter final matches throughout.
————
On the Women's side, the top 8 seeds are:
1. Montse Mejia, who upset Paola Longoria to take the Mexican Nationals in February and is thus the #1 overall seed. She's also the reigning 18U junior world champ and could make a statement in this event. Mejia gets LPRT touring vet Adriana Riveros in the group stage.
2. Rhonda Rajsich, still reigning as the USA #1 having won the qualifier and the 2018 US nationals events. Rajsich has Colombian #1 Amaya Cris to deal with in her RR group.
3. Paola Longoria, a 7-time winner here but entering as the Mexican #2 due to her loss to Mejia at Mexican Nats earlier this year. Paola heads up against Maria Jose Vargas (an under-seeded #12 here despite being top 4 on the LPRT and having just won the Bolivian grand slam) right out of the gate.
4. Kelani Lawrence, my fellow Virginian and now unquestioned USA #2 having been a losing finalist to Rajsich in three straight USA qualifying events. She faces a tough RR draw, with Chilean #1 and LPRT top pro Carla Carla Muñoz Montesinos in her draw.
5. Maria Renee Rodríguez slips into the #5 seed thanks to the recent and sudden retirement of former Guatemalan #1 and reigning World Champ Gaby Martinez. For her troubles, she gets LPRT top 10 player Natalia Mendez right out of the gate.
6. Bolivian Junior Valeria Centellas is the 6th seed. She's the reigning 16U junior champ and was an 11-9 5th game tiebreaker loser at the Bolivian grand slam to eventual titlist Vargas. She has a manageable group though, with her toughest match coming against Canadian #1 Michele Morrissette.
7. Marie Gomar slides into the #7 seed as the Guatemalan #2, and gets #8 seeded Bolivian junior phenom Angelica Barrios right out of the gate. Barrios made the semis of the Bolivian Grand Slam, knocking out two top-10 LPRT players, and can make a deep run here.
Thanks to a really international feel on the LPRT, nearly all the RR groups feature LPRT regulars going at it, and we should see some upsets by seeds before the knockout brackets are set.
——————
In doubles…there's 15 Men's teams competing and there's probably 5-6 Men's teams who think they can win this thing, including the reigning Mexican champs Rodrigo Montoya Solís and Javier Mar, plus the just-crowned Bolivian grand slam champs of Moscoso and Roland Keller.
On the women's side, the dominant Mexican team of Longoria & Samantha Salas Solis are the favorites. we'll talk more about doubles once the knock out draws are set.