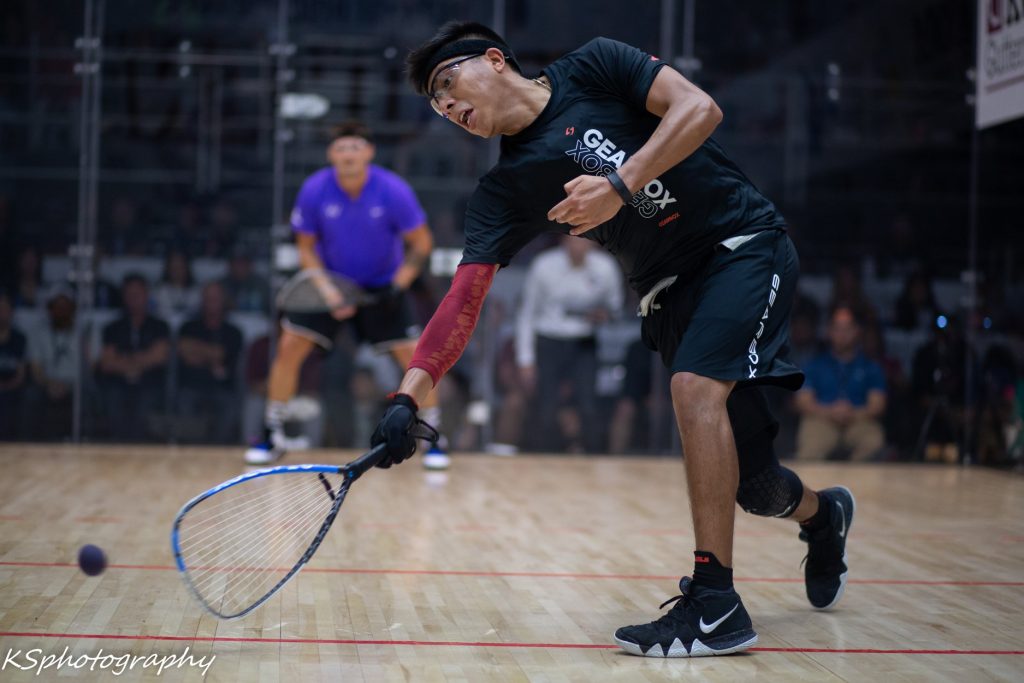 After nearly a year, the IRT is back in action, hosting its first full Tier 1 pro stop since March of 2020. And its a grand slam welcome back to the sport's top level.
The draws are now online for your review:
R2 Sports App link: https://www.r2sports.com/website/event-website.asp?TID=34826
48 players are entered into this draw, making it the biggest men's pro draw since the 2019 US Open, and the first time we've breached 40 pro player entrants since the May 2019 Syosset Open in Long Island.
Big news for this event; #1 Kane Waselenchuk has bowed out of the event. Kane's place of residence (Texas) has been quite restrictive with gym openings, and reportedly he has not seen an indoor racquetball court in 8 months. He doesn't even have outdoor courts nearby to practice on. But, he'll be in Atlanta and helping with the broadcast to support the event.
#5 Alvaro Beltran underwent gall bladder surgery on Monday and had to miss the event as well (he's doing well though; just bad timing for this event). This really opens up the top side of the draw, and will make for a potentially wide-open event.
Other top-30 players missing from Atlanta (and the reasons for missing the event if known):
12. Rodrigo Montoya: visa issues
16. Sebastian Fernandez: taking a step back from touring with a new job with the family business. Also lives in California where court access is highly restricted.
18. Gerardo Franco: unknown
19. Carlos Keller Vargas: unknown
22. David Horn; no court access; reported on FB that he would not play in a pro event if he could not train.
24. Robert Collins; unknown but based in California where courts are closed.
28. Charlie Pratt; unknown but in Oregon where courts are closed.
The event is a Grand Slam, which means the top players play from the round of 32 on. With 48 players, that's just one qualifying round before the action starts.
——————————
Lets preview the draw. Here's some notable qualifying matches that I'm looking forward to:
In the round of 64, I see several matches to keep an eye on:
#17 Alan Natera Chavez faces #48 Jordan Deeney: Natera misses out on the last unprotected top seed and gets one extra match for his troubles, against the lowest-seeded entrant in Deeney. Natera is well traveled these past couple of weeks; he was just in Chile to celebrate his marriage to LPRT touring pro Carla Muñoz Montesinos. Congrats to both.
– #21 Scott McClellan takes on #44 Timmy Hansen, son of the USAR hall of famer Tim Hansen and up-and-coming junior.
(who is NOT a lefty, I need to keep reminding myself) takes on #36
in a battle of teenagers. Pruitt is recently graduated out of juniors, while Trujillo is playing in his age 18 season. Expect a battle here.
] takes on #43 Pedro Castro in a battle of seasoned international vets. The Bolivian is favored over the Canadian (who hails from Chile), but it is great to see Castro traveling to and playing in a pro event again.
takes on #39 Matt Fontana in a battle of seasoned top Florida players. We haven't seen Fontana in a pro event in nearly 5 years.
——————————-
Projecting the 32s: here's notable matches from my projected round of 32s.
– #16 Javier Estrada vs #17 Natera: a brutal match between two good friends who are familiar with each other from many regional tournaments in Mexico, and who happen to be playing doubles with each other this event. This probably is the match of the 32s. Natera beat Estrada en route to the San Antonio IRT Tier 4 title in 2019, their last known meeting. Natera is perpetually underrated and under-seeded and I like him here as an upset, unless he's too jet-lagged from his weekend wedding trip to Santiago.
vs #19 Sam Bredenbeck; the younger Bredenbeck brother has been steadily improving his game and could give Acuna a run for his money, especially since we know the
crew has been playing regularly up in Minnesota.
; Carter was playing well on tour before the Covid-break, but could face a challenge here from the Bolivian veteran.
; these two familiar foes used to face off frequently when both lived in the Washington DC area. They met in the 2019-20 season opener in Zelada's home Laurel courts and it went breaker. Mercado will have to play solid to avoid the upset.
; the long-time touring pro Camacho can still ball, and Manilla needs to keep focused to advance into the round of 16. Manilla takes a break from his
initiative to play in Atlanta.
——————————-
Round of 16: here's my projected round of 16;
vs Natera/Estrada winner; for his troubles of being elevated to the #1 seed, Landa faces a very dangerous opponent in either Natera or Estrada. Both are capable of putting an early loss on the top seed, who can sometimes be a slow starter in early round matches.
; a hard hitting matchup here; I give Jake the edge because he's been trending better and has been getting regular court time.
; Murray gets the early match up against the dangerous Mar, and I see Mar advancing into the quarters. Mar was a late addition to the event, and an unwelcome one at that, since he makes waves nearly every time he enters a pro draw.
– #4 Daniel De La Rosa vs #13 Eduardo Garay Rodriguez; I'm a Garay fan, but DLR has controlled him on the court in the past and should move on here.
vs Acuna/Bredenbeck winner: This will be a great test to see where Parrilla's game is. Parrilla's last few months before the shutdown were rough, with lots of early losses. Acuna is a solid player who doesn't make mistakes and makes you beat him.
vs Carter/Carrasco winner: either way, I favor Portillo to make another quarter and continue his upward trajectory on tour.
vs Mercado: a tricky opener for Moscoso, who is a dark-horse favorite here but who has struggled against the Bolivian turned Colombian Mercado in the past.
– #2 Rocky Carson vs Manilla/Camacho winner: a winnable opener for Carson, who has struggled with court time in Southern California and may be a bit rusty this event. He'll have a chance to play himself into tournament shape here.
——————————
Projected Qtrs:
– #1 Landa over #8 Jake: Landa has dominated the head to head over his former WRT rival, having never taken a loss in a top-level event.
– #4 DLR over #12 Mar; a really tough match-up that could go either way, and two guys who play a really similar game. But, DLR plays the control game just a bit better and should move on.
– #3 Parrilla over #6 Portillo; doubles partners are projected to face off against each other; Parrilla gains confidence early on and beats his younger countryman to advance.
– #7 Moscoso over #2 Carson: Moscoso has two wins already over Rocky, and makes it a third. Rocky's rustiness shows on the court and Conrrado moves on.
Semis:
– #1 Landa over #4 DLR: they've played quite often, and Landa has come to dominate their H2Hs lately … DLR hasn't topped Landa since the 2017 Lewis Drug in a Tier 1 event, but beat him a few months ago on these same courts in a Tier 4 event. Their matches are always close. Another good test to see where DLR's game is these days; he ended the 2019-20 season on such a high note. I'll go with the historical trend of Landa's dominance, as opposed to the recentcy bias of DLR's last on the court win.
– #7 Moscoso over #3 Parrilla, though Parrilla beat him easily in California in Nov 2019, Moscoso has the higher ceiling right now and will be looking to add another Grand Slam win to his list of titles.
Finals;
#7 Moscoso over #1 Landa. He beat Landa the last time they played, and something tells me Moscoso sees the grand slam and sees a pathway to the title without Kane in the draw and will not be stopped.
——————————-
Doubles review
The IRT doubles event should be intriguing as we have some unexpected teams thanks to last minute withdrawals.
– Beltran's absence has DLR playing with tournament sponsor Donald Williams as the #3 seed.
has flown up to play with his US teammate Landa, which splits up the regular Landa/Murray pairing.
– Murray pairs with Jake at the #1 seed instead.
– The #2 seeds are now the season-long regular team of Portillo/Parrilla.
– Two all-Columbian teams are competing; Garay & Franco are the #6 seeds and Mercado/Herrera are the #7 seeds.
– Estrada & Natera are a dark-horse #11 seed.
– two guys with DC-area ties Pruitt and Zelada form a solid team that could make waves. Just like the frequently seen all -east coast team of Troy Warigon and
, both of whom skipped out of the pro singles draw here curiously.
The match of the opening round will be Estrada/Natera vs Garay/Franco. In the quarters, I look forward to a Landa/Monchik battle against the Bolivian pair of Moscoso/Carrasco.
I see the 14-team draw coming down to the US national team from the top Landa/Monchik and the increasingly successful Parrilla/Portillo partnership from the bottom, with the veterans coming out on top.
———————————
There's a solid Men's Open draw, plus a new featured Junior 18U draw that will be showcased on the live stream throughout the weekend.
——————————–
, with proprieters/sponsors Donald Williams
. Without you, these events could not happen.
———————————
Look for Streaming in the regular places; follow the IRT on facebook and sign up to get notifications when they go Live.
Look for Dean DeAngelo Baer, Favio Soto, Pablo Fajre and the IRTLive crew all weekend on the mike, calling the shots!
Tags
International Racquetball Tour
International Racquetball Federation – IRF
Federación Mexicana de Raquetbol
Federación Boliviana De Raquetbol – Febora
Federación Costarricense de Racquetball
Hashtags #racquetball #proracquetball #outdoorracquetball #irt #lprt #worLi