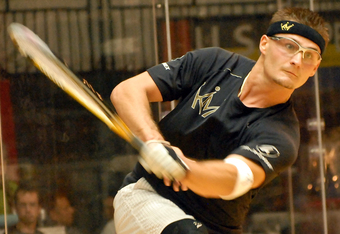 Congrats to your champions on the weekend:
Men's Pro Singles: Kane Waselenchuk
Men's Open Singles: Andres Acuna
Men's Open Doubles: Carlos Keller/Kadim Carrasco
Note: no pro doubles this weekend, so we had pretty solid Open Singles and Open Doubles draws. The Men's singles open draw featured three players who made the quarters (or better) of the pro draw and a great draw of east coast amateurs to challenge the traveling pros.
And, a reminder; the 5-8 seeds were "flipped" this tournament. Seeds listed below are for this event, not of the actual rankings on tour at the moment of the event.
R2sports link:
https://www.r2sports.com/website/event-website.asp?TID=30994
PRS match Report: http://rball.pro/001AE9
I had the opportunity to be at the Sportfit Laurel club for Thursday night round of 64 and 32 matches, so I'll describe some of the more interesting matches I witnessed in a bit more detail.
Lets review the matches of note by round:
Round of 64:
#24 Mauricio Zelada, playing on his home courts and with the cheering of the home crowd, eked out a brutal tiebreaker against #25 Kyle Ulliman. Zelada is a protege of former touring pro and fellow Maryland native Dan Fowler, and his game-style is really familiar to those who remember Fowler's days on tour. Similar stroke mechanics, similar drive serve setup, and a similar game style. Zelada plays consistent ball, always putting solid consistent contact on the ball. Ulliman's game style is flashier, more of a shooter style, taking chances and succeeding often. It was a fantastic match-up that went down to the wire, with Zelada winning on a gimme-error from Kyle after a long match.
#20 Maurice Miller faced off against #33 Joe Kelley in a battle of top east coast amateurs (Miller from GA, Kelley from PA). It did not disappoint, and was a back and forth athletic match between two guys with great getting ability. In the end Miller pulled away in the tie-breaker to advance.
#22 Hometown favorite Troy Warigon, spurred on by a vocal local cheering section, went tiebreaker against Atlanta newcomer #27 Yacouba Keita before advancing. Definitely the "loudest" crowd of the night, cheering Warigon on.
Colombian #23 Set Cubillos was taken tie-breaker by New Jersey top amateur #26 David Austin before advancing.
The biggest upset of the round and the sole upset by a local player over a traveling pro was #30 Pennsylvanian Geoff Heskett taking out #18 Justus Benson 10,12. Both players really put some power into the ball, and Heskett was able to really control the points with his excellent drive serve to Benson's backhand.
Round of 32:
In a marathon evening match, #16 Bolivian Carlos Keller Vargas took a barn-burner over #17 Colombian Eduardo Garay (13),11,7. This match was a contrast in styles: Keller's drive serve approach is controlled power, with emphasis on the location and efficiency of the drive, while Garay has as much power as anyone on tour. The ball just sounds different off of Garay's racquet on the drive serve. But, once the ball is in play, Keller's putting as much pace on it as anyone else. Garay flings himself around the court, with incredible getting ability, while Keller's length (he's well over 6-feet tall) enables him to reach a lot of shots and cover a lot of court. This match went on so long that I believe Garay soaked four shirts. Vargas outlasted Garay in the end, but both of these players if playing full time are top 10 material.
In the evening's other latest running match, two players with DC-area ties fought to the end. #9 Mario Mercado split two close games with home-town favorite #24 Zelada, who (like Warigon) plays out of the club and had a large local cheering section. The toll of the earlier match got to MoMo though, as he ran out of gas in the tiebreaker. Mercado efficiently advanced 11-1 to get to the main draw. This match won the award for biggest crowd of the night.
#23 Cubillos nearly forfeited his match against #10 Jake Bredenbeck before showing up just before the deadline. Jake seemed distracted as a result in the first game but eventually advanced 11,2.
#14 Andres Acuna dispatched Bolivian veteran #19 Kadim Carrasco in two games to advanced to the main draw yet again. Acuna is quietly moving his way up the ranks and putting his name into the discussion for top 10.
Round of 16 Action:
#1 Kane Waslenechuk kicked off his tournament with a 1,3 pasting of #16 Keller. I don't know if Keller was beat from two matches the night before, or if Kane was especially fired up to play. I looked forward to this match and was rather surprised to see it be such a dominant beat-down. If you wondered about the difference between an IRF champ and the Pro champ … well here you go.
For the second tournament in a row, #8 Rodrigo Montoya could not advance out of the round of 16 against an opponent he'd normally be favored against. He loses in two straight to #9 Mercado 14,11. This second early loss in as many events to start the season should drop him right back out of the top 8.
In a battle of Francos (not related), #5 Sebastian Franco was taken to the edge by #12 Gerardo Franco, eventually advancing 11-9 in the breaker. Sebastian gets past an important hurdle on his home courts.
Both #4 Alejandro Landa and #2 Rocky Carson were stretched to tiebreakers in surprising fashion by tour regulars, by lefties Robert Collins and Thomas Carter respectively. Landa in particular has a habit of being a slow starter, something that's harder and harder to overcome in the 3-game format.
In the upset of the round, perhaps the tournament, Costa Rican #1 and #14 seed Andres Acuna continues an impressive year of results by taking out #3 Andree Parrilla 4,(7),7. Parrilla made the final of the first event of the year and had ascended to the #3 ranking, but gets upset early by the solid play of Acuna and will drop back to #4 for the US Open. Meanwhile, Acuna achieves his first ever pro quarterfinal appearance in his 9th season of playing pro events.
#6 Samuel Murray staved off an upset attempt from #11 Eduardo Portillo, splitting the first two games by razor thin margins before pulling away in the tiebreaker.
In the quarters…
#1 Waselenchuk took out #9 Mercado in two straight forward games 6,8. Even a favorable crowd couldn't push Mercado forward. Mercado will stay ranked 10th on tour despite the quarter-final finish, but he's significantly narrowed the gap to the 9th spot on tour.
#5 Franco gets a key win on home soil, taking out #4 Landa for just the second time professionally. Sebastian crushed Landa in game one 15-3, but then had to work for it, saving game point before serving out the match 15-14. Franco gets his second semi-final in a row to open the season after making just one semi all last season, a great sign for his battle to retain a top 8 ranking this year. Despite the loss, Landa will regain the #3 seed for the US Open by virtue of Parrilla's upset early loss.
#6 Murray traded 15-3 game blow-outs with #14 Acuna before closing out the match in a tiebreaker. Acuna improves his ranking to #18 with this result, pushing him to his highest ever ranking.
#2 Carson met #7 Alvaro Beltran for the 50th time on the pro tour and improved to 28-22 against him, advancing in (what else) a tie-breaker. Thanks to Daniel de la Rosa's absence here, Beltran widened his lead over DLR for the 5th ranking on tour and gained a bit on the now-4th ranked Parrilla.
In the Semis:
#5 Franco pushed #1 Kane on his home courts to make game one close, but Kane dominated game two to advance to the finals 11,7. With this result, Franco jumps to the #7 spot on tour, which means he avoids the likes of Montoya in an 8/9 match-up and avoids Kane in the quarters at the US Open.
#2 Carson met #6 Murray for the 11th time professionally and improved to 11-0 over the Canadian #1 11,4. Murray just couldn't execute shots against Carson in game two and the match slipped away from him quickly. With this semis showing, Murray bumps Montoya for the last of the top 8 protected seeds for the US Open, a significant event that means Murray avoids possible dangerous qualifiers while Montoya may run into a tough player in the 24-25 range on tour.
The final was #1 vs #2 as it normally is; Rocky vs Kane has been the final in eight events over the last two seasons. this was their 80th meeting on tour. And like 76 times before, Kane topped Rocky for the title. But it was an adventurous match: Rocky was on his way to a donut in game one and was assessed a technical towards the end; game one score of 15 to -1. But Carson rebounded to take game 2; it had been nearly 2 years since Rocky took a game off of Kane. But Kane rebounded in the breaker and won -1,(11),4 to take the title.
Its Kane's 117th career pro win.
—
Quick Recap of Men's Open Singles: 4th Seeded Mercado survived a brutal quarter against Eduardo Garay (a rematch of last week's Colombian National championships, won by Garay) to then cruise to the final over Set Cubillos from the top half (#1 seed Murray withdrew after making the pro semis). The bottom half of the draw went chalk amongst all top seeds, with #2 seed Andres Acuna topping #3 Maurice Miller to make the final. In the final, Acuna took out Mercado 11,9 to turn the tides on their meetings as of late.
Quick Recap of Men's Open Doubles: it was #1 vs #2, Colombia vs Bolivia in the final, with two quality teams battling it out. #1 Mercado/Garay battled against #2 Keller/Carrasco in the final. There, the #2 seeded Bolivians put a second consecutive Sunday afternoon loss on Mercado, winning the Open Doubles title 7,12
---
Congrats to Tournament Director Tracy Valentine for all her hard work, thanks to IRT staff Mike Grisz, Dean Baer, Pablo Fajre for all their hard work. Great to meet IRT statistician-in-training JP Edwards, who I hope gets more involved going forward.
Also, a quick shout-out to Kane, who took to the court Thursday night upon arriving to play some pro-am doubles with tournament sponsors. The normal Thursday night sponsor doubles got cancelled, but some boosters had put up money specifically to have a shot at playing with Kane, and kudos to him for taking the court to help with sponsorship efforts.
Next up? 3-Wall championships next weekend in Las Vegas, then the US Open in Minneapolis.
@irt and other links