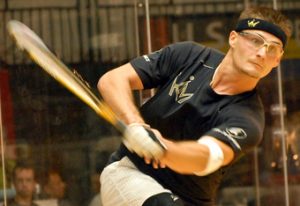 Congrats to Kane Waselenchuk on his win at the latest International Racquetball Tour pro stop. This represents Kane's 112th career tourney win and extends his current on-court match winning streak to 70 (good for 3rd longest in history).
Match report in the database: http://www.proracquetballstats.com/cg…/print_results_new.pl…
Despite all the discussion on rankings from the week leading up to this event, Alejandro Landa will retain the #1 ranking for the time being (he did not play this event last year so had zero points to defend) and will hope for a better draw next time. Kane's showing should improve his current ranking to #4 if I'm calculating the points correctly. The other two major points moves should involve Mario Mercado dropping out of the top 8 (he made the final of this event last year but got upset early in 2018), and Andree Parrilla moving INTO the top 8 despite his early upset to Kane since Andree did not play this event last season and only gains points.
Lets review the event, with comments on notable results (to me) by round:
In the round of 64…no major upsets, but some tough tiebreakers.
– #17 Thomas Carter outlasted Portland local Tim Prigo in a tie-breaker.
– Tony Anthony Carson took out fellow Oregonian and podcast maven Dylan Reid 13,10.
– #19 Nicholas Nick Riffel outlasted junior phenom Ricardo Ricky Diaz 11-8 in the breaker after dropping the first 15-14 then handing out a donut in the second.
– Colombian international veteran Set Cubillos Ruiz outlasted tour ref Scott McClellan in a tough tiebreaker 11-8.
– #15 Felipe Camacho was stretched to a tiebreaker by Oregon State Student Sam Bredenbeck.
——————–
In the round of 32…we had some fireworks.
– In what I think is a pretty significant upset, former IRT touring pro Carson took out #9 seed Andree Parrilla 7,12 to advance to the main draw. On the one hand, Carson has more than proven his ability to beat quality players; in this event last year he beat De La Rosa in the 16s and took the first two games off of Murray in the quarters before losing in 5. On the other hand, Parrilla made the semis of the US Open (vanquishing current #1 Landa along the way), had the match-winning point on his racquet before losing to Carson 11-10 in the quarters at Laurel, and has been roughly the 5th or 6th best player over the past calendar year results wise. I watched part of this match after the fact … and it was not as close as the scores suggest. Parrilla could do little with Carson's drive serve, and I saw a lot of 3-point rallies with Parrilla flailing. Andree took a curiously early loss last weekend at the SLP Open, so it could definitely be a slight end of year down-turn in form for him (I recall something similar happening a couple years back; he suffered from some serious burn out playing both a full WRT schedule, part IRT schedule plus local events in Mexico), but with fewer IRT events on the schedule every event counts.
– Defending champ and #13 seed Charlie Pratt eased past his junior team member Mauro Mauro Daniel Rojas to advance to the main draw.
– #14 seed Adam Manilla took out his buddy Riffel to advance to the main draw.
– #10 Jansen Allen took a close game one 15-14 over reigning outdoor champ Nick Montalbano and then cruised to the win.
– #18 Robert Collins took a tightly-contested match over #15 Camacho in the tie-breaker to advance to his first main draw since March.
————-
In the 16s:
– #1 seed Alex Landa cruised past Jake Bredenbeck 6,12.
– #8 Kane Waselenchuk took out home-town favorite and upset minded Tony Carson 11,4.
– #12 and #13 seeded Bobby David Horn and Charlie Pratt took out higher seeded players Mario Mercado and Sebastian Franco respectively. Upsets by seed, but not by expectations.
– #14 Adam Manilla continued his impressive run of form, taking #3 seed Daniel de La Rosa to a tiebreaker.
– #7 Samuel Murray left nothing in doubt and beat #10 Jansen Allen handily for his first win in their h2h meetings.
– #2 Rocky Carson was stretched to a tiebreaker by #18 Collins in their first-ever top-level meeting. Excellent showing by Collins, who was looking for his second career quarter-final.
——————
In the Quarters…
– Waselenchuk took out #1 seed Landa 9,8 in a streaky match that probably wasn't as close as the scores indicated. Landa kept it close-ish for the early parts of both games, but (in a similar pattern to the last couple of times they've played), Kane dominated the end-game in both games.
– Pratt committed "coach on coach" crime and took out Horn in two close games 10,14. Despite the win, Pratt stands to take a tumble in the rankings because he'll lose a significant chunk of the points he won at this event last year unless he manages to win again.
– Beltran completely dominated his doubles partner DLR and advanced 8,8. This is his best result since April and should help kick start the slow start to his season.
– Carson controlled Murray with ease 4,10 for his 7th win in 7 times against the Canadian national champ.
This left the tournament definitely trending to the "veteran" status. Kane, Alvaro, Rocky and Charlie basically are the four oldest players on tour, at ages 37, 40, 39 and 32 respectively.
——————
In the Semis…Alvaro Beltran upset #2 Rocky Carson in an argumentative tie-breaker (neither player was terribly happy with the refereeing), while Kane blasted defending champ Pratt 3,5.
In the Final, Kane took the match in two games 6,12 … but the 15-12 game was an hour+ tactical marathon where Beltran held out with excellent play and really made Kane work for the win.
—————————-
Next up for the IRT is the ever popular Coast to Coast open in Canoga Park, one of the biggest draws of the year.