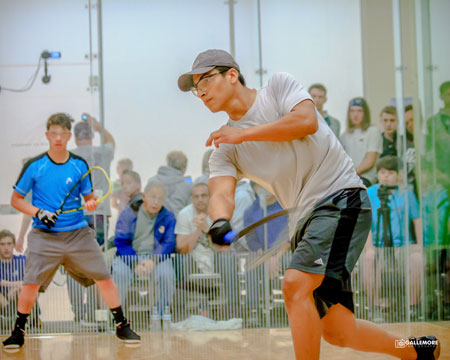 In addition to all the other stuff going on with USA and Canada this past weekend, Federación Mexicana de Raquetbol held its Olimpiada Nacional de Raquetbol for 2019.
Official Mexican Junior Nationals are later on this summer, so this seemed to be a junior-focused tournament. As a result, this is a "fan only" posting and no database loading of results will occur.
Congrats to your winners:
Boys 20U: Sebastian Fernandez over Eduardo Lalo Portillo, a rematch of last year's Mexican 18U AND World 18U championship final.
Boys 16U: Erick Trujillo over Sebastian Longoria
Boys 14U: Christian Sanchez over Luis Renteria.
Girls 20U: Montse Mejia over Ana Kristin Rivera
Girls 16U: Guadalupe Griffin over Daniela Rico 
Girls 14U: Naomi Ros over Ivanna Balderrama
r2sports link: https://www.r2sports.com/tourney/home.asp?TID=30779
note: the draws actually were "20 and under," so that's not a mis-print.
Participation: notably, this event drew more than 200 players … more than the participation of USA National singles. And it was just for basically three age divisions (14, 16, and "20") in a non-national event. There were 36 in 20 and Under boys, 41 players in boys 14 and under, 27-30 in each of the three girls divisions.
Contrast this to the last USA junior national events, which featured 24, 20 and 19 in the three top boys events, and just 9, 11 and 9 girls in each of the three top girls age groups. And it's even fewer in Canada, where some of the junior age groups end up being combined into round robin events just to give everyone more than a couple of matches.
For everyone who complains about participation in our sport in the US … look no further than the junior pipeline south of the border. What is going on in Mexico that we can leverage in the US?