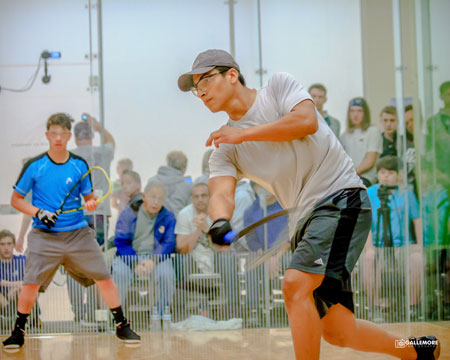 This coming week and weekend is Campeonat Nacional de Raquetbol Infantil y Juvenil 2019. This tournament should determine the representatives Mexico sends to World Juniors, being held later this year in November in San Jose, Costa Rica.
r2 site: https://www.r2sports.com/tourney/home.asp?TID=30780
———————-
Our records for Mexican Nationals events aren't nearly as complete as for the USA and Canada: for the juniors, we only have records going back to 2013, and only for the older groups in the database. here's some links to Mexican past junior champs:
Boys Junior champs: http://rball.pro/E1C550
Girls Junior champs: http://rball.pro/A267D1
There are a few defending champs entered into the draws. On the boys side:
– defending Mexican 18U champ Sebastian Fernandez is here to defend his title. 
– defending 16U champ Elias Nieto has graduated to the 18U ranks.
– defending 14U champ Omar Gonzalez has graduated to the 16U draw.
On the girls side:
– 2x defending 18U champ Montse Mejia has matriculated, so we'll have a new champion. 
– defending 16U champ Delia Aguilar is not at the event.
– defending 14U champ Daniela Rico has graduated to the 16Us and will take on a group that includes some players already playing in the LPRT ranks.
———————-
Lets preview the 18U and 16U draws, the ones with the players who followers of the pro game may have heard of or seen entered into draws.
Boys 18U: the seedings frequently confound me in these events (for example, last year the final was certainly predictable by observers of the draw, but the two finalist seeds were #12 and #23). This year Fernandez is the clear #1 seed, but the #2 seed Saul Rivero was topped by the guy seeded 14th in this draw Adrian Fernandez. Furthermore, Fernandez has to go against the 3rd seeded Nieto, the reigning 16U champ despite making it to the qtrs last year. I don't get it.
I like Fernandez to repeat, irrespective of who comes out of the bottom. I'll predict semis of #1 Fernandez, #4 Manuel Moncada, #3 Nieto and #15 Cuevas Fernandez, with Nieto losing in the final to the repeating Fernandez.
Boys 16U: #1 Erick Trujillo and #2 Sebastian Longoria would be my favorites to make the final, but there's already been a slew of upsets of other seeded players, so it may be a wide-open draw.
Girls 18U: The two top seeds are the two Anas who I would have expected to be there. Ana Laura Flores Saavedra and Ana Kristin Rivera were both semi-finalists from 2018's 18U competition are in the draw and should be the favorites to meet in the final.
Girls 16U: #1 seed Guadalupe Griffin and #2 seed Daniela Rico have pro experience, but so do a few others in the draw despite it being a 16U draw. It should be competitive.
———————-
International Racquetball Federation – IRF
Federación Mexicana de Raquetbol