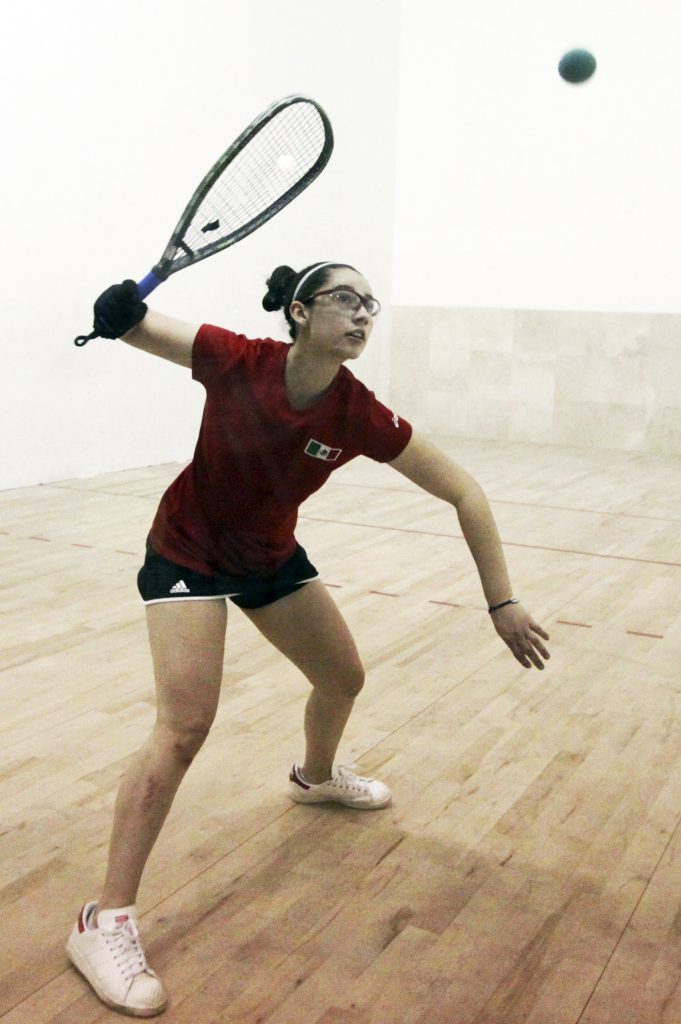 Congrats to your winners on the weekend:
Men's Singles: Andree Parrilla
Men's Doubles: Rodrigo Montoya/Javier Mar
Women's Singles: Monserrat Mejia
Women's Doubles: Alexandra Herrera/Monserrat Mejia
r2sports link: https://www.r2sports.com/tourney/home.asp?TID=30943
I rec'd word after posting the preview that this tournament now counts as an IRT satellite event, which is great for the participants.
Here's a quick wrap of the event, with notable results by round.
———————
Men's Singles:
In the 32s:
– #5 Alan Natera Chavez was stretched to a tiebreaker by youngster Elias Nieto.
– #20 Daniel Maldonado took out top Guatemalan Juan Jose Salvatierra
– In the biggest upset of the round, #4 Gerardo Franco Gonzalez was taken out by Jordy Alonso (14),14 and 9. Alonso has some solid results on his resume over the last two years, has gone back and forth with GFranco in several different venues, and made the semis of this event in 2017 (when it was an WRT event). 
– #23 David Ortega eased past #10 Christian Longoria 12,3, playing solid.
In the 16s.
– #8 Ernesto Ochoa got a solid win over #9 seeded Ecuadorian veteran Fernando Rios 12,13.
– #12 Lalo Portillo waxed #5 Natera 2,7 in a great career win. Portillo scored 25 of the match's first 27 points to dominate a tough opponent like we havn't seen before.
– #3 Mario Mercado was stretched to a breaker by DR #1 Luis Perez before advancing.
– In an equally surprising upset, last week's dominant winner Javier Estradawas taken out by Ortega 8,13.
In the Qtrs:
– #1 seed Andree Parrilla took out #8 Ochoa easily 5,5.
– #12 Portillo continued his excellent run, topping off upset minded Alonso in dominant fashion 9,4.
– #3 Mercado took a tough game one against #6 Javier Mar, who then retired with an injury. It looked like perhaps Mar suffered the injury towards the latter stages of game 1. 
– #2 Rodrigo Montoya Solis blitzed past upset-minded Ortega 1,9.
So in the end; your semi finalists are 1,2,3 and 12 seeds. Not too bad.
In the Semis:
– #1 Parrilla ended Portillo's run, dominating the younger player 9,5
– #2 Montoya was stretched to a tiebreaker by #3 Mercado but advanced.
In the finals, it was #1 vs #2 … and #1 won in dominant fashion 11,5. Montoya and Parrilla are the same age and played each other over and over in juniors coming up … Montoya generally has held the upper hand in their match-ups over the years; the last time i have them meeting in a top-level event was in the semis of 2018 Mexican Nationals, won by Montoya en route to the adult title. But now its Parrilla who is ranked in the IRT top 4, within spitting distance of #3, while Montoya has not played the tour full time and sits outside the top 10. Is the tide changing?
———————
Women's Singles:
The draw was significantly weakened by the last minute withdrawal of its #1 and #2 seeds Paola Longoria and Samantha Salas Solis . Both took 0,0 losses in the 16s. Otherwise, the 16s went essentially chalk. We had a couple of notable matches/tiebreakers though:
– #5 Amaya Cris got a solid 2-game win over #12 Maria Renee Rodríguez
– #6 Carla Muñoz Montesinos was stretched to a tiebreaker by Dominican Republic #1 and #11 seed Merynanyely Delgado.
– #7 Ecuadorian #1 Pazita Muñoz Albornoz was taken to a breaker by #10 Erin Rivera.
In the Qtrs:
– #9 Jessica Parrilla got a tie-breaker win over #16 Ana Kristin Rivera (the walk-over recipient of Longoria's late withdrawal).
– #5 Amaya got a great win over #4 Alexandra Herrera in an 11-9 tiebreaker. They've played a few times in the past on tour and Herrera has mostly held the advantage.
– #3 Montse Mejia took out #6 Carla Munoz 7,7 and is the new tourney favorite with the withdrawal of both top seeds.
– #7 Maria Paz Munoz ran past #15 seed Ana Lucía Sarmiento (the beneficiary of the Salas walk-over) to advance to the semis.
So, your semi finalists are #3,5,7,8 seeds thanks to 1&2 withdrawing. Not bad.
In the semis:
– #5 Amaya continued her great event, topping Parrilla in a tie-breaker. That's three wins over top LPRT touring pros this weekend for Amaya.
– #3 Mejia outlasted Ecuadorian vet Munoz 12,11 to advance.
In the finals, Amaya's cinderella run ended quickly, losing to Mejia 4,2.
———————
Men's Doubles
Just one upset to the semis by seed (#5 Natera/Mercado taking out #4 seeded Dominican Republic national team of Perez/De Leon).
In the semis, the top seeds Montoya/Mar cruised past Natera/Mercado, while #3 Parrilla/Portillo upset the 2nd seeded team of Ochoa/Estrada.
In the final, #1 Montoya/Mar took out their younger countrymen 13,9.
———————
Women's Doubles
In the semis, The Longoria/Salas withdrawal opened up the top of this draw, and #4 seeds Parrilla/Delgado took out the Ecuadorian national doubles team of Munoz/Munoz, then the young Mexican team of Sacrisan/Sarmiento to make the finals. There, they face a former Mexican national doubles champion team of Herrera/Mejia.
In the final, Herrera/Mejia cruised to an easy win 1,5 to make Mejia the double winner on the weekend.
———————
International Racquetball Tour
International Racquetball Federation – IRF
LPRT
RKT
Federación Mexicana de Raquetbol