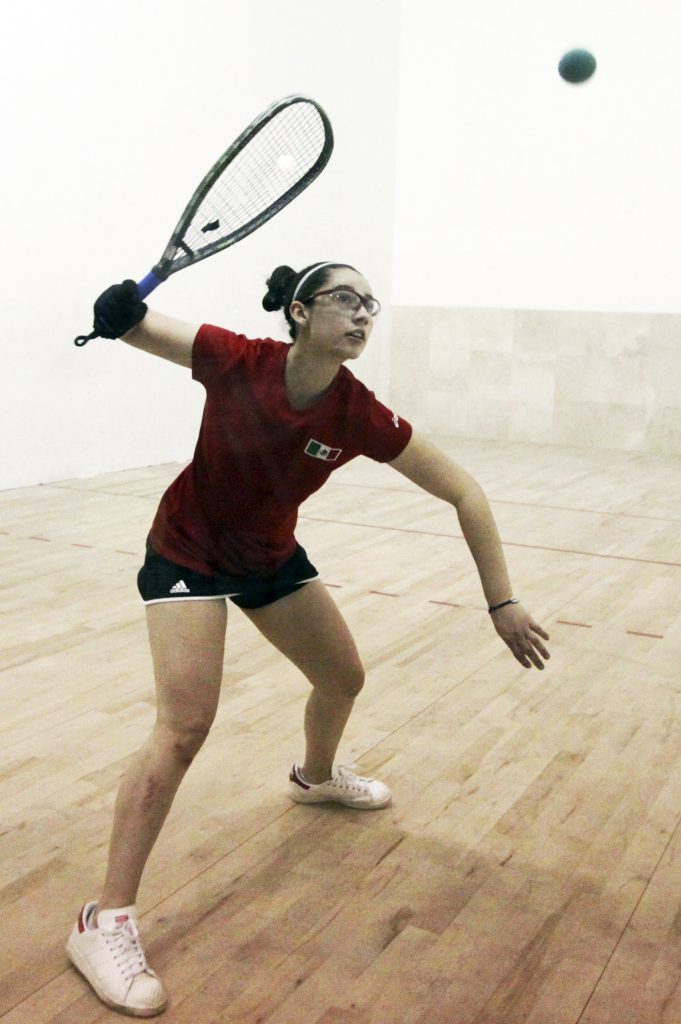 One of the better non-sanctioned events of the year is this coming week; the 2019 Canel's event in San Luis Potosi, Mexico.
r2sports link: https://www.r2sports.com/tourney/home.asp?TID=30943
here's a quick preview of the Men's and Women's "open" draw, which are basically pro draws. They're using RKT seedings here, which will result in some wonky seeding as we'll see below.
—————————
Men's Singles:
30 players, headlined by a number of the top Mexican players. Also, what looks like the projected Pan Am teams from Dominican Republic, Ecuador and Guatemala are entered to make for a solid draw.
Here's a preview of what we may look for round by round:
In the 32s:
– #9 Ecuadorian Fernando Rios takes on #24 Dominican Ramon de Leon in an IRF-worthy first rounder.
– #3 Colombian Mario Mercado takes on #30 Guatemalan Javier Martinez in a tough first rounder for the top-10 IRT pro.
– #23 David Ortega takes on #10 Christian Longoria in an interesting first rounder between two former Mexican junior phenoms.
In the 16s:
– #8 Ernesto Ochoa likely takes on Rios in a great 8/9 seed match-up
– #5 Alan Natera Chavez takes on #12 Lalo Portillo in a great match-up. Natera is a very dangerous player (he beat both Charlie Pratt and Sebastian Franco in Chihuahua earlier this summer), while Portillo has been steadily rising in the pro ranks. Could be a statement win for Portillo if he can handle Natera.
– #3 Mercado likely takes on Dominica #1 Luis Perez, who had some really solid results earlier this year at the PARCs (beating Camacho, Murray and Ugalde). Might be a trip-up match for Mercado.
Projecting the quarters:
– #1 Andree Parrilla vs #8 Ochoa: ignore the seeds; this is no easy match for Parrilla, who has lost to Ochoa twice in the last calendar year. Ochoa was upset in the 32s last event, but has the talent to beat anyone in this draw, and I think he has Parrilla's number. Parrilla was down to Keller in the Black Gold cup before advancing and may be vulnerable.
– #5 Natera vs #4 Gerardo Franco Gonzalez. they met in the Open draw in the last IRT event in Syosset, a Franco win. But I think Natera is the better player right now and is coming off a solid Chihuahua event.
– #3 Mercado vs #6 Javier Mar; if Mercado can survive the gauntlet of early round opponents, he likely ends his run here at the hands of Mar, the most talented player in the draw irrespective of seeding.
– #2 Rodrigo Montoya Solis vs #7 Javier Estrada. A rematch of the final of the stacked Black Gold event two weekends ago, won by Estrada in a tiebreaker as he achieved a career win. Can he follow up his performance in another city, against another stacked draw? I'm going to go with Estrada again; he's got the hot hand.
Predicting the semis:
– Natera over Ochoa ; they've played twice in the last couple of years, both Natera wins.
– Mar over Estrada; I think Mar can handle Estrada's power and advances, but this will be an excellent test for Estrada, as Mar can hang with anyone in the world.
Final: Mar over Natera, a rematch from 2018's Mexican Nationals where Natera upset Mar … so this match-up if it happens could go eithe rway.
—————————–
Women's Singles
17 players in this draw, with a slew of top LPRT players and a very international look and feel. I count 6 different countries represented here, with a number of players clearly looking for competition ahead of the Pan Am games. Here's a quick preview:
In the 16s:
– #8 Marie Gomar, fresh off of an appearance at National Masters, takes on the recovering former top-4 pro Jessica Parrilla in the opener.
– #5 Amaya Cris takes on #12 Maria Renee Rodríguez, I have the Colombian 6-1 over the Guatemalan here career across pro and int'l events, and even though they're neck and neck in the pro ranks Amaya should advance.
– #6 Chilean Carla Muñoz Montesinos takes on dangerous Dominican int'l #11 Mery Nanyely Ortiz in an IRF-flavored match.
Projected quarters:
– #1 Montse Mejia vs #9 Parrilla; this will be an excellent test for Mejia, who has the talent to beat any of her country-mates but who generally doesn't face a player of the calibre of Parrilla.
– #4 Alexandra Herrera vs #5 Amaya: two LPRT pros who rarely meet; they've played four times … but none since May of 2016. Herrera should advance.
– #3 Samantha Salas Solis vs #6 Munoz: they've met 8 times between IRF and LPRT events … and Salas has won all 8.
– #2 Paola Longoria vs #7 Pazita Muñoz Albornoz; the Ecuadorian #1 has a long history against the Mexican #1; they've played 10 times dating to 2006 between IRF and LPRT events. Longoria is 10-0 in those match-ups.
Projecting the Semis:
– Mejia over Herrera; they havn't played since 2017. I think Mejia can outlast Herrera in a game-to-3 format.
– Longoria over Salas: in what normally is the tourney final, these two face off in the semis. Longoria holds a 58-3 career record over her doubles partner … so its hard not to predict anything but a Paola win.
Predicted final: Longoria over Mejia. Mejia shocked the world topping Longoria at Mexican Nationals earlier this year, but Longoria handled their late pro season meetings and will stay focused to take this title.
——————————-
Doubles
15 teams in the Men's Doubles: I like the experienced #1 Mar/Montoya over #5 Natera/Mercado in one semi, the solid #2 Ochoa/Estrada over the youngster team of Parrilla/Portillo in the other semi, and for #1 over #2 in the final.
8 teams in the Women's doubles, highlighted by the #1 Longoria/Salas team, which is essentially unbeatable. Look for Longora/Salas to take out the Ecuadorian National team of Munoz/Munoz in one semi, and for the former Mexican champion team of Herrera/Mejia to take out Amaya/Munuz in the other semi. Hard to predict a Longoria/Salas loss in the final, but its happened before to the lefty/righty combo of Herrera/Mejia.
——————————-
Looks like a great event; hopefully we see some streaming. The host club in SLP has a great side-wall glass court for streaming options.
——————————-
International Racquetball Tour RKT Federación Mexicana de RaquetbolInternational Racquetball Federation – IRF LPRT