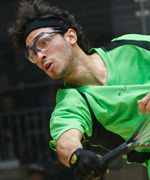 Happy New Year. Just as the hangovers from NYE have abated, we're back in action on the IRT for one of the tour's biggest annual stops; the 2019 California Open, held in Canoga Park, CA.
37 Pros are entered, a 20% increase over last year at this event and continuing a healthy trend of improved IRT event participation over the past year and a half of tourneys. There's also some surprise entrants to this event thanks in part to RYDF sponsorships for distant players.
Top 20 players missing: #9 Mario Mercado didn't make the cross-country trip. #13 Charlie Pratt continues to be a part-time tour player and also didn't make the long trip. #16 Thomas Carter misses his first event in a while. So just 3 of the top 20 missing.
Lets preview the qualifying and draw.
Notable Round of 64 matches:
– Diego Garcia Quispe vs Eduardo Portillo Rendon; a fun match-up of the current reigning 18U World Junior champ and 16U World Junior Champ. I think you have to favor the older player. Bummer these two guys couldn't go against more established tour players to see how far they've advanced.
– Mauro Daniel Rojas vs Dane Elkins: Northern California versus Southern California, and even though Elkins has the home town advantage Rojas advances here.
– Felipe Mercado Sandy vs Felipe Camacho; notable in that I believe this is the first time two players named "Felipe" have met on tour. I might be wrong though. Advantage Camacho here.
– John Wolfe vs Erick Cuevas; an interesting match-up of two frequent IRT tour players; this is a good opportunity for both to get a tour win.
– Luis R Avila – Nick Riffel; an interesting contrast in styles, as Avila (reigning WOR outdor 3-wall champ) faces off against one of the newer IRT touring regulars.
Possible round of 32s to watch for:
– #16 Gerardo Franco Gonzalez vs #17 Rodrigo Montoya Solis; tough draw for Gerardo Franco here, running into the reigning World Champ Montoya, who enters an IRT event for just the 6th time in the last three seasons.
– #9 David Horn vs Portillo: Horn is the highest ranked player who has to play an extra match and gets a tough but winnable match-up against the quickly improving Portillo. I think Horn still advances here.
– Sebastian Fernandez vs Adam Manilla; fun match-up between the 18U Junior World runner-up in Fernandez and recent Intercollegiate champ Manilla, who has been playing tough on tour this year. Advantage Manilla.
– Rojas vs Camacho; excellent match to see if Rojas can take the next step, heading up against the veteran Camacho, who is a tough out.
– Robert Collins vs Riffel: Collins, who is coming off a great tourney where he took Rocky to a tie-breaker, gets another shot to qualify for a main draw against Riffel. Expect a close match.
Projecting the 16s. Lots of play-in matches, but here's how I'm seeing the round of 16 playing out.
– #1 Alejandro Alex Landa vs #17 Montoya. Landa is the one who gets screwed by Montoya's presence, having to play him in the 16s instead of the semis or finals of an event. For those of you who saw my personal top 50, you know that I think these two are neck and neck. Montoya beat him a couple weeks ago, and I like Montoya again here, paving the way for him to make a semi final on the weekend. But expect a battle; Landa doesn't generally lose easily or quickly.
– #8 Samuel Murray vs #9 Horn: Horn beat Sam the only time they met before (April 2018), but I like Murray's form over Horn's right now. 
– #5 Andree Parrilla vs Manilla: Parrilla should advance here, unless he's looking ahead at his potential quarter final opponent.
– #4 Kane Waselenchuk vs #13 Jake Bredenbeck; an interesting match up for Kane, who goes against the guy who gave him his most recent on-the-court (albeit still involving an injury forfeit) loss. Jake beat Kane in May 2016 in a 5th game default. I wonder if Kane will want to "make amends" here.
– #3 Daniel De La Rosa vs Rojas: DLR gets started against the hard-hitting youngster, but controls the game as he is apt to do and advances.
– #6 Sebastian Franco vs #11 Jose Diaz; hard one to predict here; we know Franco has been nursing an injury and that Diaz has been playing well. I'll go with Diaz in an upset here.
– #7 Alvaro Beltran vs #10 Jansen Allen; Jansen has beaten Alvaro the last couple times they've played on tour … but they havn't met since Nov 2017. Beltran has had the break to rest up from his typically busy playing schedule and he made the final of the last IRT event, so i'll give him the nod here.
– #2 Rocky Carson vs Collins: Collins gets a re-match of the round of 16 match from last IRT event; Carson still advances.
Projecting the Quarters: it could be a fun event:
– Montoya-Murray: they've met in the past; Murray beat Montoya at the Lewis Drug event last year. So this is not a cut and dried mach. But for me, Montoya is hot and moves on.
– Parrilla-Kane: last time they met was in the semis of the US Open, where Kane won 3,12. Parrilla is a tough out, and can make life miserable for even the likes of Kane. I'd expect another similar match, where one of the two games goes long.
– DLR vs Diaz: they last met in the qtrs of the US Open, a two game win for DLR 10,9. I'd expect a similar result here.
– Carson vs Beltran: these guys have met 48 times on the IRT so far, i think they'll meet again. They met in the semis of the Portland event and Alvaro advanced in a testy tiebreaker. I'll gamble and predict he wins again.
Semis:
– Montoya – Kane: this would be my ideal semi; these guys have met twice, most recently in a very anticipated 2017 season opener that was won by Kane by the lopsided score of 1,0,3 but which also high-lighted what could be for the back end of IRT tourneys if we could get Montoya playing more frequently.
– DLR-Beltran: another match-up between best buddies and doubles partners. They met in Portland and Beltran dominated him … but then DLR turned around and won the Mexican Open in a draw that featured every top Mexican player (including Beltran) in the game today. I'll go with DLR here.
Final: Kane over DLR.
——————–
There's a solid Doubles draw: 10 teams. I like the #1 vs #2 teams to meet (DLR/Beltran and Landa/Murray), but wouldn't count out the #4 team of Diaz/Jake to make some noise.