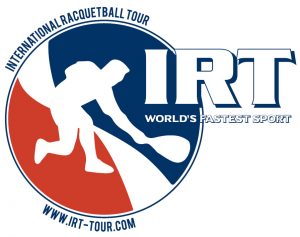 We're through two rounds of (often grueling) qualifying and are to the main draw. Here's some thoughts about notable matches or surprises (to me) from qualifying and a look ahead at the first two rounds of the main draw.
Qualifying Results of note:
– #17 Seed Thomas Carter(aka, the highest seed forced to qualify) lost the first game 0 before recovering to advance to the main draw.
– Dylan Reid took a solid 11-8 win over veteran Guatemalan Edwin Galicia.
– Scott "the Ref" McClellan fought back from dropping the first game to advance to the main draw.
– Daniel Maldonado saved match point in game 2 before advancing in breaker over David Austin.
– Ricardo Diaz got a solid win over WOR Vegas singles titlist Nick Montalbano.
– Jay Munoz got a win over Set Cubillos Ruiz in his IRT debut
– Ohio's Kyle Ulliman got a solid W over Wayne Antone IV.
– Costa Rican Alexander Pirie took a solid win over Austin Cunningham.
– Mauro Daniel Rojas had to work to get past IRT veteran Hiroshi Shimizu, who first played on the IRT tour in 2002. When Rojas was 4.
– Touring pro Robert Collins got a close 2-game win over long-time IRT player Alejandro Herrera Azcarate to advance to the main draw.
————-
Round of 32 matches to watch for:
– #9 Jansen Allen v #24 Rodrigo Montoya Solís; though this may be an upset by seed, few consider Montoya the underdog here. The big question for rball fans is the state of his ankle. Allen is no slouch and if Montoya is hobbled we'll know pretty quickly.
– #12 Jose Diaz vs #23 Gerardo Franco Gonzalez; both players are capable of upsets and this should be an interesting contrast in playing styles.
– #13 Charlie Pratt vs Diego Garcia Quispe; great matchup of youth versus experience. Pratt's cerebral playing style will likely control the youngster in this match … but Garcia plays like a veteran. Still amazing that a 16U player has made it this far already.
– #14 Adam Manilla vs #19 Javier Mar; upset alert here. Manilla went deep in the tour's first event, making the quarters … but Mar has WRT titles and Mexican national titles and a run to the US Open quarters last year. Which Mar will show up though? Manilla has his hands full here.
– #6 Sebastian Franco vs #27 Mauro Rojas; Rojas beat Franco once before on the IRT, two years ago in Kansas … when he was just 16. Now freshly graduated from Juniors he's been saddled with tough draws as he plays the tour full time. I like his game; he hits the ball really heavy and its just a matter of time before he gets a breakthrough win.
– #7 Samuel Murray vs #26 Luis Conrrado Moscoso Serrudo; tough break for Murray, who made the final of the first IRT event of the season. Like with Allen-Montoya, this will look like an upset by seed but Moscoso has more than established himself as one of the world's top players by now irrespective of his IRT points.
Round of 16s that look interesting, if results go as I think they will:
– #24 Montoya – #8 Mario Mercado; Despite their international experience and long juniors history (they're the same junior year, both born in 1996), I don't have these two ever meeting in a senior event. If Montoya is healthy, he'll be favored.
– #4 Daniel De La Rosa v #13 Pratt ; Pratt has wins over DLR in the past, and can play him tough. This could be a very tactical, strategic match.
– #26 Moscoso vs #10 Andree Parrilla; they met in the US Open last year, a 5-game brutal 11-8 win for the Bolivian. Parrilla plays everyone tough; there are no easy losses to Parrilla, who scraps and scrapes every point. Look for another marathon.
—————
We'll be back Friday to preview the Q/S/Finals.