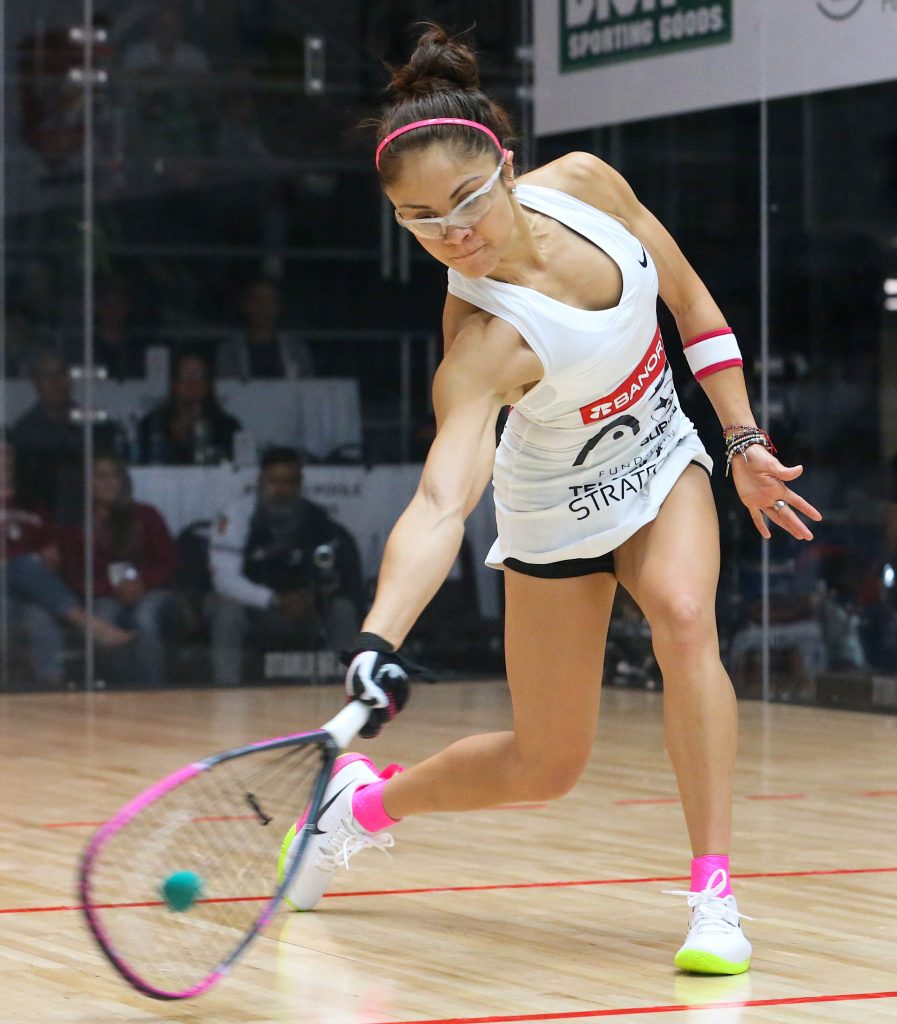 With the last event in Kansas completed, the LPRT 2018-19 season is officially complete.
With the completion of the season, we've updated a number of files and data within the database:
– http://rball.pro/05916A is a direct link to the Year Ending standings
– http://rball.pro/B0643F is the Season Summary report per player, a nice query summarizing the Wins/Finals/Semis/etc per player on tour.
– http://rball.pro/A020CA is the Season Seed Report, a great report showing how players' seeds varied throughout the year.
——————————
The Static links are now updated with 2018-19 results (all of these are located at the bottom of the Report Selection Page for each tour):
– List of Year End title winners: http://www.proracquetballstats.com/…/lprt_year_end_titles.h…
– Tour History: http://www.proracquetballstats.com/l…/lprt_tour_history.htmlhas been updated for significant events this season.
———————–
Analysis/thoughts on Year End Rankings and notable player movement.
#1 Paola Longoria finishes the year undefeated, 37-0 It is the 5th time she's accomplished this feat, and she now has just four on-court losses in the last 8 professional seasons. She sews up her 10th career pro title. With her win in Kansas City, she gets her 91st career title in the Database (we're aware of the discrepancy between our systems and her records and are working to figure out the delta actively).
She now sits as an astounding 439-30 in her pro career, a .936 winning percentage. She still trails Michelle Gould in this metric, whose database W/L percentage currently sits at 147-9 and which will only improve as we eventually fill in tournament detail in the mid 1990s. By way of comparison, both of these marks are better than Kane Waselenchuk's career mark of .918, which is considered in awe on the men's pro racquetball circles.
#2 Samantha Salas Solis had as good of a season as you could have given that the #1 player went undefeated: she made 9 finals in 9 tries (missing one event due to travel issues mid-season). She'll be kicking herself she didn't claim the title in the one event that Paola missed … that being the Bolivian Grand Slam and the big check that comes with it. But a great season for Salas, who started the season ranked outside the top 10 due to injury comeback and is now firmly entrenched at #2 for the forseeable future.
Salas is now just 3-50 against Longoria though, and needs to find a way to beat her long-time rival if she wishes to put her name in the record books. She did stretch Paola to 5 games once this season, in Syosset, but most of their finals were 3-game affairs.
#3 Maria Jose Vargas Parada, like Salas, also started the year still working her way back into touring status thanks to a hiatus to have a kid. But thanks to her title in Bolivia, she ascended to #3, where she stayed the rest of the way out. She maintains a slight lead for 3rd over Herrera. Vargas is just 2-8 career over #2 Salas, which includes the win in Bolivia, so she has her work cut out for her if she wishes to ascend any higher.
#4 Alexandra Herrera had a very consistent season; she started it ranked 3rd, finished it ranked 4th, made a bunch of semis, never got upset prior to the qtrs … but really only had one break through tourney, making the final when the #2 seed Lambert got upset very early in Laurel. On the bright side, at season's end she broke a career duck against Rajsich, finally beating her head to head in the season's final event to secure #4 on the season.
– #5 Rhonda Rajsich kept chugging in her 20th pro season, finishing in the top 5 for the 18th time. A couple of early season upsets dropped her to the 6th-7th seed, but then stronger results as the season went on got her back. She treads water from last season, finishing 5th for the second season in a row. Rajsich overtook Cheryl Gudinas this season and now has the most ever appearances in pro tour history, a streak she seems set to continue for the forseeable future.
– #6 Natalia Mendez Erlwein started the season seeded 6th and ended it 6th, and made 8 quarters in 10 pro tourneys. She had an interesting 2nd half of the season, where her specific seeding drove four consecutive quarter-final match-ups with countrymate and doubles partner Vargas … resulting in four of her eight quarter final defeats on the season. There's a significant points gap from Rhonda to Natalia, one that only a breakthrough tourney will solve. Her four-straight match-ups against Vargas has me thinking that maybe the LPRT should consider seed flipping like the IRT does; there were also a number of other repeated qtr final match-ups (Herrera-Rajsich, Salas-Enriquez) that would be mixed up and give the 5-8 seeded players a different look in the qtrs.
– #7 Nancy Enriquez took a slight step back from last season, taking a couple of early upsets and dropping from 6th last season to 7th this season. Her 7-seed routes her to #2 Salas each quarterfinal, a tough spot to be in considering how well Salas is playing and considering that Salas has just one career loss to Enriquez (way back in 2011).
– #8 Amaya Cris finished ranked 8th for the 2nd season in a row, and had a similar performance this year to last. She was able to fight back into the top 8 by season's end, having dropped out of the top 8 mid-way through the season. She made 5 quarter finals in 10 tourneys but wasn't able to break through to the semis.
– #9 Frederique Lambert missed half the season and dropped from #2 last season to finish 9th. As is well known, she completed Medical school this year and graduated in May, and even making half the tourneys this year seems like a pretty amazing accomplishment for someone finishing such a rigorous academic schedule. This breaks a streak of four straight seasons ranked in the top 4 for Frederique. One has to wonder what the future holds; after you finish medical school usually medical training commences and I have a hard time believing Lambert will be able to do a time-intensive internship and frequently take off 4-day weekends to compete in tourneys. We all await to see what happens as it pertains to the tour; nobody likes losing a top player.
– #10 Adriana Riveros finished 10th on the season, improving from 12th last season and now is the fourth straight season in this 10-14 range for the Colombian. She made two quarter finals in 10 tourneys on the year
———————–
11th-20th ranked players:
– #11 Gaby Martinez earned enough points from early events to finish 11th despite announcing her retirement from the sport to focus on school earlier this season. She made two semis in three events this year and got a career win over Longoria in 2018's worlds final, making this observer wonder if she wasn't the heir-apparent to the crown (or at the least, a good competitor for the top spot going forward). I hope she can find time to continue to play and compete at some point in the future, because (as with Lambert) its a bummer to lose a top competitor.
– #12 Masiel Rivera Oporto played a full season and was rewarded with her top ever finish. She made one quarter on the year thanks to probably her best win on the season, over Riveros at the Bolivian grand slam on home turf.
– #13 Brenda Laime Jalil made 6 main draws in 9 events, a big improvement from last season (when she failed to advance to the 16s all year) and enough to get her into the top 16.
– #14 Ana Laura Flores Saavedra made one quarter with a solid win over Mendez in the season opener, and played in 6 of the 10 events on the year.
– #15 Cassie Lee improved from #21 last year, making 5 main draws out of 9 tournaments attended.
– #16 Yazmine Sabja Aliss played just 4 events, being based in Bolivia, but made two quarters and got some solid wins along the way. One has to think that her playing the tour FT would have her challenging for a top 8 spot. too bad Bolivia is so far away.
– #17 Montse Mejia had an interesting season: she played 5 pro events and lost in the 16s each time (3 times to Longoria, once each to Lambert and Vargas). But, outside of the pro tour she won World 18U juniors (beating Gaby Martinez twice along the way), then at Mexican Nationals beat in order Enriquez, Salas and Longoria to take the title. She faltered at the PARCs as the #1 seed (losing to Mendez in the qtrs), but one has to wonder what she's capable of if she can get out of the 14-16 seed range and get some deeper runs on the pro tour. I think she's one of the top 5 women in the world right now and hope she can play a full slate next season.
– #18 Adrienne Fisher Haynes dropped in the season ending rankings for the 3rd successive season, getting upset in the 32s 5 times in 8 events this season.
– #19 Angelica Barrios made the semis of the Bolivian grand slam, beating two top 8 players along the way, which propelled her to a top 20 finish despite just three appearances. She's also put her name into the mix for the Bolivian national team, representing her country at PARCs earlier this year.
– #20 Carla Muñoz Montesinos had a qtr and two main draws in 6 appearances this year, a busy one for her as she finished up school in Colorado, made the finals of NCAA intercollegiates and represented Chile at three different IRF events.
———————–
commentary on players ranked 21st on-wards:
– #22 Susy Acosta finished 22nd … in her 21st pro season.
– #24 Michelle De La Rosa made a semi and played top ranked pros tough in limited appearnces this year.
– #25 Kelani Lawrence finished 25th in limited appearances but won the US National title.
– #27 Hollie Rae Scott finished 27th but won the NCAA Intercollegiate title.
– #29 Laura Brandt finished 29th … at the age of 56.
– #31 Valeria Centellas finished 31st … and is the reigning World junior 16U champ. She played #1 for Bolivia at the PARC games in April and made the quarters … in her age 17 season.
– #37 Jessica Parrilla finished 37th after missing basically the entire season recovering from a bad knee injury. She will fight back to regain her status on tour starting next season after finishing 3rd last season.
———————–
That's it for the season. We look forward to seeing what next year has in store. I sense a step up in events, I hope to see more dual tour events like what is done in Minneapolis and Bolivia, and I hope to see more events in Mexico that draw the local player base.
———————–
LPRT USA Racquetball International Racquetball Tour International Racquetball Federation – IRF