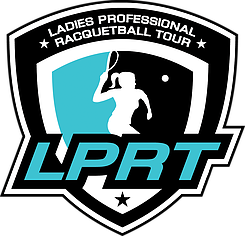 Welcome to the final pro tournament of the calendar year 2018. Its the LPRT Christmas Classic, being played in Laurel MD. This is the same club that held the IRT season-opener a few months back and is a great venue for playing and watching.
This is the 27th annual iteration of this event, making it one of the longer running tourneys in existence. Useless fact; I used to help organize this event, some 20 years ago. Since i'm a digital pack rat, I dug back and found the organizational docs and start times for the 7th annual iteration of this event in 1998. After a time, the mantle was passed to current tournament director Karen Grisz, who has taken it to different venues around the DC area and has made it a regular LPRT stop for years. This year also includes an 18-man IRT tier 5 draw that i'll preview after the ladies info.
—————
LPRT Singles draw. 22 ladies are entered, but there are some significant absences. #2 Samantha Salas Solis is missing, as is #6 Nancy Enriquez and #9 Gaby Martinez. This gives several players bumps into the top 8 and out of qualifying matches.
Interesting players in the draw include several local players of note: Kelani Lawrence is in the draw, as is Amie LeBrun Brewer and Masiel Rivera Oporto. The tourney has also drawn a few New England-based players out of NY and CT.
Here's the round of 32 play-in matches to watch for:
– Kelani Lawrence vs Amie Brewer: two VA residents duke it out to face the #1 seed.
– 7-time junior world champ Lucia Gonzalez makes her first appearance on the LPRT this season and faces off against current World 16u champ Valeria Centellas in an interesting match.
– Adrienne Fisher Haynes vs Danielle Danielle Maddux: Danielle Maddux (nee Key) makes her first pro appearance in more than 8 years. The former US and World junior champion joins her sister Michelle on the tour and will team up in doubles as well.
– Michelle De La Rosa vs Hollie Scott: De La Rosa makes her 3rd LPRT appearance this season, with a play-in to the #2 seed.
In the round of 16…
– #1 Paola Longoria likely faces her doubles partner for the event in Lawrence.
– In the always competitive 8/9th seed match: two LPRT touring vets face off in Carla Carla Muñoz Montesinos and Sheryl Lotts. They're 2-2 head to head on the LPRT, but all four matches were years ago (last meeting Sept 2016).
– #5 Rhonda Rajsich vs the home-town favorite #12 Masiel Rivera. Rivera has been playing solid and could push Rhonda here.
– De La Rosa vs #2 Frederique Lambert; DLR is a dangerous opponent, and Lambert has a couple of early upsets on her resume lately.
Projected Quarters: I'm going basically chalk for the back end of this tourney.
– Longoria over Munoz; she's 10-0 over Carla on the LPRT
– Vargas over Rajsich: Vargas is 14-11 h2h lifetime over Rhonda on the LPRT but is having a solid season.
– Alexandra Herrera over Natalia Mendez Erlwein; Herrera is 3-1 lifetime over Mendez on the LPRT
– Lambert over Cristina Amaya: Lambert is 8-5 career over Amaya, but has won 7 of their last 8 meetings.
Semis:
– Longoria over Vargas: amazingly, Longoria is 23-0 over Vargas on the pro tour
– Lambert over Herrera: Frederique holds an 8-1 h2h advantage.
Finals: Longoria over Lambert; Paola is 26-1 career on the pro tour over Fred.
—————
LPRT Doubles
Salas' absence means the dominant #1 team of Longoria/Salas cannot win this doubles event like they most often do. Instead, Longoria will team with Lawrence for this tourney. I think this may open the door for a team like #2 seeds Lambert/Herrera or Argentinian team of Mendez/Vargas to slip through and take the title.
——————
IRT Tier 5. Laurel is home to a couple of IRT regulars, so it only makes sense for them to compete on their home courts. I'm posting this before the brackets are available, but the top four seeds seem to be Sebastian Franco,Maurice Miller, Troy Warigon, and Mauricio MoMo Zelada. Some good local east coast players are entered too (Ross Ross Weinberg, Thomas Gerhardt,Brent Walters, Jordan Walters, Geoff Heskett, and others). Should be a good tourney.
Post publishing update: once the brackets were posted, we added this quick prediction:
Quarters: Franco over Heskett, Zelada over Weinberg, Miller over Gerhardt, Warigon over Gaffney
Semis: Franco over Zelada, Miller over Warigon
Finals: Franco over Miller