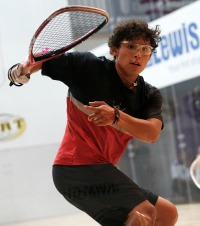 Home page for the event: http://www.r2sports.com/tourney/home.asp?TID=30505
Current RKT Rankings used (I believe) to seed the event: https://www.fmr.mx/ranking-rkt
This is the singular tournament (at least as far as I read the website) that will determine Mexico's team that will play both the Pan Am Racquetball championships in Columbia in April and the Pan Am Games in Peru in August. Both singles finalists and the winning doubles team will represent the country. So this is a pretty big event for Mexican players.
———————–
This is one of my favorite tourneys of the year to cover. We generally get the full force of the current state of Mexican racquetball in one place, all competing to represent the country at future International Racquetball Federation – IRF events. It isn't like International Racquetball Tour events, where several of the top Mexican players rarely play, and it isn't like the World Racquetball Tour where the top Mexicans committed to the IRT cannot play. Its everybody.
The Men's draw features 34 players this year, and it is a who's who of Mexican male singles players. The only men missing from my personal top 50 I see are Eduardo & Rodrigo Garay and Jordy Alonso. Even Javier Moreno came out of "retirement" to play the singles draw.
As always with Mexican National events, I find myself questioning the seeding. The Men's draw is seeded 1-4 DLR, Montoya, Parrilla, Mar, which is fine and defend-able based on talent, past results and the RKT rankings. But 5-8 goes Longoria, Estrada, Martinez and Fernandez. That is the 11th, 9th, 13th and 7th ranked players by RKT. Meanwhile clearly superior players like Landa and Beltran are in the teens, and other players currently in RKT top 8 are nowhere to be found. This really makes no sense to me. And, it makes for unfair matches early on. And, I'd like to point out, it goes directly against the claim on the FMR website that they use the RKT rankings for "seeding of nationals."
The Women's draw is similarly stacked; it features every LPRT touring professional ranked in the top 30. The big news is the return to the court of Jessica Leona Parrilla, who has been recovering from injury since damaging her knee ligaments last June. She's back after "only" 8 months recovery, so I'd temper expectations, but she is playing doubles with her regular partner Nancy Enriquez (who she was on the court with competing when she injured herself). The seeding is more or less accurate, with a couple of oddities: why is Herrera, current ranked 3rd in the world, seeded 12th?? And, i'm not sure how Diana Aguilar is seeded 4th. But lets move on.
———————–
Here's a preview of the Men's Singles Draw:
In the 32s, matches to look for:
– Right out of the gate, #1 seed Daniel De La Rosa gets a solid match, going up against accomplished junior Juan Loreto (if Loreto can win the play-in of course).
– The best round of 32 match projects to be Eduardo Lalo Portillo vs Jaime Martell Neri. Both players are relatively under-seeded (13th and 20th) based on their accomplishments (world 18U junior reigning champ and current WRT #1). In talent rankings i've got these two neck and neck; this should be a really entertaining match.
– Another too-early match-up of talented veterans is the 14/19 match-up between Alvaro Beltran and Polo Polito Gutierrez. This was the Mexican National singles FINAL in 2014, and now its a round of 32 match. They've met 7 times that I have in the databases, and Beltran has won every time. Polo has essentially retired from pro playing at this point, while Beltran continues to tour and make the back ends of IRT events. I'm going with Beltran here.
– Ernesto Ochoa vs Gerardo Franco Gonzalez. Another excellent 1st round match-up between two talented players. I have Franco slightly higher in my personal rankings, but believe Ochoa can win this and advance based on his past results. This will be a dog-fight.
In the 16s, the match-ups get even better:
– #8 Sebastian Fernandez vs #9 Alejandro Alex Cardona. Two-time WRT champ Cardona has really slowed down his tourney schedule lately, with just a handful of events in the last two years. Meanwhile Fernandez has rebounded from his 18U World junior finals loss to get some really solid wins on the IRT. I favor Fernandez slightly, though wouldn't be surprised at all if Cardona went on a run.
– #12 Alejandro Alex Landa faces #5 Christian Longoria, in a case where really the two seeds should have been switched. Longoria is a solid young player, but should prove no match for two-time IRT tourney winner Landa.
– #4 Javier Mar vs #13 Portillo: Assuming Lalo gets by Martell, the enigmatic Mar awaits. Mar entered the 2018 Mexican Nationals as the defending champ and #1 seed … and was promptly beaten in the round of 32. In more recent events he played Kane Waselenchuk as tough as he's been played lately, losing at the US Open 12,10 and won the 2019 Longhorn Open. Mar and Portillo have met a couple times in top-level events … but they're long enough ago that they're relatively meaningless. Portillo should give Mar a run for his money but should fall here.
– #3 Andree Parrilla vs #14 Beltran; another too-early match-up of (arguably) two of the best six players in this draw. Parrilla has been on fire this season in the IRT, projecting to easily finish in the top 8. Beltran meanwhile keeps hanging on and is also holding onto that top 8 ranking. They've met 7 times in my database: Beltran holds the advantage 4-3 AND won their most recent meeting … but this seems like a Parrilla win. I sense that Beltran's much more interested in winning the doubles at this event and may be distracted in singles.
– #6 Javier Estrada vs #11 Ochoa; this could be an awesome match: I have these two neck and neck in my personal rankings. Ochoa has wins in the last year over Parrilla, Beltran and Mar, and was beating Montoya in Sonora when Montoya went down with injury. Estrada meanwhile has wins over Landa, Beltran, Cardona, and has played Montoya tough. Both players have the capability to win a stacked event … but only one can advance. Advantage slightly to Estrada here.
– #10 Alan Natera Chavez vs #7 Edson Martinez; Natera came out of nowhere as the #32 seed in last year's event to advance to the semis, beating Mar, Longoria and Franco along the way. Martinez was a semi finalist in this event in both 2014 and 2015, but has not come close to repeating that performance since. I give the edge to Natera here.
– #2 Rodrigo Montoya Solis should advance easily over #18 Javier Moreno.
Projecting the Quarters:
– #1 DLR over #8 Fernandez: they play similar games … but DLR plays it a lot better right now.
– #4 Mar vs #12 Landa: This is a rematch of the 2017 Mexican Men's final, won by Mar in a tiebreaker 11-7. Its the only time i've got these two playing in the database. Since ascending to #1 on the IRT, Landa has struggled; in 5 IRT events this season he's got two semis, two quarters and one round of 16 loss (to Montoya in a tough seeding match-up). Landa also has a recent history of getting upset early in these events: he lost in the 16s of this event last year to Martell, and in the 16s of the Worlds selection event last June to Estrada. I'm going with Mar here, but it'll be a marathon.
– #3 Parrilla takes out #6 Estrada; I like Estrada's game, but don't think he can match-up with the grinding capabilities of Parrilla.
– #2 Montoya takes out #10 Natera. Same story; while I like where Natera's game is, Montoya is one of the sport's elites right now.
Semis:
– DLR over Mar: this would be a rematch of the 2016 Mexican Nationals final, a straight-forward two game win by DLR. Mar may play with more power, but DLR can and will out control the match throughout, and can match Mar shot for shot. For Mar to win this game, he needs to be more perfect than DLR typically is.
– Montoya over Parrilla; these two have plenty of experience playing each other; they're the same age, and battled all throughout juniors. On the adult/pro stage, this is a rematch of last year's semis (a 2-game Montoya win). Montoya leads h2h over time and has won the last couple times they've played, and advances here.
Final: DLR beats Montoya. A rematch of both the 2018 Mexican Nationals final (a Montoya win), the 2018 Mexican Worlds selection event (a DLR win), and more recently, the semis of the 2019 IRT Lewis Drug Pro-Am event (a DLR blow-out win), these two continue to show why they're the top two seeds. The problem is … no matter who wins this final, both players advance to the international events, so sometimes we see players cruise through the final knowing they've guaranteed their national team spots. This could especially be the case here, since both of these players project to make the doubles finals and have the chance to double-represent the country. I think, when the chips are down, DLR is the better player and his on-the-court results generally prove it.
———————–
Here's a preview of the Women's Singles Draw and matches to look for.
In the 16s, we have tough matches right out of the gate:
– In the 8/9: two young players face off in Ana Laura Flores and Erin Rivera. Flores still has a year in 18U (I believe), while Rivera made the finals of Mexican 18U in 2018 in her last year of competition. When Rivera couldn't travel to 2018 junior worlds, Flores took her place and made it to the semis. But I don't have them ever having played in my records. I'll go with Flores, based on her recent LPRT wins.
– #5 Parrilla vs #12 Alexandria Herrera: poor seeding makes a semis-quality match-up happen here, even more unfortunate for Parrilla in her first event back. Herrera has gotten the better of Parrilla on the pro tour the last couple times they've played and I'll favor her in this match as well.
– #4 Diana Aguilar vs #13 Montserrat Perez: perhaps a reader can help here: how exactly is Aguilar seeded 4th here? I don't have her entered into a Mexican National singles event since 2014. Is this a typo and should be Delia Aguilar? I'm not sure who wins this match: both players are young and seem to be in the same age group; they've met for the finals of multiple Mexican junior championships, always won by Aguilar, so I'll give her the nod here.
In the quarters:
– #1 Paola Longoria faces the lefty Flores and should advance easily.
– #12 Herrera should overpower the youngster Aguilar.
– #3 Nancy Enriquez faces #6 Montse Mejia in an interesting battle of youth and experience. Mejia, the reigning 18u Mexican and junior world champ, has not played since her Nov 2018 worlds triumph. Meanwhile, Enriquez has been busy making the back ends of LPRT events. Mejia has shown she can take games off of the world's best; can she string together a complete match against a tough player? I'll give Enriquez the edge in a tiebreaker.
– #2 Samantha Salas Solis faces off against long time adversary Susana Susy Acosta. This is a rematch of the semis of the 2016 Nationals, a Salas win then, and another in this event.
Projected Semis:
– Longoria over Herrera: this is a rematch of last year's semis too. They've met 11 times in all formats, all 11 Paola wins.
– Salas over Enriquez: this would also be a rematch of last year's semis. Enriquez does have some wins over Salas in their career (she topped Samantha for the 2005 Junior world title for example), but Salas has dominated otherwise.
Finals: Longoria over Salas. They've met 58 times across pro tours, Mexican national events that I have records for, and international events. Longoria is 55-3 in that time. These two have also met in 5 of the 6 LPRT pro events so far this season … all Paola wins as well. Its possible Salas pulls the upset, but not likely. Look for Paola to take her 6th Mexican national singles title (that we have records for … she likely has many more but we have no records for anything prior to 2014. If you're reading this FMR; i'd love to get access to your past records and enter them into the PRS database!)
———————–
They're also playing doubles in Chihuahua with all the best teams playing together. Here's how I think they'll end up.
Men's Doubles: 15 teams battling it out, but its hard not to go with 1 vs 2 again, in a rematch of last year's Nationals final. The DLR/Beltran team is the best in the world and have proven it time and again (at the US Open, at Worlds, etc). The #2 seed Mar/Montoya is no slouch though, and they'll both have their hands full with excellent #3 and #4 teams in Parrilla/Martinez and Landa/Cardona respectively.
Javier Moreno, who holds the Men's record for most international doubles titles, is not entered, so he does not have an opportunity to extend that record 🙂
—
Women's Doubles: the dominant team of Longoria/Salas was upset in the final of the 2018 worlds selection event and hence are the #2 seeds here. I wouldn't count on another upset. I think Longoria/Salas take this draw, beating all comers. The interesting part may be their finals opponents: Parrilla/Enriquez were beating the #1 seeded Herrera/Mejia team in last year's selection event before defaulting due to Parrilla's injury; if Parrilla can compete, this may result in a new finals pair.
(Notable; there was not a 2018 National doubles final in the database for Mexico … the event was cancelled/not held during last year's nationals).
——————-
Phew, that's it for the preview. Can't wait to see how it unfolds.