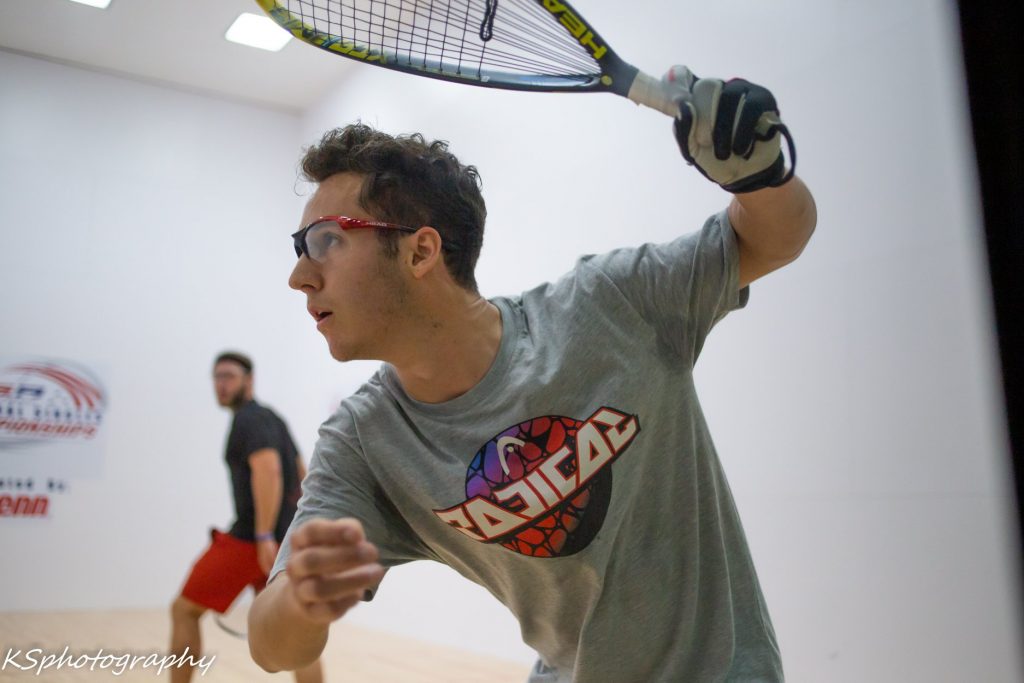 In the first part of this season-end post we went through the players who finished ranked in the top 10. In Part two, we did the 11-20 players.
In this part 3, we'll go through players 21-30.
Here's helpful links that I use for year-end analysis.
– 2019-20 year-end points in the system: http://rball.pro/B8C116
– Season Summary Report: http://rball.pro/8F437B
– Season Seed Report: http://rball.pro/553125
– Year End Ranking Matrix: http://rball.pro/E441EB
——–
#21 Adam Manilla slipped slightly in the rankings from last season, but on a whole had a much better season this year than last. He made his first pro semi in Austin, where he played lights out all weekend, battling from the round of 64 and taking the first game from DLR in the semis before falling. He had several wins over top-10 players, and nearly took out Landa in Chicago (losing 11-10 in the 16s).
Off the court, Adam and his sister Erika Manilla have kicked off an online Racquetball training company Manilla Athletics . Give them a look-see and a follow.
click here http://rball.pro/DF0E72 for Manilla's season summary report.
—-
#22 David " Bobby" Horn took a significant step back from touring this year, and saw his ranking fall from #13 at the end of last season to #22 this season. He played in just four events and had decent results in all of them, generally playing top-8 players tough even in losses. We hope to see him back in action soon.
click here http://rball.pro/C2FDE1 for Horn's career season summary report.
—-
#23 Javier Estrada, one of Mexico's best kept secrets, finally debuted on the IRT this season (his sole prior tier-1 appearance was as a teen-ager in 2010 when the tour visited his home town of Chihuahua). He played 5 events, made three main-draws and had a couple of solid wins over top-10 guys, but was not able to replicate the amazing tournament run he put up last summer at the Black Gold cup. He's one to watch for, one who could really make a name for himself if he can play on tour like he plays at home.
click here http://rball.pro/60BAFF for Estrada's career season summary report.
—
#24 Robert Collins took a slight step back on tour this year thanks to the influx of new players in the mid-teens. He made three main draws on the year but his season was marked by frequent difficult round of 32 matches.
click here http://rball.pro/588B97 for Collins' season and career summary report.
—-
#25 Alan Natera Chavez, like Estrada, was a relative unknown outside of Mexico until May, when he debuted in IRT Tier 1s for the first time. this season, he made one main draw in five events and had a solid win over #10 Bredenbeck in Austin. So far though on tour, he's been unable to replicate his successes shown in past Mexican Nationals, where he had a string of upsets to make the semis in both 2018 and 2019.
click here http://rball.pro/C5D990 for Natera's career summary.
——-
#26 Felipe Camacho stepped back a bit from touring this year after four straight seasons of full time play. He still made 7 of the 10 events, advancing into the 16s in two of them. His best win of the season was probably at the Lewis Drug, where he downed Keller in the 32s and played Portillo tough in the 16s. The long-time Costa Rican international player continues to represent his country, losing in the 16s at the Pan American Games in August.
see http://rball.pro/B28505 for his career summary report.
—–
#27 Sam Bredenbeck, younger brother of #10 Jake, played seven of the ten events on the season and had some success. He qualified for the main draw in Portland by downing tour veteran Collins and had a number of other wins against tour regulars.
click here http://rball.pro/B1BB4F for Sam's summary report.
—-
#28 Charles Pratt played just three events this year and wasn't able to show the "part-time magic" that he's shown in years past (when he made it to late stages of Tier 1s despite not being a regular touring player). This season he played the US Open, his home town event and the Lewis Drug, where he got his best result.
click here http://rball.pro/CA959B to see Pratt's summary report.
——
#29 Set Cubillos Ruiz played 7 of the 10 events despite being based in Colombia and facing a vigorous travel schedule. He got a solid win in Arizona to make the main draw; his best win of the season.
click here http://rball.pro/715488 for Set's career summary
—
#30 Scott McClellan improved his season-ending ranking despite his full time ref duties on tour. I hope he reads this snippet and reminds me that one of my takes on his reffing this past season was wrong 🙂
click here http://rball.pro/03ED8A for Scott's career summary.
—
tags
International Racquetball Tour
International Racquetball Federation – IRF
Pan American Racquetball Confederation – PARC
UnitedHealthcare US OPEN Racquetball Championships
USA Racquetball
Racquetball Canada
Federación Mexicana de Raquetbol
RKT
Federación Boliviana De Raquetbol – Febora
Federación Boliviana de Racquetball
Racquetball Colombia
Federacion Colombiana de Racquetball
Federación Costarricense de Racquetball
Reaching Your Dream Foundation