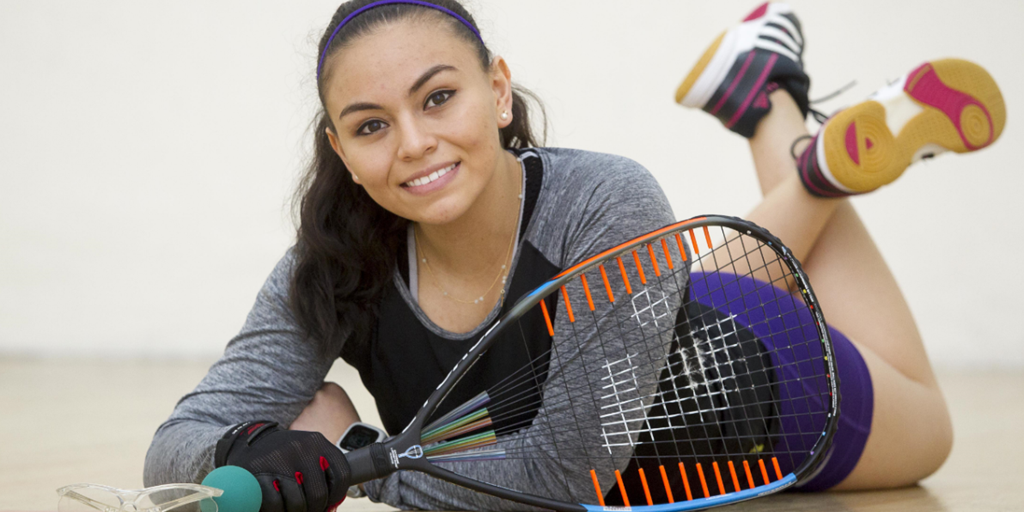 Here we are; its the last domestic pro tournament of the calendar year. And the LPRT is back at a frequent location, the Sportfit Laurel club in Laurel MD for 28th annual running of this event.
R2 Sports App link for the event: https://www.r2sports.com/website/event-website.asp?TID=31661
The brackets are up (for the Pro events) as of this writing.
20 LPRT pros entered into the draw, a step down from the 28 who played the Chicago event a few weeks back. Missing from the top 10 this time around is #8 Montse Mejia, which bumps #9 Amaya Cris into the 8th seed.
Missing from the 11-20 range of regular touring pros include Adriana Riveros, Brenda Laime Jalil, Ana Laura Flores and Erin Rivera, which will bump up a lot of regulars into seeds in the upper teens and will give us some intriguing round of 16 matches (as we'll see in a moment).
The draw also sees a rare appearance by 2018 World Champion Guatemalan Ana Gabriela Martínez, perhaps taking geographical advantage of an East coast tour stop to her home country.
Lets preview the draw:
—————————
In the play-ins:
– #16/#17 is always fun, and this time is no different. Reigning World Champ Martinez as the #17 seed faces off against reigning US National champ and Virginia native Kelani Lawrence. Lawrence has been trying to make some traction on the pro tour this year, and has played some top 4 players tough in early round matches, and now has quite a challenge on her hands to even get to the round of 16.
– #13 Jessica Parrilla vs #20 Graci Wargo: 18U junior Wargo makes her pro tour debut, coming off of a quarterfinals result in Junior Worlds in November in her last event as a junior. She runs up against a resurgent Parrilla, who got a solid win in Chicago to advance to the Quarters.
– #14 Carla Muñoz Montesinos vs #19 Lexi York; a fun match that we would have seen last year possibly in Intercollegiates; now we see York making the cross-country trip to compete. This could be a closer match than Munoz may like.
– #15 Maria Renee Rodriguez vs #18 Hollie Rae Scott: a tough match-up for MRR, who runs into Scott, who won Intercollegiates, made the finals of USA Nationals in June and who just topped Rajsich at the Portland LPRT exhibit. I like Scott to move on here.
—————————–
Round of 16 matches of note:
– #1 Paola Longoria vs the Martinez/Lawrence winner: either opponent will make for an interesting show. Martinez of course topped Longoria at Worlds but otherwise has generally been dominated by the #1 (1-15 lifetime across pro and IRF events). Lawrence has played here a handful of times, including in this event last year.
– #8 Amaya vs #9 Masiel Rivera Oporto; 8/9s are always fun, and this should be no different. Amaya is 4-0 lifetime over Rivera … but the last time they played it was 11-10 (in Chicago a few weeks ago), and … this is basically Rivera's home court, living just a few miles away. Will a strong rooting interest spur her to victory? Look for another tiebreaker here.
– #4 Alexandra Herrera vs #13 Parrilla: they met in the first event of the season, an 11-9 win for the lefty. Since, Parrilla has gained more of her game back. I like Parrilla's chances here of an upset.
– #2 Maria Jose Vargas vs #18 Scott: I think Scott can hang with Vargas, make it a bit close, but still expect Vargas to advance.
—————————–
Projecting the Quarters:
– #1 Longoria over #9 Rivera
– #13 Parrilla over #5 Rhonda Rajsich: these two haven't played since before her knee injury, and in the 2017 timeframe they were neck and neck, with a bunch of 5-game marathons. I think Parrilla continues her run.
– #3 Samantha Salas Solis over #6 Natalia Mendez; because of their relative seedings over the past few years … they have relatively few meetings on tour. Just two LPRT meetings and none since Apr of 2018. Salas has never lost to Mendez, and I expect her to advance here.
– #2 Vargas over #7 Nancy Enriquez; they met for the first time in September, an easy Vargas win. I expect the same here.
Projected Semis: Longoria over Parrilla, Vargas over Salas.
Projected final: Longoria over Vargas.
—————————–
Quick doubles preview:
The top team of Longoria/Salas looks set to run through the draw and face the #2 team of Mendez/Vargas, who will not have to deal with the power of the Herrera/Mejia team this time around. I like the #1 team to win.
—————————-
Reminder, there's also a nice little IRT Tier 5 at the same time, with a solid east coast draw. We'll recap that at the end of the weekend.
—————————–
LPRT
Jugadores Racquetbol Guatemala
USA Racquetball
Racquetball Canada
Federación Mexicana de Raquetbol
Asociación Argentina de Racquetball
Federacion Colombiana de Racquetball
International Racquetball Federation – IRF