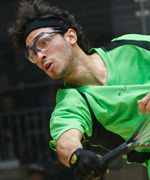 Hello racquetball fans! This coming weekend is what has now become the 2nd biggest International Racquetball Tour event of the season and is the reported longest running Pro event in the land; the Lewis Drug Pro-Am held in Sioux Falls, SD. Thanks to the long-standing generosity of the sponsors, this event generally features the richest and best draws outside of the US Open.
r2sports.com home page for the event is here.
Quick note: keep IRT CEO John Scott in your thoughts; he underwent some emergency surgical procedures in the past couple of weeks and is recuperating at home.
This year, the event falls right on the same weekend as the massive annual Longhorn Open, which has a WRT event that unfortunately drew away a few of the names that may have considered entering. Nonetheless, there's a solid draw of 39 pros entered into Lewis.
Ranking implications of this event: after months of kvetching about the IRT ranking system and the implications of Kane's four missed events in the spring of 2017-18 season, this event likely rectifies the situation. This is the first event from last spring that Kane missed, meaning he has zero points to "defend" from the Lewis Drug event last season. Therefore, he has no where to go but up. Meanwhile, current #1 Landa won this event last year and therefore has 400 points to defend. If Kane wins … irrespective of who makes the final Kane should ascend back to #1 ranking. He will have gained more points than either of the two guys ahead of him could earn.
The only top 20 pros missing are #6 Sebastian Franco (on his Honeymoon as per IRT press release) and #10 Bobby David Horn, who was ill at the California Open, has been fighting through some injuries all season and seems to be taking off the weekend to recuperate for the busy spring schedule. These two absences give Jose Diaz his first ever top 8 seeding, which immediately gets "switched" to a #7 seed for the tourney.
Notable players we don't regularly see in the draw include former IRT touring pro Tony Anthony Carson, who made waves in the Portland event earlier this season and will be a tough out. #18 ranked and reigning International Racquetball Federation World champ Rodrigo Montoya Solis is in the draw, hoping for a better result. Unfortunately he's seeded 16th, which has him playing right into #1 Alex Landa yet again. We'll cover that in the predictions. World 18U runner-up Sebastian Fernandez is back after making waves in Canoga Park. US Open Men's Open champ Alejandro Herrera Azcarate has made the trip up from Miami for this tourney and is playing doubles with none other than US Open tourney director and rball legend Doug Ganim. Lastly the geographic proximity to Canada has drawn down some of 
Canada's top players too, including Tim Landeryou, Lee Connell and Tanner Prentice.
Lets preview the draw. Here's some round of 64 matches of interest:
– #21 Sebastian Fernandez goes up against fellow 18U recent graduate and current US Junior National champ Ricardo Ricky Diaz. Tough draw for Diaz, who runs into a guy who has been really making waves on tour so far this season.
– #20 Mauro Daniel Rojas vs Christian Longoria; a great first round match between contrasting styles; the shot-making control game of Longoria versus Rojas' power. 
– #13 Adam Manilla vs Timmy Hansen; Manilla plays the youngster Timmy Hansen, who enters a pro tourney for the first time. Hansen is the reigning US 14U national champ and makes up one half of a potentially pretty darn good Father/Son team with his dad Tim Hansen (one of the most decorated amateur players of all time and USAR hall-of-fame inductee).
– #19 Nick Riffel vs Lee Connell: Connell has been playing Canadian National events since Riffel was in grade school; we'll see if the veteran can handle the newbie.
– #11 Jake Bredenbeck vs Cesar Castillo; Castillo enters a pro tournament for the first time since 2015; he's a long-time international representative of Venezuela, last playing for his country in the 2017 Bolivarian games. 
– #10 Jansen Allen gets a tough 1st round draw in Sioux Falls native John Goth. Goth only has a few major tourneys on his resume over the past few years … but rolled to the US National final in 2012 and has taken out touring pros like Sebastian Franco and Christian Longoria in recent WRT events. This could be a tough one for IRT regular Allen.
– #15 Felipe Camacho matches up against Matthew Ivar Majxner, a tough player who has been playing pro events since the late 1990s.
– #18 Gerardo Franco Gonzalez faces the always-tough Alejandro Herrera, last seen taking the Men's Open draw in Minneapolis and who played Robbie Collins tough in the pro draw in Minneapolis before losing. Herrera plays with pace, and Franco will need to adjust.
Projecting to the 32s:
– Montoya over Robert Collins; tough draw for Collins, who has had a solid season, but I see a Montoya win here.
– #9 Mario Mercado vs Tony Carson: missing out on the bye comes back to haunt Mercado, who runs into former touring pro Carson, who has the wherewithall to advance here. I see a Carson win and Mercado's tough season continuing.
– Charlie Pratt versus Sebastian Fernandez: wow, tough match up here. Pratt has experience on his side but these two play a very similar game; all about control. I give the cerebral Pratt the advantage here over the youngster.
– Manilla vs Rojas: I like Rojas here, out-pacing the lefty Manilla in what should be a shoot out of power players swinging out of their shoes.
– Carter vs Riffel: these two buddies have met three times on tour, with Riffel taking two of them. I think Riffel wins again and advances to the main draw.
– Jake over the Ref Scott McClellan; at some point the Ref will force his way into making … someone else ref his back-of-the-tournament matches 🙂
– Allen vs Landeryou: I like this match-up; i think this could be a pretty tight game. I like Allen's game lately; he has not been an easy out, but Landeryou's game could frustrate.
– Franco over Camacho: assuming we don't see a surprise upset, I like Gerardo Franco in this match. He's got the game and has the capabilities to do a break through.
Main Draw: round of 16.
– #1 Landa vs #16 Montoya: for the 2nd straight event, and for the third time in two months, we get Landa v Montoya. Last time, I predicted the upset, and instead Landa cruised to the semis. This time … i'm predicting Landa returns to the site of his first ever pro victory energized and takes a 2 game win. A semis-quality match-up in the 16s yet again.
– #8 Alvaro Beltran v Tony Carson: Carson has beaten DLR and Parrilla the last two IRT events he's entered; he can beat Beltran. But … they've met 6 times on the IRT and Beltran has won all 6. I'll go with a tiebreaker win for Alvaro Beltran.
– #5 Samuel Murray v #12 Pratt: last time they played was at the 2018 Worlds, where Pratt waxed Murray in two. Can he repeat the favor? I think he can; since making the final in the season opener, Murray has four early exits in a row in pro events, including two round of 16 upsets. Pratt can make it another early exit here.
– #4 Daniel De La Rosa vs Rojas: DLR converts back to Racquetball from Pickleball and downs the youngster Rojas in the 16s for the 2nd tourney in a row.
– #3 Kane Waselenchuk gets his first match likely against Riffel and makes quick work of the youngster to advance.
– #6 Andree Parrilla vs #11 Jake Bredenbeck: these two have met a few times … and Jake has never lost to Andree. They havn't met in a year and a half though, and in that time Parrilla has taken a big step ahead. I think Parrilla advances.
– #7 Jose Diaz vs #10 Allen: they've met 5 times and have gone back and forth; Allen got him in their most recent meeting in Laurel. This is an excellent opportunity for Allen to regain some of his momentum and get back to the quarters. Expect a tough match here. I'm not sure who I favor. I liked what I saw out of Allen in the last event; we'll go with the Texan here.
– #2 Rocky Carson vs Gerardo Franco: they met in Laurel earlier this season and Rocky pasted him. No reason to expect a different result here.
Projected Quarters:
– #1 Landa over #8 Beltran: Landa has his number and has had it for a while.
– #4 DLR over #12 Pratt: they met at the US Open, a tight but 2-game win for DLR. I like the way DLR is trending this season … he seems like he's been much more consistent this season than last. After missing the first event, he's made two finals and a quarter and is a good bet to make at least the semis here.
– #3 Kane over #6 Andree: a rematch of the quarters from California, a 3,5 beat-down. No concrete courts in Sioux Falls, so perhaps Parrilla can keep it close, but expect a 2-game win for the King.
– #2 Rocky vs #10 Allen: they've played 13 times … and Rocky has won 13 times. Expect 14 for 14 here.
Semis:
– #1 Landa vs #4 DLR: these two met at the Lewis Drug in 2017 semis and in the 2018 finals (an 11-10 Landa win for his first ever pro title)… so its only fitting if they meet again in 2019. Landa has beaten him h2h 3 straight times now, but they're always battles. Can DLR turn the tide? I'd like to see Kane vs Landa in the final but it wouldn't surprise me if it was Kane-DLR again.
– #3 Kane vs #2 Rocky; they've met 76 times (!) … but if they meet here it'll be the first time they've faced off in a match that was NOT a final since 2009. That's 10 years of match-ups for tourney titles. Nonetheless, Kane makes it 74-3.
Finals: Kane over Landa. Or maybe DLR. Or perhaps Montoya if I get my predictions way wrong.
——————–
There's also a solid Doubles draw for only the third official IRT doubles event of the year., with 10 teams playing and the regular suspects (Beltran/DLR, Landa/Murray, Montoya/Parrilla). Beltran & DLR are unvanquished in nearly a year of doubles competition and remain the team to beat.